Youth Unstoppable Screening & Fundraiser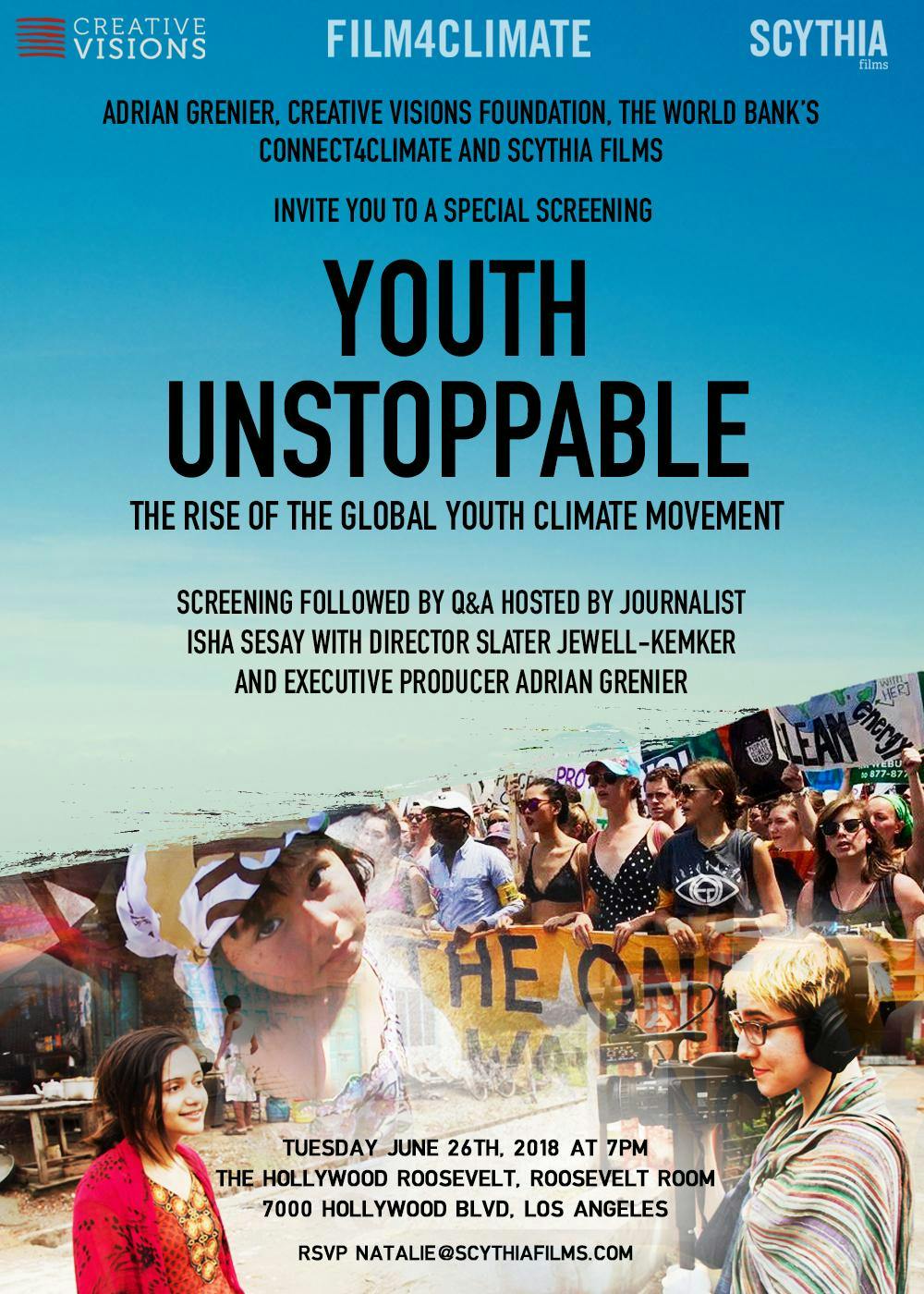 Image from eventbrite.ca
---
You are invited to attend a screening of the unreleased feature documentary film, directed by Slater Jewell-Kemker YOUTH UNSTOPPABLE. The screening will be followed by a Q&A hosted by journalist Isha Sesay with director Slater Jewell-Kemker and executive producer Adrian Grenier. Drinks & Snacks will be provided.
If you are unable to attend, we greatly appreciate your support in the form of a donation.
Some voices are too important to only hear once. The voice of youth is rising up around the world and their message is clear: When we gamble with climate change we gamble with their future. This project is designed to make sure their voices continue to be heard.
THE YOUTH
The youth of the world are standing up to fight for their future. We've seen the impact they're having on gun control. Sadly that's not the only issue that youth are being forced to take the lead on. When adults refuse to lead responsibly, the youth have no choice but to rise up.



---
THE MOVIE
---
"Youth Unstoppable" is a documentary that takes us inside the rise of the global youth climate movement. Young people are shut out of the decision making process that is shaping the world they will live in. Slater Jewell-Kemker, who was 15 when she began the film, has been striving to give them a voice.

Ten years ago Slater started making what she thought would be a short document of her trip to Japan as a part of a youth delegation to a climate summit. But when she met kids who told her about flooding in Bangladesh, forest fires in Australia and drought in Nepal she was driven to continue. That trip to Japan blossomed into a ten-year journey all around the world.
---
GIVING YOUNG PEOPLE A VOICE
---
As the movie is entering it's festival run and being seen by people for the first time, it is also transforming into something more than a movie. It is becoming a tool that can be used to give voice to young people. They want to be heard and listened to about their future slipping away as if it were just another political talking point.
---
THE NETWORK
---
Many of these kids are on the front lines of climate change, seeing floods in their fields and forest fires in their backyards. But they refuse to be hopeless, and they are finding their strength. Their strength is in the global networks they are forming; in communicating with each other about the challenges they face and the solutions they are finding. "Youth Unstoppable" is a tool they can use to boost that communication on a global scale.
---
THE SPARK
---
Every time a young person sees the movie they are inspired to tell their own story. Our plan is to empower them to make that happen. As the movie finishes its festival run we will setup a series of screenings focused on attracting youth. At the screenings they will be able to sign up to a contest, by writing a short paragraph about the climate story they want to tell. The winners will be given a video camera (for keeps!) and the opportunity to work remotely with a professional editor. We've seen youth trekking through the Himalayas carrying solar panels for isolated communities, youth building off the grid, sustainable tiny houses and changing the fabric of the world they live in today to adapt to tomorrow. These are the kinds of stories we want to help them tell and inspire other young people!

---
THE PLATFORM
---
All of these stories will be viewable on a central website, then pushed out into social media and special screenings. Connect4Climate, Creative Visions Foundation and our partners will access their networks (which include hundreds of likeminded groups and youth organizations totalling millions) to ensure these stories are seen widely. The youth will see and build on each other's experiences. The voice of the youth will be heard, and continue to be heard.

---
THE RAISE
---
The "Living Documentary" concept is outside of the norms for documentary distribution. We need financing partners to help us get the movie to the world and engage the young storytellers. Each investment will be recouped on a pro rata basis from sales revenues.

Youth Unstoppable is a fiscally sponsored project of Creative Visions - a 501(c)3 taxexempt organization - all U.S. donations are tax-deductible.

The following credits will also relate to the investments or donations:
$10,000.00 - Associate Producer
$25,000.00 - Executive Producer
$50,000.00 - Presented by
If you wish to donate via check, please make cheques out to "Creative Visions" and include 'Youth Unstoppable' in the memo line.
Send checks to:
Creative Visions
Attn: Grace Breuer
18820 Pacific Coast Highway, Suite 201
---
CONTACT

---
DANIEL BEKERMAN - PRODUCER:
e: danielbekerman@scythiafilms.com t: +1 416 897 5211
WENDY JEWELL - PRODUCER:
e: wendyjewell@gmail.com t: +1 416 566 7260
Thank you!

451 Views - 27/06/2018 Last update
concerts
festivals
cinema
painting
sports
The Hollywood Roosevelt
7000 Hollywood Boulevard, Los Angeles, 90028, CA, United States
---
Are you an event organizer?
Create events for free. They will be immediately recommended to interested users.
Create event
Nearby hotels and apartments
7000 Hollywood Boulevard, Los Angeles, 90028, CA, United States
---
---
The Hollywood Roosevelt
7000 Hollywood Boulevard, Los Angeles, 90028, CA, United States
Event from
eventbrite.ca
---
---
Are you an event organizer?
Create events for free. They will be immediately recommended to interested users.
Create event