Self Made Woman Presents: `IGNITE YOUR DESTINY` TRANSFORMATIONAL WEEKEND
Friday 18 October 2019 10:00 AM Saturday 19 October 2019 5:00 PM
Save
Saved
Last update 01/08/2019
299040
A TRANSFORMATIONAL EVENT BUILT TO INSPIRE, ELEVATE AND CELEBRATE WOMEN!

*EVERY ATTENDEE IS REQUIRED TO PURCHASE A GA TICKET*
WHAT IS "IGNITE YOUR DESTINY"?
An epic event that will change your life forever! "Ignite Your Destiny" Weekend is a 2-Day transformational experience designed to create your best life yet. Be empowered by women who are experts in mindset financial abundance, intention, mindfulness, intuition, strengthening your voice, knowing you're worthy and many more powerful topics. Connecting and networking women with women from around the world who support each other's goals, dreams, passions and ambitions.
WHY SHOULD YOU ATTEND "IGNITE YOUR DESTINY"?
"Ignite Your Destiny" is filled with real life stories, experiences and actionable trainings to make the life you yearn for a reality. This is not your "been there, done that", typical conference. Men are encouraged to attend and support the very important women in their life. By experiencing greater levels of insight and inspiration, all women and men who attend will benefit.
WHO SHOULD ATTEND "IGNITE YOUR DESTINY"?
Every woman who wants to know themselves better, live a bigger and more positive life, grow into their purpose, and find strength through their trials. Women who are inspired, energized and motivated to leave a legacy or women who just want to have fun with other incredible women. Women from around the world, and all backgrounds are coming together to support one another and live their best life yet!
VIP Event: Thursday, October 17th, 2019 (6pm-10pm)
Event Date: Friday, October 18th - Saturday, October 19th, 2019
Location: The Iconic Fox Theater, in Tucson, AZ
*EVERY ATTENDEE IS REQUIRED TO PURCHASE A GA TICKET THROUGH THE LINK BELOW. THEN YOU ARE QUALIFIED AND HAVE THE OPTION TO UPGRADE YOUR TICKET WITH THE PACKAGES HERE ON THIS EVENTBRITE.*
GA TICKETS: https://bit.ly/31FjyPh
No Refunds on tickets. Tickets are transferable to another person by contacting SMW directly at info@selfmadewoman.com. *NO SERVICE FEE ON PURCHASE*
See Seating Chart Below: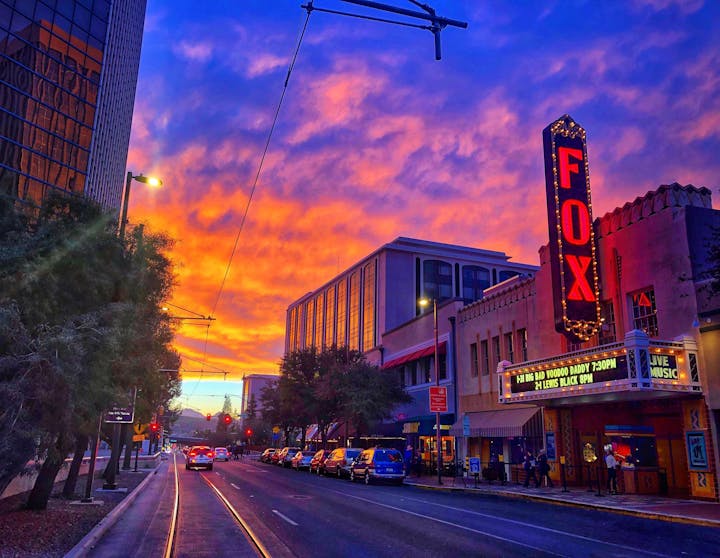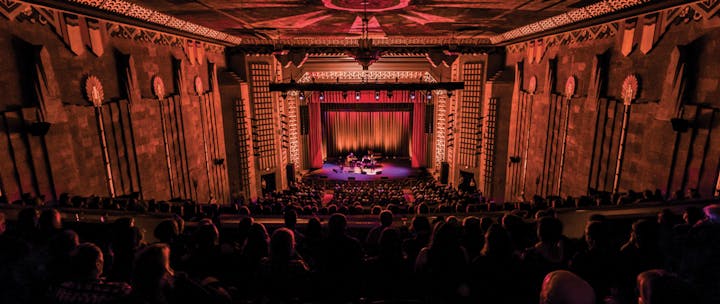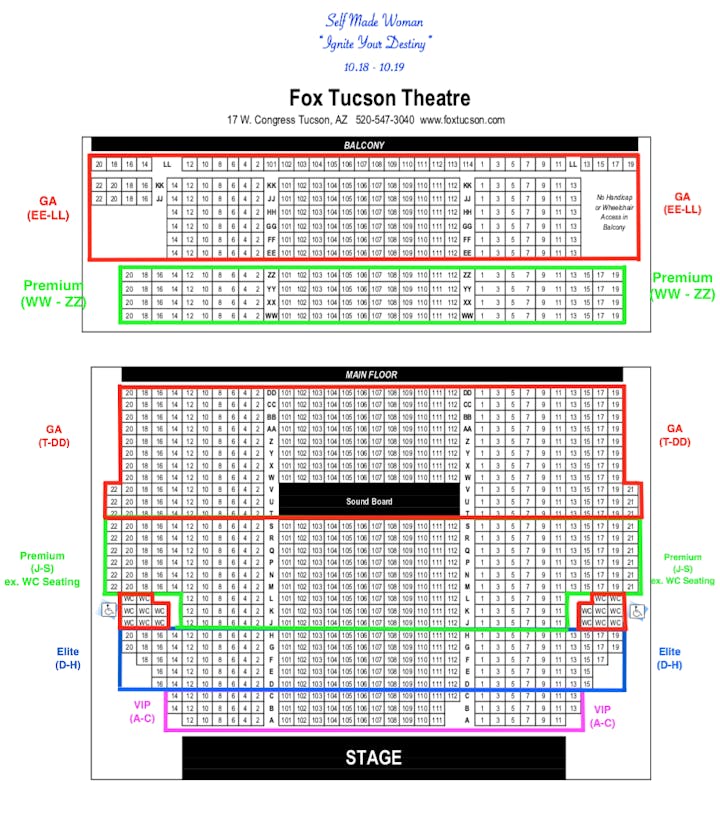 music
concerts
culture
theater
food
aperitifs
business
courses
education
conventions
Nearby hotels and apartments
Fox Tucson Theatre
17 West Congress Street, Tucson, 85701, AZ, United States
17 West Congress Street, Tucson, 85701, AZ, United States
Event from
eventbrite.com