Understanding & Utilizing the Allen Cognitive Disability Model in Everyday Practice: Foundation Course and Event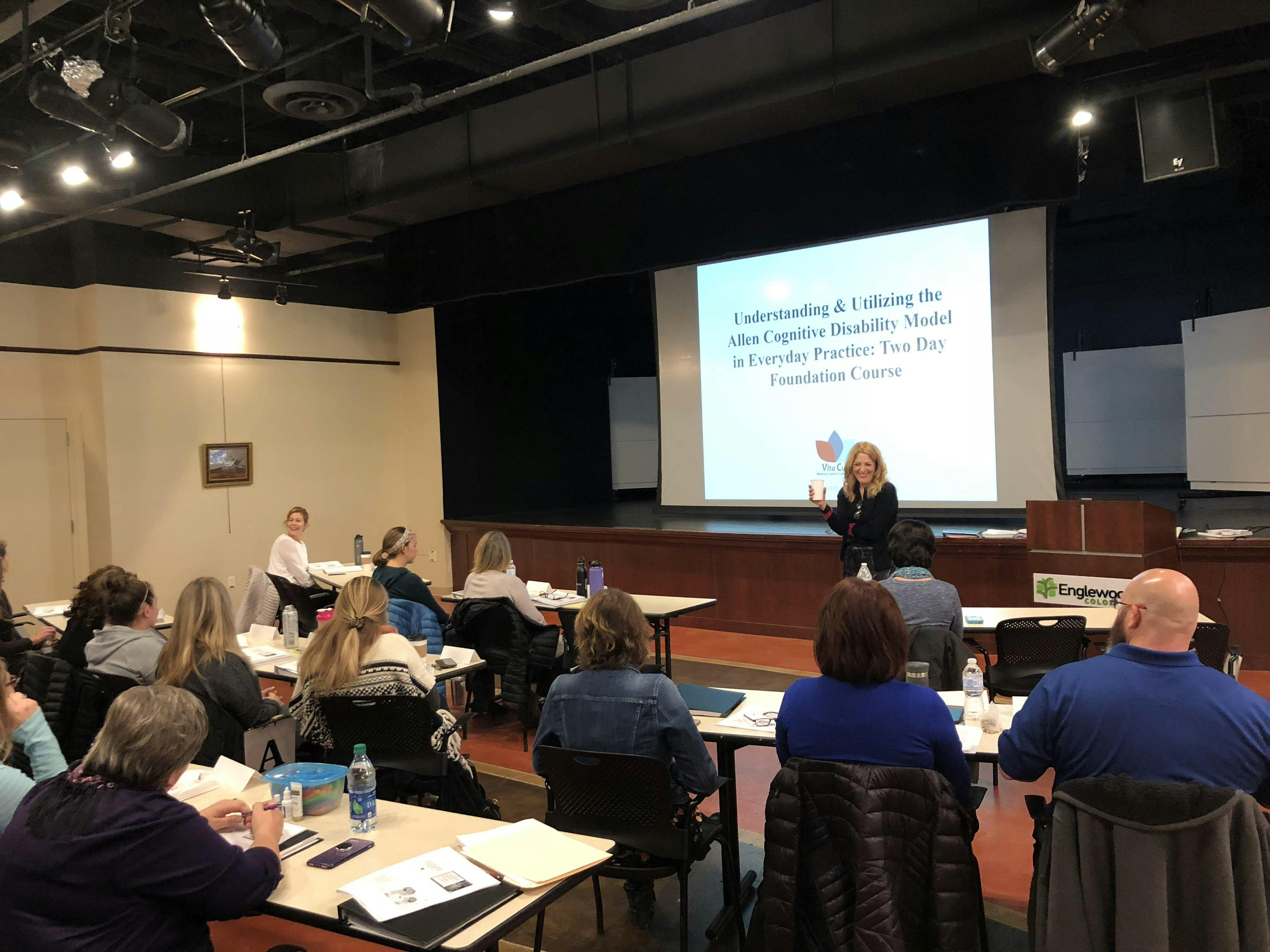 Image from eventbrite.com
From Fri 15 November 2019 to Sat 16 November 2019
From Friday 15 November 2019 to Saturday 16 November 2019
---
Here's an Educational Opportunity You Don't Want to Miss!
Understanding & Utilizing the Allen Cognitive Disability Model in Everyday Practice: Foundation Course
Friday & Saturday, November 15th & 16th, 2019
American Mountaineering Center
710, 10th St.
Hosted by Vita Cura, LLC
Contact: Dr. Patricia Cornille at Vita Cura Education & Services
Phone: 616.566.2342 Email: Pat@vitacurallc.com
Golden, CO 80401
This Course is designed for:
Occupational and Physical Therapists, Speech Language Pathologists, Activity Professionals, Social Workers, Physicians, Nurse Practitioners, Administrators,
Psychologists/Mental Health Practitioners, Researchers
Integrative /Holistic Medicine Professionals and Caregivers
Course Description
The overall goal of this course is to provide participants a theoretical and evidenced based understanding of the Allen Cognitive Disability Model (CDM) and its use within a variety of clinical settings.
The CDM is used by healthcare professionals, caregivers, researchers and organizations that support adult, adolescent and geriatric populations where cognitive impairment has functional implications. The central construct used in the CDM considers both functional performance and global cognitive processing skills such as attention, working memory, processing, organization and problem solving. Levels of ability and limitations are identified while the person's capacity to perform routine tasks and adapt to novel situations are recognized.
For healthcare professionals, caregivers, researchers and administrators, this realistic and compassionate approach identifies client focused services that can successfully change the way healthcare professionals' practice and how care is delivered.
Emphasis will be placed on the theoretical tenets of the model in the context of understanding underlying cognitive processes, personal factors, and how sensory cues are utilized in functional contexts. Use of standardized assessments and skilled observations in directing care and predicting outcomes will be discussed and research, case examples and intervention strategies will be highlighted.
Benefits of Using the CDM in Clinical Practice & Organizational Programming
Reduce falls and re-hospitalization

Improve functional outcomes

Decrease secondary conditions such as contractures, pressure sores, depression and weight loss

Prevent and manage challenging behaviors

Prevent or delay institutionalization

Improve safety

Reduce caregiver burden and staff turnover

Improve engagement in daily meaningful activities and routine
This Program Will Cover the Following Topics & Supporting Research
The history, development and theory of the Allen Cognitive Disability Model
Assessments - Allen Cognitive Level Screen, Allen Diagnostic Module, Routine Task Inventory and skilled observations. * The Allen Cognitive Level Screen, 6th edition (ACLS-6) has been expanded to include standardized observations for ACL 1 and 2
The six cognitive levels - Allen's scale and actions, activities and patterns of performance associated with 26 modes of performance
Interventions which include task modification, restoration of skills, prevention and safety
The cognitive link associated with behavioral challenges
Tailored activity programs - select and design activities that work with the levels and modes of performance
In this Program You Will Learn To:
Explain the underlying theory of the Allen Cognitive Disability Model and learn what is new with the model

Identify patterns of behavior associated with cognitive levels and modes of performance

Identify links between theoretical constructs and practical recommendations for activities of daily living, environmental adaptations, driving, safety, assistive technology, home exercise programs, and staffing assistance for cognitive levels

Use assessments and skilled observations to assess changes, improvements or stabilization in functional cognition for a variety of conditions (includes new assessments)

Develop a functional profile to design tailored programs and activities supported by research

Describe the range of assessment tools within the framework of the Allen Cognitive Disability Model

Describe

how to apply the CDM in your practice setting
What You Will Receive
Cognitive disability model CEU certificate (12 CEU's)

Comprehensive course manual with reproducible handouts

New information on evidenced based practice /activity programs/dementia care

Invitation to join our study group

20% discount on upcoming courses, events and materials

Join us in a night out in Golden
Faculty
Dr. Patricia Cornille, OTR/L, OTD, CCECL, Certified Brain Longevity Specialist, Adjunct Instructor-Dr. Cornille has over 30 years of clinical experience and is the founder and clinical director of Vita Cura – an organization supporting individuals living with dementia and cognitive disability. Pat is the past President and board member of the Allen Cognitive Network. She has trained and mentored thousands of healthcare professionals, students and caregivers on the use of the CDM – nationally and internationally and received an award for education and use of the model in clinical practice. Dr. Cornille has worked extensively with the author of the Model, Claudia K. Allen and has used the model in clinical research and in program development in education in a variety of mental health and dementia care settings. She currently serves on the education committee for the Alzheimer's Research and Prevention Foundation and integrates the model in a variety of brain health programs.
Carol Luhman, OTR/L, Certified Brain Longevity Specialist
Carol is the past President and board member of the Allen Cognitive Network and has over 30 years of experience as an occupational therapist working with a variety of individuals experiencing cognitive changes. Carol is an expert in the clinical application of the CDM and has mentored numerous students and healthcare professionals. She has participated extensively in a variety of clinical development programs and in educational development. Carol also participates in research as a validity expert in the use of the CDM.
Iris Bowden, ADC, CDP, Life Enrichment and Memory Café Coordinator
Iris has extensive experience in dementia care, providing program and educational development and direct care services in activity programs. She currently is an adjunct instructor at St. Philips College responsible for teaching the Long Term Care Activity Director's Course. Additionally, Iris has presented in numerous conferences and has coordinated statewide continuing education programs for activity directors, social workers, volunteer managers, ombudsmen and state health personnel. She uses the CDM in her clinical dementia care programs.
Course Information:
Tuition: $425 regular price (includes handouts, power-point presentation, invitation to study groups, discounts on materials and future events, morning and afternoon drinks and snacks during breaks.
This course will offer optional sessions on both days with Siri Kartar - Expert yoga and meditation instructor for over 40 years. Siri is the lead consultant in our groundbreaking "Caring for Yourself While Caring for Yourself Series".
Break-out session with Iris Bowden on setting up an Allen based activity program and an award winning Memory Café.
Break out session and mentoring with Carol Luhman on advanced clinical cases and delivering and "elevator pitch" on using the Allen model in clinical settings. Carol will discuss and demonstrate special tecniques on physical mobility skills targeting each cognitive level and provide examples of using the "can do, will do and may do" with a variety of cases.
Super Saver & Early Bird Deadlines:
Super Saver Deadline




(8 weeks prior to course date): $350




Early-Bird Deadline




(4 weeks prior to course date): $390



Student Discounts: $80.00 off course registration for students. Enter the promotional code STUDENT just above the register button.
Group Discounts: Groups must register together to obtain the group rates unless otherwise authorized. Groups of 2-4 receive a $25.00/person discount. Groups of 5 or more receive a $50.00/person discount.
Course time frames and breaks: Day one and two course registration/sign-in begins at 8:00 AM. Courses begin promptly at 8:30 AM and adjourn at 3:30 PM day one and 4:30 on day two. There is a one-hour lunch break (on your own) and two 15-minute breaks each day (snacks provided).
We will have opportunities for events and social gatherings both evenings in downtown Golden.
Cancellation Policy
All cancellations must be in writing, including the reason for canceling, and must be received by Vita Cura LLC at least three weeks prior to the course; no compensation will be granted after that date. If the cancellation meets the three-week deadline, the registrant may choose a refund or a transfer credit, minus a $75 processing fee, to be issued following the program. A transfer credit may be applied toward another Vita Cura, LLC course within two years of the issue date.
Vita Cura, LLC reserves the right to cancel any course with due cause and refund in full. Participants purchasing NON-refundable airfare tickets should verify course availability before final purchase. Weather and/or transportation difficulties are not the responsibility of the workshop sponsor Vita Cura, LLC and failure of a chosen means of transportation is not grounds for tuition refund. However, credit for another course will be considered on an individual basis
8628 Views - 17/11/2019 Last update
American Mountaineering Center
710 10th Street, Golden, 80401, CO, United States
---
Are you an event organizer?
Create events for free. They will be immediately recommended to interested users.
Create event
Nearby hotels and apartments
710 10th Street, Golden, 80401, CO, United States
---
---
American Mountaineering Center
710 10th Street, Golden, 80401, CO, United States
Event from
eventbrite.com
---
---
Are you an event organizer?
Create events for free. They will be immediately recommended to interested users.
Create event