Dialogue over Dessert: Exploring Changemaking Research at UC San Diego
Tuesday 22 January 2019 5:00 PM Tuesday 22 January 2019 7:00 PM
Save
Saved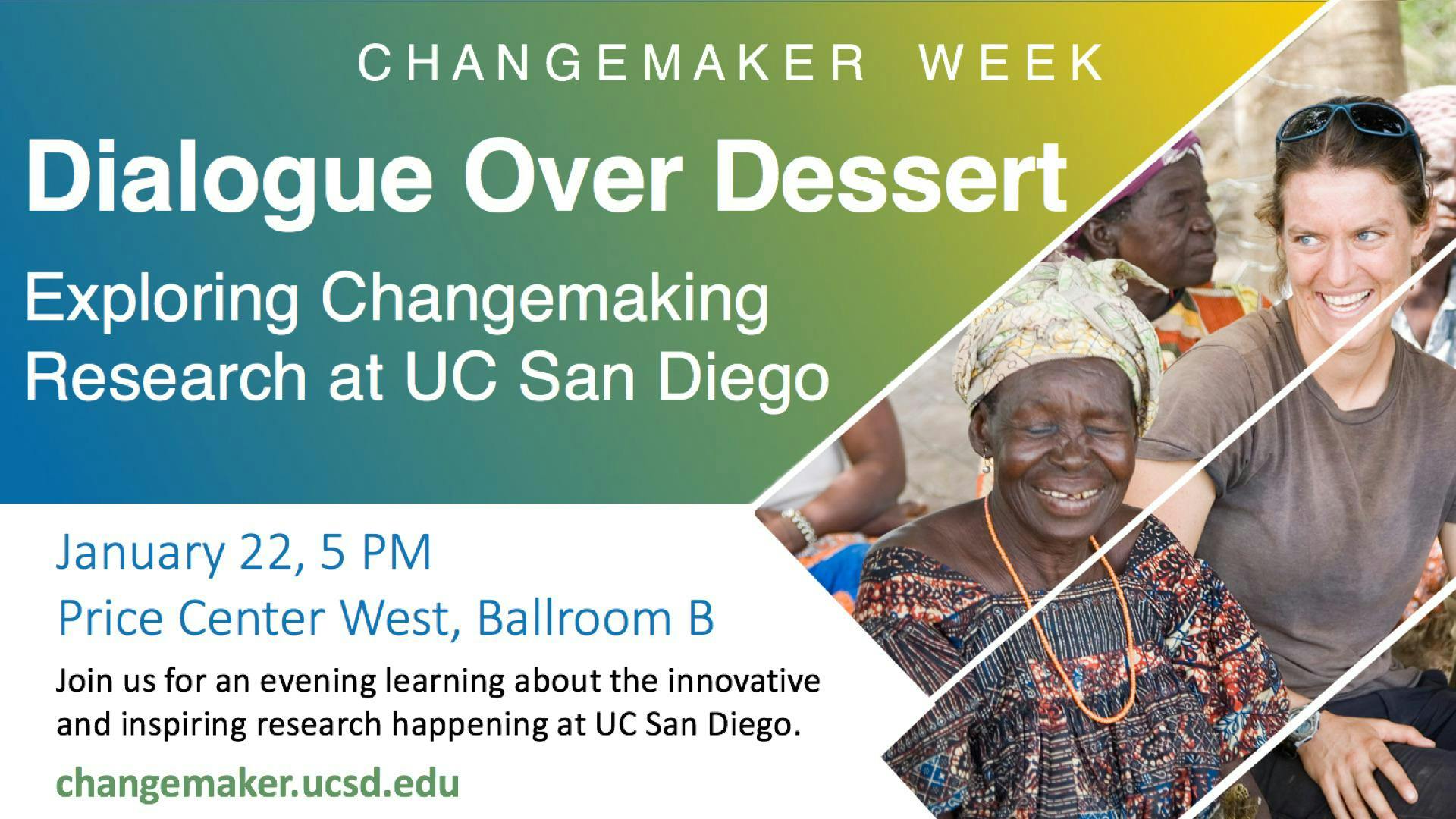 Last update 23/01/2019
472
Socially impactful research is one of the things that UC San Diego is known for. No matter the discipline – social or physical sciences, medicine or engineering, arts or humanities - in every corner of our campus faculty and students are dedicating their time and energy to finding solutions to pressing problems. Join us for an evening of innovative and inspiring research findings as part of UC San Diego's Changemaker Week. 
Speakers include:
David Adamowicz, Salk Institute - As part of the Gage Lab at Salk, David Adamowicz researched dementia using postmortem brain tissue kindly donated by patients and their families, and converted living patient skin cells into neurons in order to better understand disease mechanisms in a dynamic setting.

Jennifer Burney, The Policy Design and Evaluation Lab (PDEL) - PDEL combines advanced social science methodology with the power of information technology to design policies and programs that alleviate poverty; promote health, welfare, and security; and enhance accountability.

Mauricio de Oliveira, Global TIES Cruz  Roja - The Cruz Roja Tijuana team seeks to help the Tijuana Red Cross make the best use of its capabilities and resources in order to provide the residents of Tijuana with the best possible medical care by providing technologies through software programming. 

Fonna Forman, UCSD Cross Border Initiative - The Initiative promotes interdisciplinary poverty research and practice in the San Diego-Tijuana border region and confronts narratives that characterize border neighborhoods as merely sites of crime and victimization, and that overlook the resilience, creativity, and agency of people living in conditions of scarcity. Through the Initiative, the paid Blum Summer Field Internship places undergraduates in immersive, supervised, team-based field research in the border region. 

Leslie Lewis, Bioregional Center for Sustainable Science, Planning and Design - The BRC builds "Healthy Places, Healthy People, Healthy Communities." Research projects pertain to topics on equitable community development and design, equity in education, green infrastructure and climate, and healthy living.

Sally Sadoff, Education and Development - Professor Sadoff's uses the disciplines of applied microeconomics and behavioral sciences to understand incentives and how they factor into decision making.  Recent works focus on social programs and food choice.

Dale Stokes, Innovative Marine Technology Laboratory - Ever wonder what life in Antarctica is like?  Dr. Dale Stokes can tell you.  A researcher with extensive oceanographic field experience, his expertise lies in the design, construction and deployment of in situ sensor systems to study marine environments.

Massimo Vergassola, Department of Physics – Looking to nature for inspiration, Vergassola and his team use machine learning techniques to find effective soaring strategies for gliders flying within complex, turbulent flows by studying migrating birds.  The results advance the development of autonomous flying vehicles.

Linda Whiteside, Partners at Learning (PAL) Program - UC San Diego's largest service-learning program, PAL provides opportunities for undergrads to work with underserved P-12 students and schools while earning credit.
To learn more about Changemaker Week, visit http://changemaker.ucsd.edu/events/changemaker-week/index.html

culture
art
food
education
Nearby hotels and apartments
UC San Diego
Price Center West, Ballroom B, La Jolla, 92023, CA, United States
Price Center West, Ballroom B, La Jolla, 92023, CA, United States