Thomas Pringle: Ladies Man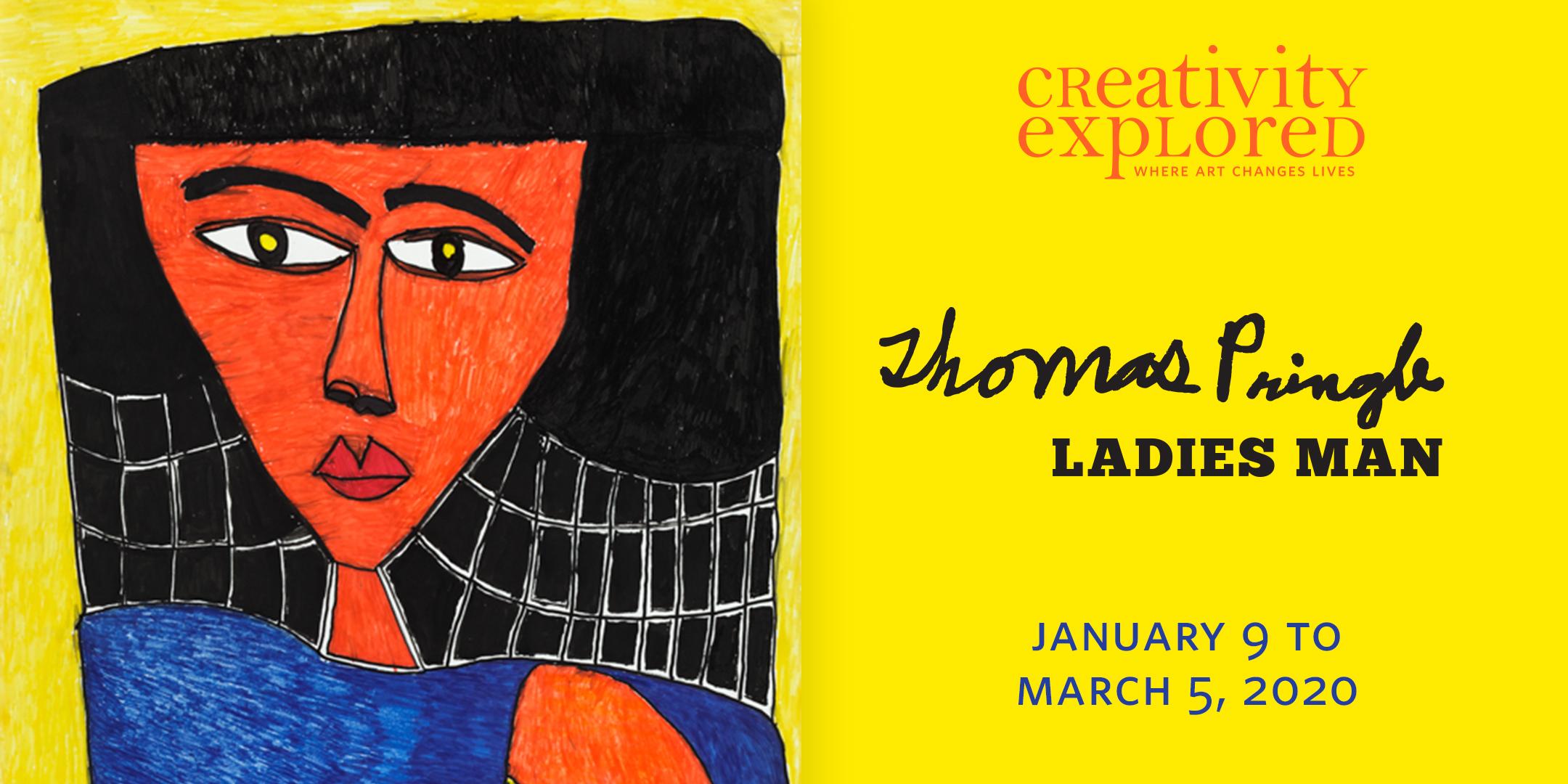 Image from eventbrite.com
---
We are pleased to announce an upcoming solo exhibition featuring the work of long-time Creativity Explored artist Thomas Pringle, on view from January 9 to March 5, 2020. Since joining the studio in 2006, Pringle has amassed an impressive portfolio of prismatic paintings and refined drawings alive with his playful sensibility.
Pringle's brilliant and bold portraits, mostly of women, depict a strange beauty with a nostalgic undercurrent. In conversation and through his artwork, Pringle tells stories about his subjects, both real and imagined, sharing his quixotic take on reality. Thomas Pringle: Ladies Man not only offers the viewer Pringle's evocative artwork but his charming personality and penchant for whimsy. The exhibition also includes a series of illustrated short stories by Pringle, accompanied by original prose that mix fact and fantasy with a wry sense of humor.
With an appreciation of American pop culture and the female form, Pringle enjoys painting his favorite celebrities, like Dolly Parton, Cher and "Bond Girls," as well as pin-up models who he often names. Starting to sketch on paper with graphite, the self-proclaimed realist painter will erase and redraw until his forms settle into a satisfactory composition. "What I see is what I draw," Pringle states. Throughout the process of applying paint, Pringle will move beyond his sketched forms to define his subjects with thick gestural lines filled with emphatic color. Accompanied by flat vibrant backgrounds, his subjects spring into being and beckon us to step into Pringle's reality.
Pringle was born in 1941 and has stated he has been making art since he was a baby. Pringle had developed his own art practice by the time he joined the CE studio. He speaks of creating art in Austin, TX. Before coming to Creativity Explored, he lived and collaborated with a local artist, creating elaborate installations in their apartment that incorporated Pringle's wheelchair. At Creativity Explored Pringle is a dedicated artist who arrives each day ready to work, approaching his practice with a resolute focus and steadfast hand.
Despite his serious work ethic, Pringle brings his sense of humor and affinity for story-telling to the studio each day. Known by fellow artists and instructors as a jokester, he spins elaborate tales that keep studio members chuckling and spirits high. Pringle's inspiring presence in the studio is undeniable, motivating both artists and teaching artists alike to approach their art with a balance of sincerity and revelry.
Opening Reception

Thursday, January 9, 2020
7:00 pm to 9:00 pm
Donor Preview*

6:00 pm to 7:00 pm

*To become a donor, click here.
Music by DJ Sergio Fedasz (Go BANG!, San Francisco), featuring a special setlist inspired by Thomas Pringle
FREE parking available during the opening reception at Mission Dolores Church (enter on Church Street) from 6:00 pm to 9:00 pm.
---
Celebrate the work of Thomas Pringle throughout 2020 with the limited edition Pin-Up Model Calendar. Limited quantities available!

---
About Creativity Explored

Creativity Explored invites regional, national and international art audiences to center the personhood and creative vision of people with developmental disabilities. Creativity Explored artists have seen their work exhibited in museums and galleries in 14 countries, and have earned nearly $2 million from their art. Each year, over 10,000 people visit our studios, which are often described as energizing, magical and joyful.
Florence and Elias Katz launched a worldwide movement and exploded defined notions of artistry, when they founded three Bay Area organizations to liberate the creativity of artists with developmental disabilities.
Their visionary work was sparked by the deinstitutionalization of people with disabilities, and growing advocacy for their dignity and self-determination. Over 36 years, Creativity Explored, the Katzes' San Francisco anchor, has facilitated the careers of hundreds of artists with developmental disabilities by offering space, support and representation.
Creativity Explored continues to open doors of inclusion for artists with disabilities. Today, CE artists serve on the organization's staff, create alongside artists of all abilities in local art studios, and teach the public. In 2018, Creativity Explored was recognized as a San Francisco Legacy Business. In 2019, Creativity Explored was included on the 5th Annual YBCA 100 list and voted "Best Nonprofit" for the SF Bay Guardian's "Best of the Bay Awards."
www.creativityexplored.org
info@creativityexplored.org
Instagram: @creativityexplored
3245 16th Street
San Francisco, CA 94103
Gallery Hours
Monday - Friday: 10:00 am - 5:00 pm
Thursday: 10:00 am - 7:00 pm
Saturday: 12:00 pm - 5:00 pm
2268 Views - 31/01/2020 Last update
Creativity Explored
3245 16th Street, San Francisco, 94103, CA, US
---
Are you an event organizer?
Create events for free. They will be immediately recommended to interested users.
Create event
Nearby hotels and apartments
3245 16th Street, San Francisco, 94103, CA, US
---
---
Creativity Explored
3245 16th Street, San Francisco, 94103, CA, US
Event from
eventbrite.com
---
---
Are you an event organizer?
Create events for free. They will be immediately recommended to interested users.
Create event