[ONLINE] ThetaHealing Introduction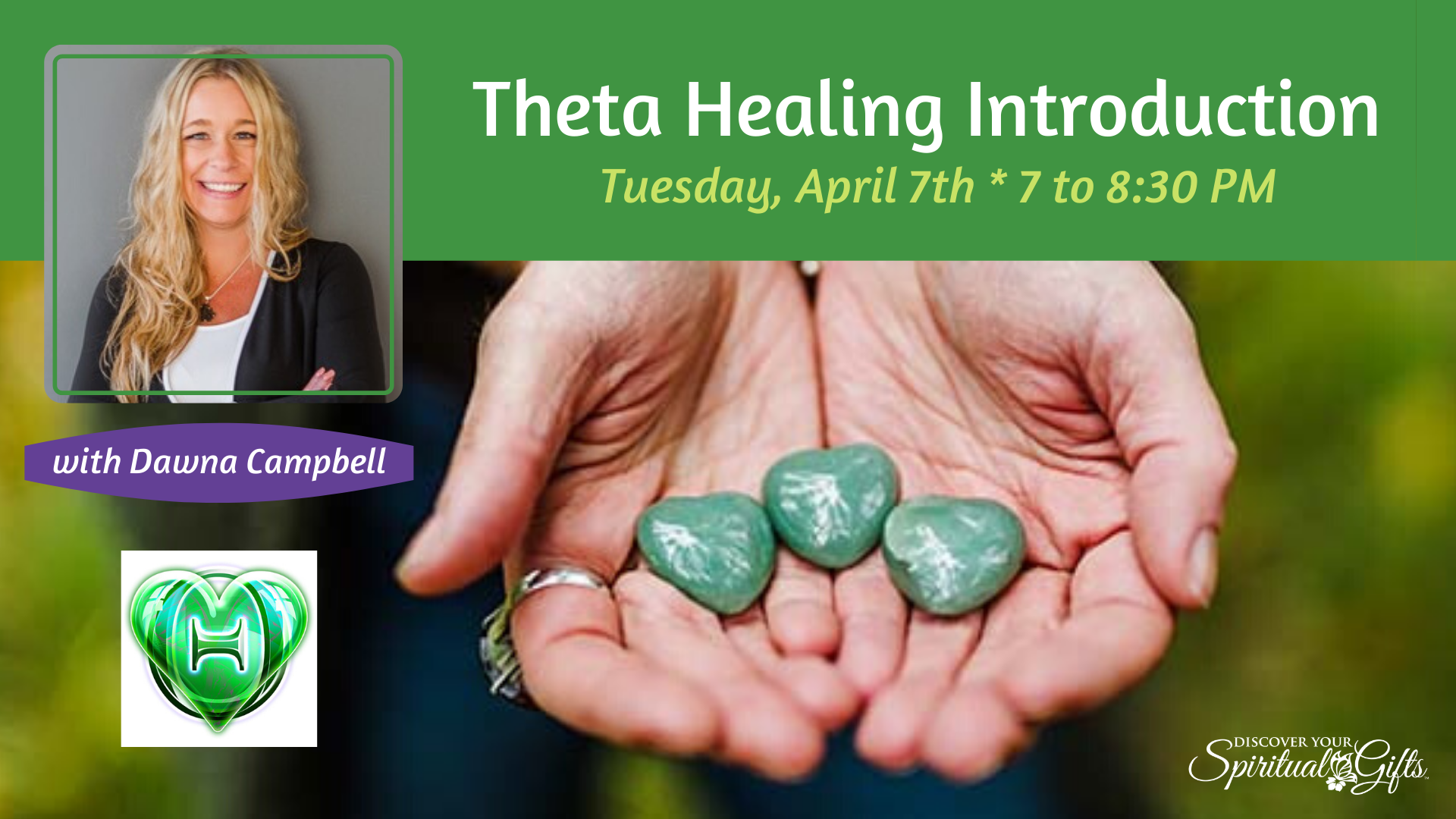 Image from eventbrite.com
---
ThetaHealing Introduction with Dawna Campbell (hosted by Jason Antalek)
Want immediate and life long change? Have emotional and behavioral issues you would like completely turned around? Looking to enhance your current healing practice with instant relief for your clients? Then Theta Healing is for You!
This is an internet hosted class. You can attend in person or through Zoom from your location. Dawna will be joining via Zoom to share the beauty of Theta Healing and how it can enhance your current practice, your life and those around you. We will meet in person at Discover Your Spiritual Gifts with Dawna joining us on screen to interact, answer questions and demonstrate Theta Healing meditations and techniques.
ThetaHealing is a mediation technique and spiritual philosophy that witnesses change on a physical, mental, and spiritual level. ThetaHealing is a training method for your mind, body, and spirit that allows you to clear limiting beliefs, living a positive life. ThetaHealing is also always used with conventional medicine. We believe by changing your brain wave cycle to include the "theta" state, you can actually watch the Creator of All That Is create instantaneous physical and emotional well being.
Health : Increasing your overall wellness, dis-creating sickness and illness
Wealth : Creating an abundant mindset, manifesting, and increasing prosperity
Relationships : Attracting more love in your life, soulmates, family, and community
Spiritual : Aligning with your life purpose, path, and direction in life
Emotional : Releasing trauma and abuse, self-worth, knowing that you matter
Scientist have discovered that certain brain wave frequencies have been found to do the following:
--> Alleviate stress and promote a long-lasting and substantial reduction in anxiety
--> Facilitate deep physical relaxation and mental clarity
--> Increase verbal activity and verbal performance IQ
--> Synchronize both hemispheres of the brain
--> Invoke vivid spontaneous mental imagery and imaginative creative thinking
--> Reduce pain, promote euphoria, and stimulate endorphin release
A Theta brain wave state is a very deep state of relaxation. The brainwaves are slowed to a frequency of four to seven cycles per second. Sages mediate for hours and hours to reach this state and in it they are able to access absolute calmness. Theta brain waves can be thought of as the subconscious. They govern the part of our mind that is layered between the consciousness and the unconscious. They hold memories and govern our attitudes, beliefs, and behavior. They are always creative, inspirational, and characterized by very spiritual sensations.
It is believed that the Theta state allows us to act below the level of the conscious mind. When we access a Theta state and call upon the Creator, we connect to the Creator of All That Is to heal a person instantly. When our consciousness is sent through the crown with the focused thought, the brain automatically shifts to a pure Theta State on the electroencephalograph.
COST: $20
ABOUT THE INSTRUCTOR
Dawna Campbell is a Certified ThetaHealing Certificate of Science and Master Instructor and Practitioner. She has an independent private practice where she meets clients and teaches the ThetaHealing® technique. Her personal philosophy and approach is based on heart centered healing. Dawna also works for the ThetaHealing Institute of Knowledge, located in Bigfork, Montana. She can be contacted at 406 272 6309. For more information, www.thetahearthealing.com or www.thetahealing.com/dawnacampbell
WHY YOU SHOULD REGISTER EARLY
Due to the size of our classroom, Discover Your Spiritual Gifts tends to sell out a handful events each month. We are often turning folks away at the door that did not pre-register to reserve their spot. If you want to have a guaranteed spot, you MUST register in advance - even for free events. Regardless of when you marked yourself as going, attendees with confirmed registration information will be given seat priority. Thank you for understanding! Register here:
PARKING & BUILDING ACCESS
FREE PARKING at the Little Creek Office Building & across street by Olde Steel Antique Guns.
Enter the building on the second floor. Go up the outside stairs (right or left side of the building) on the front of the Little Creek office building. Enter the external double doors for suite 275 at the south side of building on second floor. Arrive early to get the best seat. The room can be cool, bring layers.
1405 Views - 08/04/2020 Last update
Discover Your Spiritual Gifts
5808 S Rapp St, Littleton, 80120, CO, US
---
Are you an event organizer?
Create events for free. They will be immediately recommended to interested users.
Create event
Nearby hotels and apartments
5808 S Rapp St, Littleton, 80120, CO, US
---
---
Discover Your Spiritual Gifts
5808 S Rapp St, Littleton, 80120, CO, US
Event from
eventbrite.com
---
---
Are you an event organizer?
Create events for free. They will be immediately recommended to interested users.
Create event