TADPOLE JAM at Little Footprints Session #2
Tuesday 20 November 2018 1:00 PM Tuesday 29 January 2019 2:00 PM
Save
Saved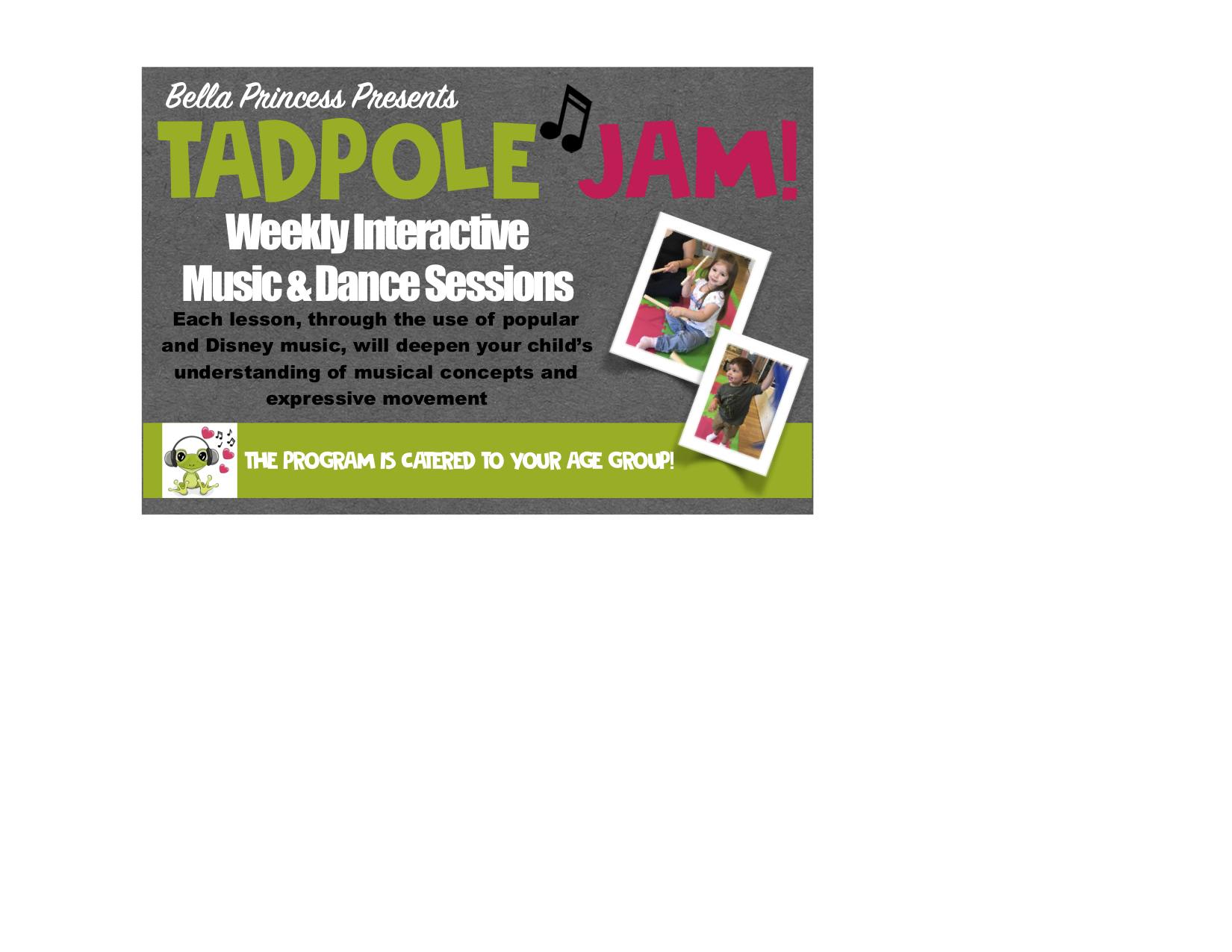 SESSION #2 of TADPOLE JAM at Little Footprints Learning Center!  
*****YOU MUST BE A REGISTERED STUDENT AT LITTLE FOOTPRINTS LEARNING CENTER TO ATTEND
Tuesdays from 1pm-1:45pm
November 20th-January 29th=8 weeks 
TADPOLE JAM is a weekly interactive music and dance session that uses POPULAR and DISNEY music to deepen your child's understanding of musical concepts and expressive movement. Rhythm sticks, percussion instruments, and scarves are incorporated into a jam packed forty-five minutes where the children will dive into a different genre of music each week. TADPOLE JAM provides a high-quality musical experience to teach rhythm, tempo, dynamics, and melody while following the New Jersey Student Learning Standards to ensure that your child can confidently "hop" into kindergarten music!   Plus, a special character guest comes the last week!  
11/20: Jazz/Soul/Blues
11/27: Rock
12/4: Pop (Hanukkah/Kwanza)
12/11: Country (Christmas)
1/8: Musical Theatre/Opera
1/15: Latin 
1/22: Reggae
1/29: R&B/Hip Hop/Rap (Moana comes!) 
For questions, feel free to contact Brittney at bellaprincessbrittney@gmail.com
music
culture
blues
hip hop
jazz
reggae
soul
family
Nearby hotels and apartments
Little Footprints Learning Center
520 King George Road, Bernards, 7920, NJ, United States
Little Footprints Learning Center
520 King George Road, Bernards, 7920, NJ, United States