^SSM-Cert-SAFe4-Scrum Master~MKE, 15 PDUs-M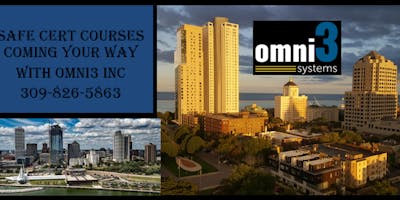 Image from us.eventeri.com
From Sat 19 October 2019 to Sun 20 October 2019
From Saturday 19 October 2019 to Sunday 20 October 2019
*Expert Instructor- Omni3-Payment Plan, 1-yr SAFe Mbrshp, Exam fee included, confirmed courses, 15 PDU, Workbook=PDF+H/C, Study-Guide/Study-Group, Multi-Cert Discount-1-hr South of ChicagoLand
SAFe (Scaled Agile Framework) is # 1 agile scaling framework and is highly marketable; Takes you well beyond simple team-level such as CSM, CSPO, PSM, PSPO, PMI-ACP classes
Cert options w/ Omni3 Inc.: [Scrum Master/Advanced SSM/SASM], DevOPs[SDP]. Prod Owner/Prod Mgr [POPM], Leading SAFe [SA], SAFe for Government Programs [SGP] :
https://www.omni3systems.com/
- Great networking event into the lean-agile world – and my students find jobs via my classes/network
- Top 5% Instructor 1st-Pass-Rate, if you don't pass in first try [30-day limit], we split the retake fee
- Payment Plan available, because many folks are investing in their own career and paying out of their own pocket - $75 off if you register a friend
- 15 PDUs, PMI refers to agility as a "Game Changer" - be a part of it, at full-scale
- Learn how your role/skills & strengths best translate into lean-agile-SAFe
- SAFe pre-read materials [optional] shared out prior to course, and study group set-up facilitated for after course to include discussion of sample test questions
- Not an "Ivory Tower" Instructor. Dan, an active lean-agile xform practioner in Corporate America, brings real-life experience from 7+ industries, 20+ companies
COURSE CONTENT INTRO
SAFe Scrum Master [SSM] Overview: If you are in a any size company, working on programs that involve more than just a couple simple scrum teams, then a cert in SAFe will clearly set you apart. Unlike traditional agile practioner and scrum master training certs that covers only team-level concepts and practices, this SSM course presents the role in-context of the program & enterprise and prepares you to successfully plan & execute all SSM-related SAFe ceremonies of team level PLUS higher levels such as Program Increments (PI), ART Synch-up, Innovation and Planning (IP), Program level Inspect and Adapt (I&A), ART Scrum of Scrums & System Demos.
During this very interactive and information-packed course, you'll gain an understanding of the Scrum Master role in a Scaled Agile Framework (SAFe) enterprise. You will learn about SAFe's Values & Principles that guide the mindset and mechanics of a SAFe enterprise. You'll also discover how to build high performing Agile teams with a servant leader mindset, and how to coach those teams to deliver the maximum business value. You can also use all you learn here on a "non-SAFe" effort, given a proper mindset of tailoring of selected items that may not be used in the near-term.
Key Elements of this course include:
Scrum + XP + Kanban
Lean and Systems Thinking
Applying & Scaling the Agile Manifesto Values and Principles
SAFe's 4 Values + 9 Principles
DevOps, CE. CI, CD automation, Release Mgt, CALMR
Product Development Flow
Six Sigma application in SAFe
Lean-Agile Mindset for Leadership success
Lean-Agile metrics and SAFe ceremonies
The Pay-off: SAFe [http://www.scaledagileframework.com/ ] is the world's leading framework for implementing enterprise agility. Now practiced in over 70% of the US Fortune 100, this proven framework has shown to significantly improve time to market, predictability, product quality and employee engagement. The SSM certification signifies that you are prepared to perform the role of Scrum Master in a SAFe environment, increasing your value to organizations and opening new doors throughout Corporate America.
Additional topics addressed: Team ownership, scrum values, early value delivery, retrospectives, backlogs for stories, features, capabilities & epics, including enablers and NFRs, road-mapping, program boards, MVP, risk management technique via ROAM, vision, objectives and goals, agile architecture, Agile Release Train [ART] and more ~
What You Get: Class is based upon the latest SAFe materials, and registration includes:
Printed workbooks PDF workbooks Course certificate
Eligibility to take the SAFe Scrum Master (SSM) certification exam
15 PDUs toward their continuing education requirements with the Project Management Institute (PMI) for PMP and PMI-ACP certifications // 15 SEUs
SAFe Certification Kit
Attendees who pass the certification exam will receive:
SAFe Scrum Master certificate
A SAFe 4 Scrum Master digital badge to promote your accomplishment online
A one-year certified membership as a SAFe Scrum Master, which includes access to the SSM Community of Practice
A SAFe Scrum Master certification usage guide with SSM certification marks
Access to a variety of learning resources to support certified professionals during their SAFe journey
Exam Details
Exam Name: SAFe® 4 Scrum Master Exam
Exam Format: Multiple choice; Multiple select
Exam Delivery: Web-based (single-browser), closed book, no outside assistance, timed
Exam Access: Candidates can access the exam within the SAFe Community Platform upon completion of the SAFe 4 Scrum Master course
Exam cost – First exam attempt is included as part of the course registration fee if the exam is taken within 30 days of course completion. Each retake attempt costs $50.
Exam Duration: Once the exam begins, candidates have 90 minutes (1.5 hours) to complete the exam
Number of Questions: 45
Passing Score: 33 out of 45 (73%)
Language – English
Retake policy – Second attempt on exam (first retake) can be done immediately after first attempt. Third attempt requires a 10-day wait. Fourth attempt requires a 30-day wait. Contact support@scaledagile.com for any retake questions.
Refund Policy/Terms and Conditions
- Full Refund if 30 or more days notice
- 1/2 refund with 14 days notice.
- 1/3 refund between 14 and 7 days notice. [no refund with less than 7 day notice.]
- but in many cases may transfer to different class/another student
Instructor Info: Public Profile: https://www.linkedin.com/in/agiledaniel
Instructor: Daniel J. Miklusicak, Lean-Agile/SAFe Transformation Consultant & Instructor
23 Views - 21/10/2019 Last update
MKE - Hilton Garden Inn, Downtown
611 North Broadway, Milwaukee, 53202, US
---
Are you an event organizer?
Create events for free. They will be immediately recommended to interested users.
Create event
Nearby hotels and apartments
611 North Broadway, Milwaukee, 53202, US
---
MKE - Hilton Garden Inn, Downtown
611 North Broadway, Milwaukee, 53202, US
Event from
us.eventeri.com
---
---
Are you an event organizer?
Create events for free. They will be immediately recommended to interested users.
Create event