South Beach VIP Nightclub Party Package (Party-Bus+Party-Boat & VIP NightClub entry)
Friday 25 October 2019 8:00 PM Friday 25 October 2019 11:30 PM
Save
Saved
Last update 17/01/2019
1073
//


Our Ultimate VIP Party Package starts at 8pm, with a Complimentary Party-Bus pick up at 930 Washington ave in the heart of South Beach. Complimentary drinks will be served on the way to the dock. Upon arrival and after refilling drinks, guests will board Party-Boat which can accommodate140 Party Animals. The second Level dance floor is were the fun goes down. Our DJ knows how to pump the crowd as you enjoy the spectacular views of the city pre-gaming before the "Big Turn Up" at the night-club after this boat-ride.
After Party-Boat guests will enjoy more drinks on Party-Bus in route back to South Beach to attend the night-club, Upon arrival our host will walk the groups into night-club with no additional cost, and with a guaranteed minimal wait time, Like a true VIP. This Ultimate Party Package will be one of your best night's in Miami.

Every night-club on each night caters to different types of music and crowds and Our host on Party-Bus will explain the club options along with information on events happening at each club available for that night.
Some venues may be blocked out or charge extra on big holiday weekends and special events.




-Tour Package is $100.00 per Guest.
-NON Refundable Deposit of $25 + Eventbrite Fee $2.47 to reserve your spot.
-$75 Balance is due in Cash at Pick up for the Event.
Receive a $10 discount on this tour by Booking Both our Pre-Parties.
https://www.eventbrite.com/e/miami-party-package-tickets-54982651591
Group rates are available for parties of 10 or more.
Call for More Information 305 859 1028
THERE ARE NO REFUNDS DUE TO SPACE LIMITATIONS.
Dress Codes:
Guys:
Short Pants, Plain Tee's,

slippers or open toe shoes

are Not allowed at the night-clubs.
Sneakers and Hats are allowed.
Ladies:
Must Have Heels for night-club entry but you can bring flats or slippers in your purse and change to heels to walk into the night-club.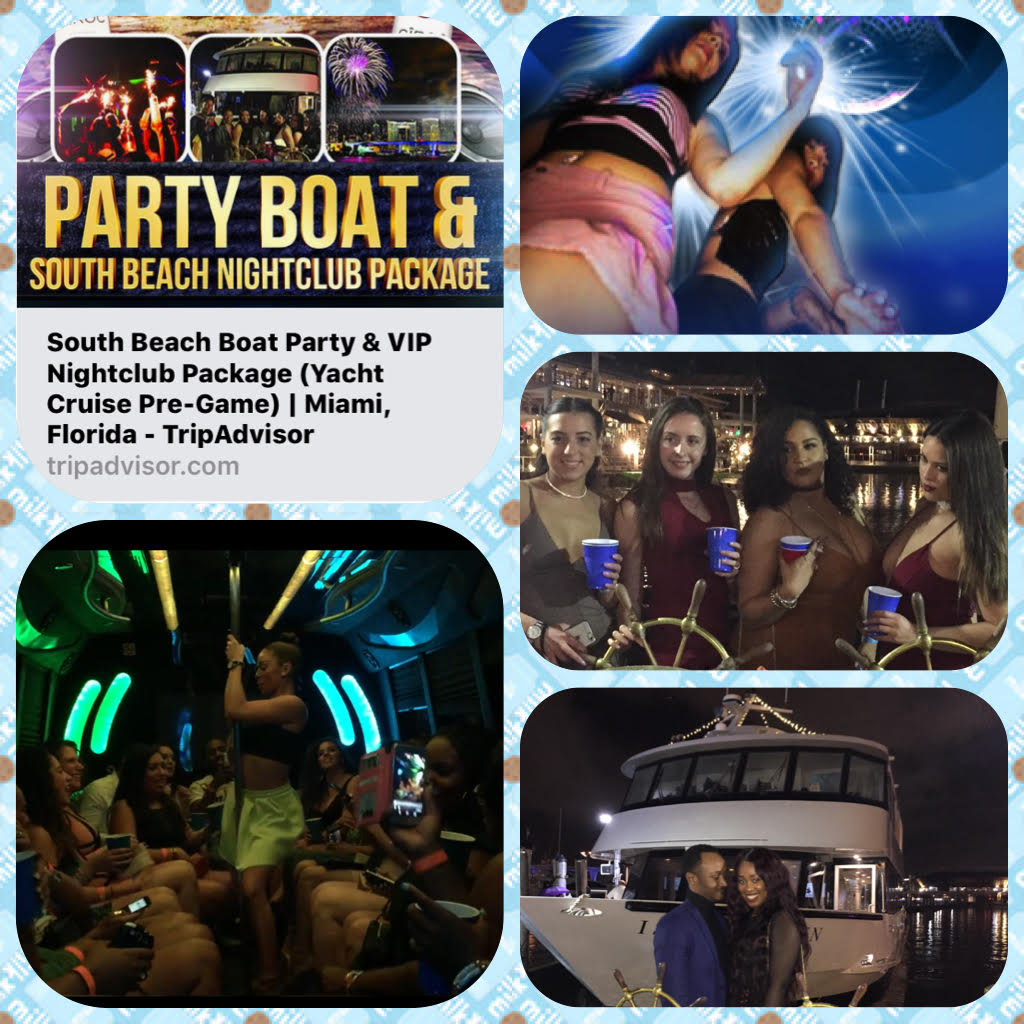 We offer a variety of daytime activities and other Night-life Packages.
Give us a call at (305)859-1028 for more information.
Nearby hotels and apartments
930 Washington Ave
930 Washington Avenue, Miami Beach, 33139, FL, United States
930 Washington Avenue, Miami Beach, 33139, FL, United States
Event from
eventbrite.com