Smartscape course
Tuesday 9 July 2019 3:00 PM Thursday 8 August 2019 6:00 PM
Save
Saved
Last update 09/08/2019
52
Smartscape is a research‐based professional training program specifically designed to promote attractive, water-efficient landscapes.

Smartscape is a training program specifically designed for landscape industry professionals such as: installation and maintenance supervisors and crew members (as well as company owners and office staff involved in scheduling field staff or contracting), landscape architects and designers, nursery employees, and municipal employees (Parks & Rec, Water). We also encourage HOA committee members and property management personnel to attend.

The Smartscape program prepares students with essential skills for the basic design, installation, and maintenance of attractive, water-efficient landscapes that offer a unique sense of place and value to our communities. Smartscape delivers 20 hours of high-quality education on the best irrigation and horticultural practices appropriate for the Sonoran desert environment. For $95, students receive a Smartscape Study Guide and manual with valuable information and materials, instruction from experts in the green industry, the opportunity to earn International Society of Arboriculture (ISA) continuing education units as well as credits for the Arizona chapter of the American Society of Landscape Architects (AzASLA) Continuing Education System, and complimentary snacks.

Topics include:

- Plants, Soil, & Water

- Landscape Design and Renovation

- Plant Selection and Installation

- Drip Irrigation Design and Installation

- Landscape Water Management and Irrigation Controllers

- Maintaining Desert Adapted Plants

- Plant Disorders

- Desert Adapted Plants

Participants must attend all of the classes and receive a passing score on the exam to graduate. Upon graduation from the course, graduates receive a certificate of completion from the University of Arizona and a chance to market themselves as a Smartscape professional by listing their contact information in the Smartscape Online Directory at www.smartscape.org/directory.

Class will be held every Tuesday and Thursday from July 9th through August 8th from 3:00 to 6:00 pm.

Contact Kirti Mathura, the Smartscape Program Coordinator, with any questions or concerns. (602) 827-8206 or kmathura@email.arizona.edu

*REGISTRATION FEES ARE NON-REFUNDABLE. A service fee is added to all credit/debit card payments. Contact Program Coordinator if you wish to pay with a check.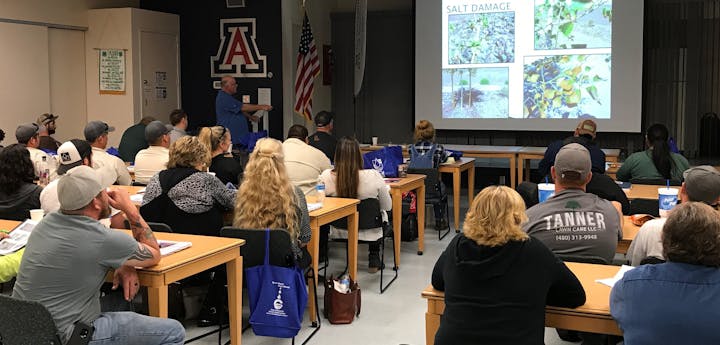 art
trade shows
sports
courses
education
Nearby hotels and apartments
University of Arizona Cooperative Extension - Maricopa County
4341 East Broadway Road, Phoenix, AZ, United States
University of Arizona Cooperative Extension - Maricopa County
4341 East Broadway Road, Phoenix, AZ, United States
Event from
eventbrite.com