SLOW SPACE! Connection . Intention . Community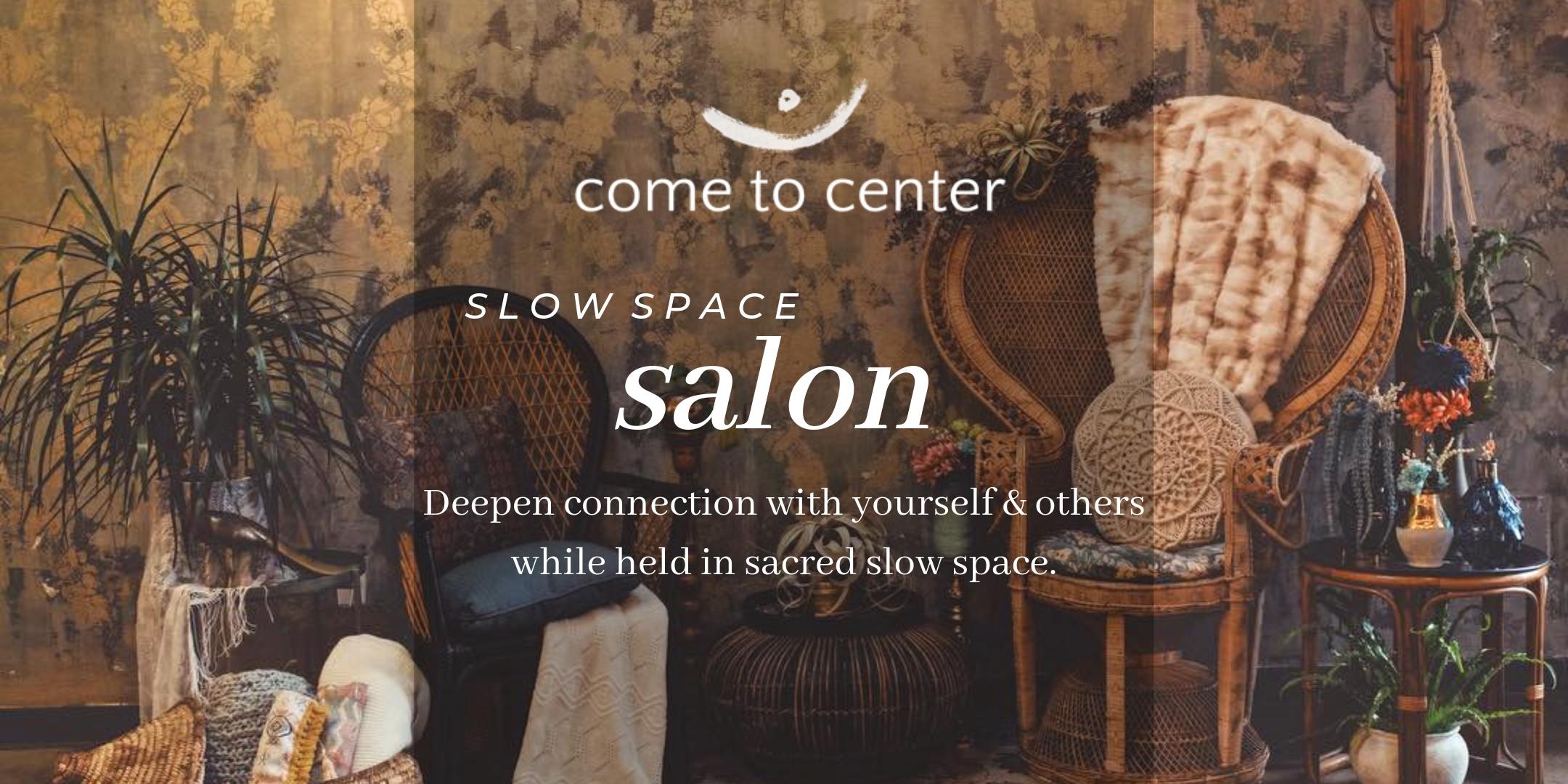 Image from eventbrite.com
---
Tired of rushing around? Making small talk, feeling like you have to be something you aren't, and playing small?
You aren't alone in wanting intentionality, meaningful connection and community!
Join us to step outside ordinary space into slow space. It brings people closer to themselves and eachother.
"If you're looking for more authentic expression and deep connection in 2020, I urge you to visit Slow Space. Ishita is a master coach, facilitator, and healer and she cultivates incredibly powerful experiences that foster emotional freedom, courage, and personal authenticity.
My wife and I got to attend a special session last month, and it had a massive positive impact on our relationship. Can't recommend it enough. You're welcome!" - AC
||| Each salon stands alone event and introduces our Consciousness in Connection Weekend Workshop.|||
Every gathering is an invitation into deeper authenticity and connection with yourself and others. It's a space where you can leave behind all ides of who you should be and be who you actually are. Slowing down catalyzes creativity, connection and curiosity, it sparks alchemy within and between us. We'll take our time, get real and practice relating from our center- that place in you that is good, strong, whole and free.
We'll meet in the gorgeous Canopy Room one Tuesday a month. You can expect laughter, tears, warmth, release, connection, new friends and new ways to look at yourself and life.
Together in this safe container we'll explore things like:
* Slowing down- acting intentionally rather than from reactive auto-pilot.
* Getting real with ourselves and others. Being deeply seen by and seeing others.
* Multiple perspectives on your dreams and challenges.
* Balancing polarities: speaking and listening, giving and receiving, time alone and time together, being and doing.
* Play, wonder and joy!
We'll use a mix of movement, meditation, ritual, social games, paired exercises, creative expression in circle and in pairs to share our truth, heart and power in supportive community.

Space is limited to 12 people to facilitate depth. Please RSVP in advance. Ticket sales end 24 hrs in advance so we can prep accordingly.
Each Salon will be different, guided by the participants' wants and needs. You will leave looking at yourself, others and life differently.
Bring your curiosity, openness and anything you'd need to make yourself comfortable. All parts of you are welcome here. We look forward to meeting you in slow space!
**** Please note we sometimes take pictures of the event to share with you and use for promotional purposes. IF YOU DON'T WANT YOUR IMAGES TO BE USED FOR PROMOTION, PLEASE LET US KNOW, either when buying the tickets or when you arrive. ***
ABOUT THE FACILITATOR
A mentor, mirror and modern mystic, Ishita Sharma is dedicated to living and facilitating personal, professional and spiritual growth via her practice Come to Center.
Ishita coaches individual clients, consults in businesses and facilitates workshops that foster conscious transformation around the world. She deftly combines western contemporary wisdom and age-old eastern science, group dynamics, western body based psychotherapy and her intuitive attunement to bring forth the fullest life in each individual and group.
Her mission is to realize a world that lives, loves and leads from center. A mirror to your truth, beauty and power, she stands with and for your freedom.
2016 Views - 10/06/2020 Last update
The Canopy Room
1 Bow Market Way, Somerville, 2143, MA, US
---
Are you an event organizer?
Create events for free. They will be immediately recommended to interested users.
Create event
Nearby hotels and apartments
1 Bow Market Way, Somerville, 2143, MA, US
---
---
The Canopy Room
1 Bow Market Way, Somerville, 2143, MA, US
Event from
eventbrite.com
---
---
Are you an event organizer?
Create events for free. They will be immediately recommended to interested users.
Create event