Scaling Up Business Growth Workshop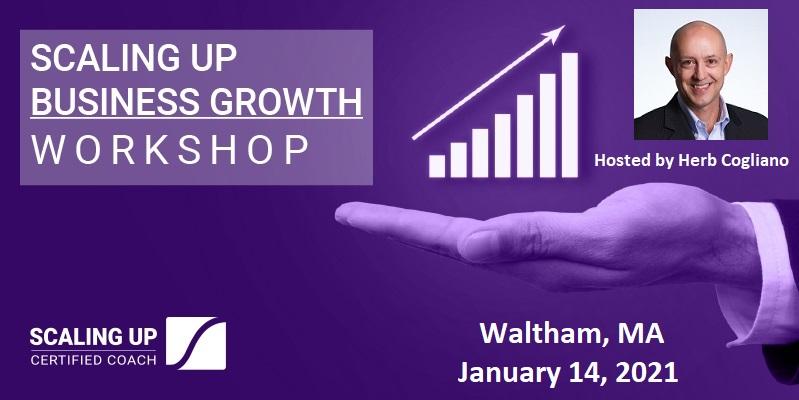 Image from eventbrite.com
---
This workshop is designed for CEOs and executive teams of mid-market companies* ($3M-$250M). It will empower you and your team to accelerate profitable growth using a time-tested and results-driven methodology.
WHAT YOU'LL LEARN IN THE WORKSHOP
How to create a company strategy that dominates your industry
How to create a winning team that is happy and aligned with your vision
How to develop systems and processes that run without drama and drive industry leading profitability
How to generate consistent sources of cash to fuel the growth of your business
Learn through best practices, hands-on exercises, group discussions, and coaching demonstrations. We will focus on the four critical decisions all businesses face.
ALIGN
Get faster results with less effort by developing organizational clarity, alignment and focus.
ACCELERATE
Develop a strategic advantage over the competition. Position your brand as a market leader and capacitate your people to take action and welcome accountability.
ADVANCE
Using the Rockefeller Habits 2.0, Scaling Up Coaches have enabled companies to dominate their industries and make a more significant difference in the world while achieving industry leading results.
All workshop participants will receive:
A FREE Business Growth Kit-Includes the Scaling Up Book and Growth Tools Worksheets for Scaling Up
Complimentary Scaling Up Assessment-Is what you believe to be true about your company's readiness to scale actually true? You will receive a comprehensive report about how prepared your company really is for continued growth!
Training by a Certified Scaling Up Coach
Opportunity to connect with other CEO's and Senior Executives
About Your Presenter
Herb Cogliano is a Certified Scaling Up Business Coach and experienced CEO Scaling Up practitioner. He was the former CEO of Sullivan and Cogliano with over 30 years of experience. S&C owned and operated a portfolio of companies that provided Technology Staffing and Career Education throughout North America for over 53 years. Herb has learned firsthand what it takes to overcome many business challenges, these lessons resulted in his firm being recognized multiple years on the Inc 5000 Fastest Growing Companies list and being voted multiple years as a Best Places to Work.
He is the Managing Partner of Aspire Growth Advisors, a boutique firm whose practice is based on the award-winning books Scaling Up and the Rockefeller Habits. Herb provides certified coach supported programs to owner managers and senior teams implementing the Scaling Up methods successfully in their business. The Scaling Up Platform and Rockefeller Habits are described well in Verne Harnishs Mastering the Rockefeller Habits and Scaling Up books, but the implementation process can be complex and unique for each business. Aspire Growth Advisors was founded to help accelerate adoption and usage of Scaling Up methods, provide outside, unbiased 3rd party perspective, and provide easier access to global business thought leaders and industry best practices. The results help business owners decrease the drama and long hours spent working in the business and create 2X cash flows, 3X industry average profits, and 10X valuations.
www.aspiregrowthadvisors.com
What Our Clients Say About Us:
Why Scaling Up Methods and the Rockefeller Habits Work
"I found it to be extremely helpful. I like that the planning session has given our team empowerment, structure, and direction. It has given us a road map to scale our business and made us think outside of the box. It forced our team to ask questions we have never asked before and it has opened our eyes to building a stronger and more successful company."
Dan Fantasia, President - Treeline, Inc.
"It was an inspiring and such an informative day truly one of the best workshops Ive ever been to. Herb was phenomenal in his presentation and in content. I learned I have so much to do, and I came away with 20 really good action items. I have my book open in front of me and I cant wait to dive in."
Mark Desrochers, President - Charles River Interactive
I had the privilege of attending a Scaling Up workshop presented Herb Cogliano. Herb is incredibly passionate, intelligent and engaging. We learned how Herbs thirst for knowledge brought him to the Scaling Up method which resulted in exceptionally rapid growth. Scaling Up allowed Herb to exit his company a 10X multiple in a very difficult industry. He now chooses to focus on what he truly loves to do, which is sharing his knowledge of business with others. On a personal note, the group exercises allowed me to evaluate numerous areas of my law firm. I was excited to acknowledge where I am doing well and challenged by the opportunities in areas where I need to improve. I highly recommend spending a day with Herb Cogliano to learn more about the successful Scaling Up Process.
Rob Anctil, Managing Partner - Perkins & Anctil Attorneys at Law
3522 Views - 14/01/2021 Last update
winter street 860
the conference center at waltham woods, waltham, 2451, ma, us
---
Are you an event organizer?
Create events for free. They will be immediately recommended to interested users.
Create event
Nearby hotels and apartments
the conference center at waltham woods, waltham, 2451, ma, us
---
---
winter street 860
the conference center at waltham woods, waltham, 2451, ma, us
Event from
eventbrite.com
---
---
Are you an event organizer?
Create events for free. They will be immediately recommended to interested users.
Create event
Waltham

›