Sarcoma Patient and Caregiver Education Program for patients and their loved ones
Saturday 27 April 2019 9:00 AM Saturday 27 April 2019 3:00 PM
Save
Saved
Last update 28/04/2019
2640
You are invited to an educational program hosted by Seattle Cancer Care Alliance and Fred Hutchinson Cancer Research Center in collaboration with Northwest Sarcoma Foundation and National Leiomyosarcoma Foundation. This free event is for patients with Sarcoma, as well as their family, friends and the community. You will have the opportunity to ask questions, learn about treatments, healthy lifestyles, and connect with others living with Sarcoma.
Light breakfast and lunch will be provided.
Attendance is free, but pre-registration is required.
Agenda -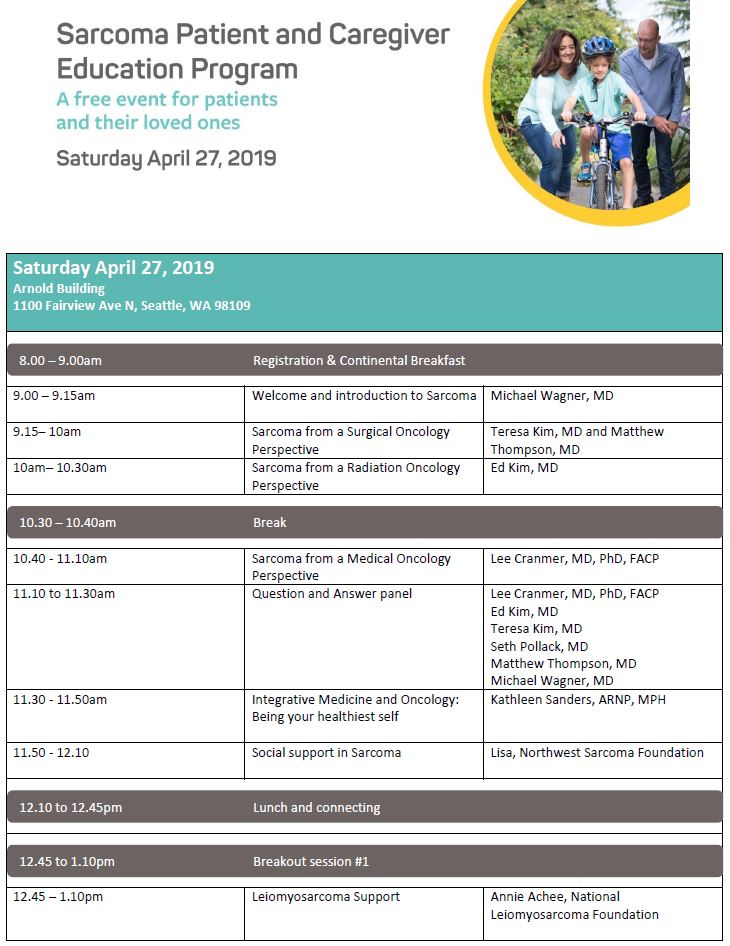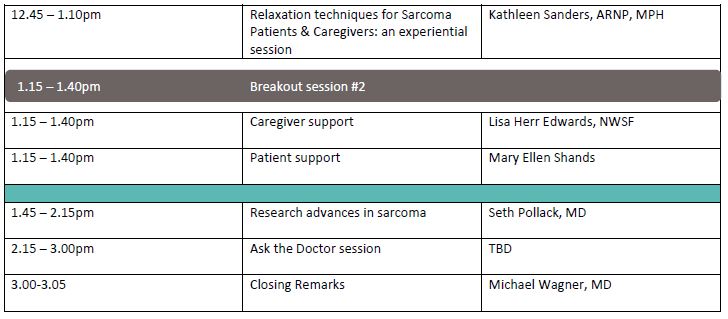 Directions & Parking Information
Location: Arnold Building - Behnke Conference Suites, Fred Hutchinson Cancer Research Center, 1100 Fairview Avenue North, Seattle, WA 98109
From I-5 Northbound or Southbound
Take exit 167, Mercer Street/Seattle Center. (If you are northbound on I-5, you will exit I-5 from far left lane. If you are southbound, you will exit I-5 from far right lane.) As you exit, move to the far right lane.

Turn right at the end of the ramp onto Fairview Avenue N.

Veer right at the light, staying on Fairview Avenue N. (Do not turn right onto Valley Street.) Travel one more block to Aloha Street.
***FOR DIRECTIONS TO DISABLED PARKING, SKIP TO THE INSTRUCTIONS BELOW***
Turn right onto Aloha Street, and travel up the hill. Just past the roundabout, and ACROSS from SCCA, turn left into the parking lot (parking in this lot is free for event attendees – please DO NOT park in the SCCA underground garage).
To get to the venue from the Parking Lot:
Proceed down the stairs on the NW side of the parking lot and turn left at the bottom of stairs, cross over pedestrian walkway to reach the entrance of the Arnold Building.

When you enter the Arnold building, continue through the second set of sliding doors and turn left at the reception desk. The Behnke Conference Suites will be on your left.
TO ACCESS DISABLED PARKING
Please continue from number #3 above.

Continue on Fairview Avenue North. Continue past Aloha Street and turn right at the next road, Campus Drive.

Travel up the hill on Campus Drive to the Roundabout/Vessel Sculpture.

The Arnold Building drop off is at the roundabout and disabled parking can be located straight ahead or to the left of the Vessel.
Nearby hotels and apartments
Fred Hutchinson Cancer Research Center
1100 Fairview Avenue North, Seattle, 98109, WA, United States
Fred Hutchinson Cancer Research Center
1100 Fairview Avenue North, Seattle, 98109, WA, United States
Event from
eventbrite.com