SAFETY & INTRO CLASS - April 1st (1st Wednesday)
COVID-19: many events have been canceled or postponed, please check with the organizer the event status.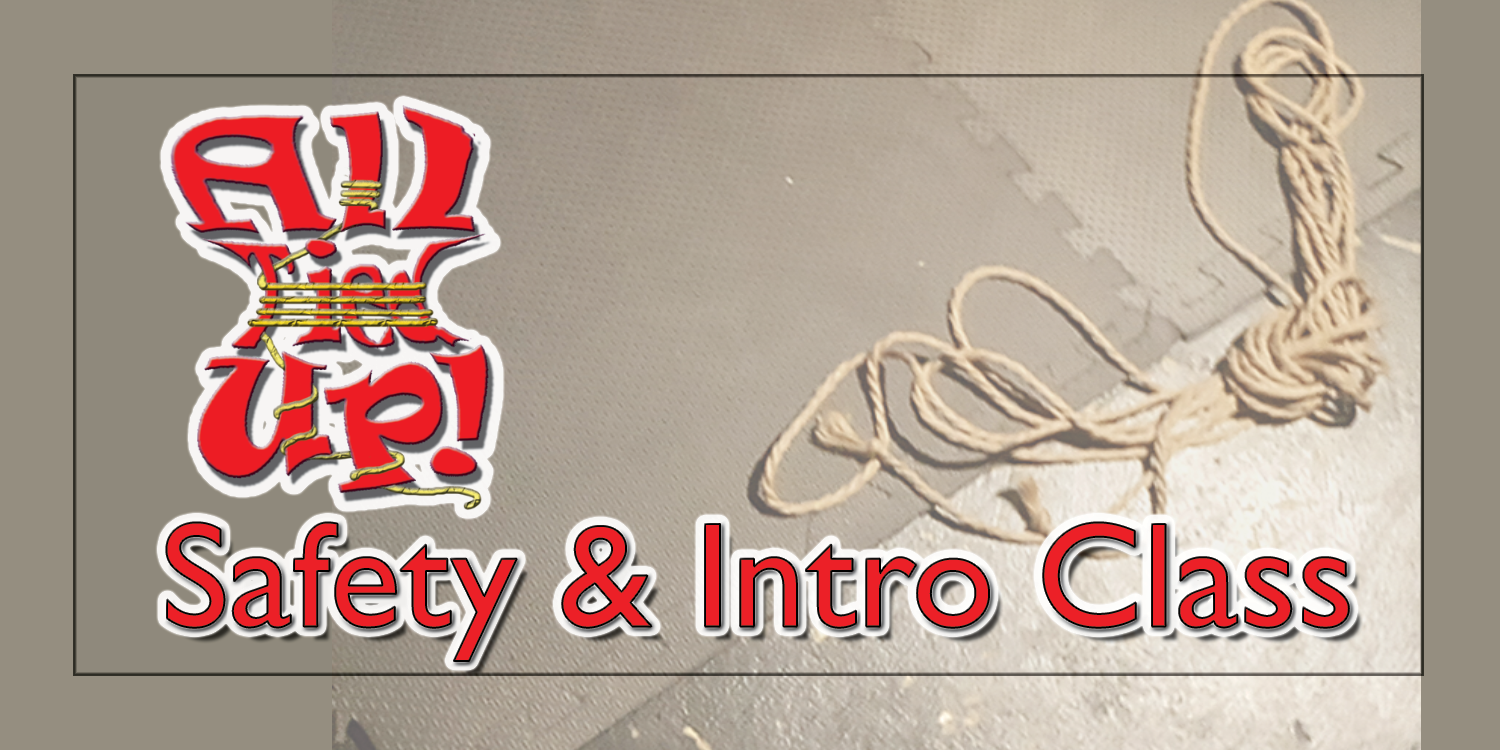 Image from eventbrite.com
---
This event is for those who are new to our events.
It runs simultaneously with our Open Practice event for our returning attendees.
You will start with the Safety & Introduction class.
This is the most detailed and thorough rope safety and introduction class in the United States!
You will spend 3 hours in direct instruction with our trained staff. By the time you leave you will have either tied or been tied in three different ties that will give you lots of opportunities after class. Plus, you'll get the opportunity, after class, to join the largest rope community in Southern California!
This amazing community is about more than just rope and can help you to connect with others, and improve your skills!
Once you have attended the Safety and Intro Class, you then are allowed to participate in the Open Practice, Ropetastic Romp and 101 Classes.
You need to be there by 7 PM to begin the registration process for the class (doors open at 6:45). If you are not there by 7:10 AM you may be asked to return another day. No refunds will be given.
When: 1st Wednesday & 4th Saturday of each month!
Where: Contact Us
Time: 7:00pm (doors open at 6:45 to register for the event) until 10:00pm.
Cost: $20 per person.
You will be emailed a link to our online waiver. Please take a moment to complete this before coming to the event. It will help make your registration process smoother.
Water and snacks will be provided.
Dress code: See FAQ's
Please only undress to your level of comfort; remaining fully clothed is completely okay!
Event Etiquette, Rules, and Suspensions
What Do I Need to Come To An Event
Please join our Fetlife Group: All Tied Up San Diego
Please know we will also ask you to show your legal ID and sign both a liability waiver and an understanding of the event rules before participating.
Also look for our other events!
FAQs
Q. What's the refund policy?
Refunds will be given for cancellations made more than 24 hours before the event. After this time, due to our fixed costs for the event, refunds can only be given if another couple/person can fill the spot.
Q: What is Shibari?
A: Shibari, also known as Kinbaku, is an art form using learned skills to perform sensual, dramatic, and erotic rope bondage. Traditional shibari has its origins in Japan. Shibari is a style of rope art, it is not the only style.
Q: Is rope safe?
A: Beginning rope work under the direction of an All Tied Up instructor is generally a very safe and fun activity. Rope play in general is considered "edge play," which means you have the potential to be hurt. We will cover most of the safety aspects of rope during the introductory class. We strive to create a safe and fun environment, but we make no guarantees that it is safe to do rope work.
Q: What is the environment at a Rope Practice & Instruction event?
A: To the surprise of many first time attendees, the events are very laid back and friendly. We work to create a welcoming environment in which people can share and experience rope safely. Check out our website for more information.
Q: What is the dress code? See above.
A: This is a private event. There is no requirement for anyone to undress; please only do what feels comfortable! If you want to remain clothed, we strongly recommend that women do not wear a bra with an underwire. We recommend wearing tight-fitting clothes that are cool and comfortable — something that you might wear to a yoga class, for example. (Some attendees may choose to undress)
Q: What is it like to be tied?
A: Each experience is unique to the individual, however many tell us that it feels like a good hug or a massage. More advanced experiences can lead to ties that are beautifully decorative, painfully torturous, tightly bound, and/or put you in a creative predicament.
Q: What is it like to tie?
A: As you begin to tie you will find that your focus is on safety, proper execution, and placement. You may feel like you are going through a series of steps in order to achieve a particular outcome. Over time you will find that safety will ALWAYS be a concern, but you will be able to improve your flow and control.
Q: What do I need to do to come to an event?
A: If this is your first time, we recommend that you purchase a ticket. These classes tend to sell out and we have limited space. Our website also has helpful information.
Q: Can I just watch?
A: Your first event you will be in a class for the full event. During that event you are expected to participate.
At subsequent events, yes, voyeurism is an acceptable action during an event, provided you are not interrupting or disturbing others. Many new attendees do spend time watching the amazing ties that are done by the more experienced Riggers and bottoms in our group. This is a good way to learn too!
Q: Is there food?
A: We provide light snacks, water, and juice drinks.
Q: What about consent?
A: In the rope community, and in all of the kink community, consent is one of the primary matters to consider and receive PRIOR to doing ANYTHING with ANYONE. Make no assumptions; do not touch anyone without their permission. Even before you hug someone you should ask, "May I hug you?" If you receive a "Yes!" then you have consent. A "No!" means . . . NO!
At All Tied Up events words like, "stop," "quit," "no," etc. . . . are all taken very seriously. If anyone is saying these words we expect the Top to stop and respect the request of the bottom. Any violation of this will result in immediate ejection from the event.
We are very safety oriented and desire to have a safe place for our attendees.
292 Views - 02/04/2020 Last update
miramar area trade street area, san diego, 92121, ca, us
---
Are you an event organizer?
Create events for free. They will be immediately recommended to interested users.
Create event
Nearby hotels and apartments
miramar area trade street area, san diego, 92121, ca, us
---
---
miramar area trade street area, san diego, 92121, ca, us
Event from
eventbrite.com
---
---
Are you an event organizer?
Create events for free. They will be immediately recommended to interested users.
Create event