Robbie Conal & Shepard Fairey in conversation with Jim Daichendt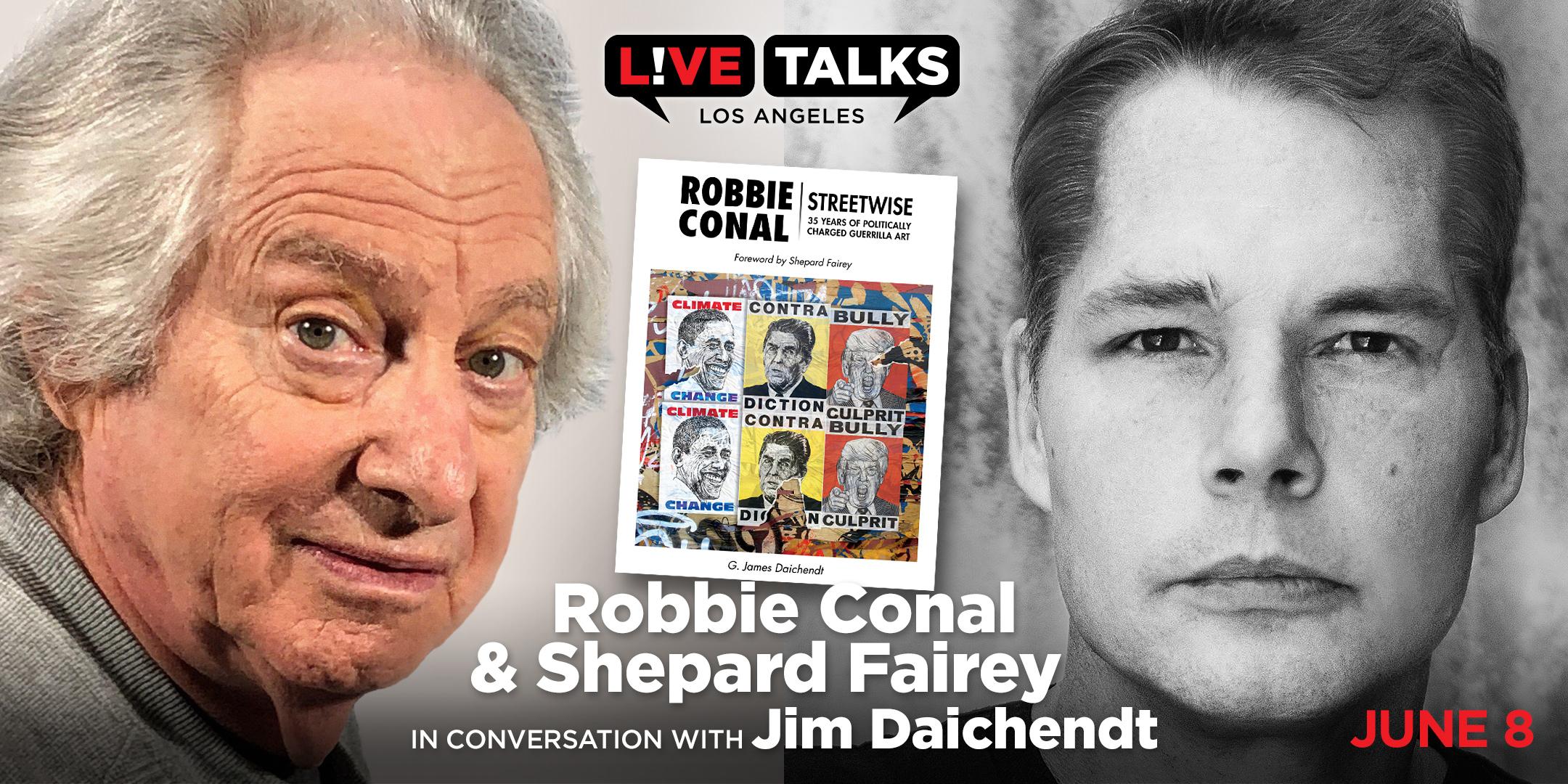 Image from eventbrite.com
---
Robbie Conal & Shepard Fairey
in conversation with Jim Daichendt
discussing the book,
Robbie Conal: Streetwise
35 Years of Politically Charged Guerrilla Art

at Dynasty Typewriter at The Hayworth (Parking info)
TICKETS
$60 Reserved Section Seating (includes coffee table book)
$95 Pre-Reception (6:30-7:30pm), Reserved Section seating (includes book)
$20 General Admission (on sale May 8, 10am)

Over the past 35 years, Robbie Conal has made more than 100 street posters satirizing politicians of all stripes, televangelists, the news and entertainment media, and global capitalists. He began making satirical oil portraits of politicians and bureaucrats, turning them into street posters. He developed an irregular guerrilla army of volunteers who helped him poster the streets of major cities around the country. With his unique brand of humor and insight, he has also taken on heavier subjects like censorship, war, social injustice, and environmental issues. Not to be understood too quickly, Conal recently began applying his wit on celebratory portraits of his personal heroes Nelson Mandela, Gandhi, the Dalai Lama, Martin Luther King, Jr., James Baldwin, Marie Curie, Albert Einstein, Greta Thunberg, Ruth Bader-Ginsburg, and Maya Angelou.
His work has been featured on "CBS This Morning," in Time, Newsweek, The New York Times, Los Angeles Times, The Wall Street Journal, The Nation, Vanity Fair, Rollingstone, and People magazines. He has received a National Endowment for the Arts Individual Artist Grant, a Getty Individual Artist Grant and a Los Angeles Cultural Affairs Individual Artist's Grant (COLA).
Conal's work has been collected by—and featured in exhibitions at—The Metropolitan Museum of Art in New York, the Los Angeles County Museum of Art, The Museum of Contemporary Art in Los Angeles and the San Jose Museum of Art. He has also been a cartoon character on The Simpsons.His art was featured in the 2015 Venice Biennale and an international street art exhibit in Vienna, Austria. His most recent solo exhibit, Cabinet of Horrorsfeatured Donald Trump and his close cohorts, at Track 16 DTLA Gallery (2018).
His books include Art Attack: The Midnight Politics of a Guerrilla Poster Artist, Artburn, and Not Your Typical Political Animal, with his wife Deborah Ross.
Robbie Conal: Streetwise 35 Years of Politically Charged Guerrilla Art features every image in Robbie Conal's storied poster campaigns -- gnarled, gut retching, and emotionally laden -- and is the definitive history of "America's foremost street artist" (Washington Post). A foreword by Shepard Fairey sets the scene. Conal's satirical posters of political figures are given richer context as his life story is insightfully joined with art criticism by expert Daichendt. Today honored by museums and arts organizations around the world, Conal hit high speed during the Reagan administration in 1986, when he began turning his grotesque portraits into street posters. We see Conal's life come together at a critical moment to attack issues of censorship, war, social injustice, and the environment.
Shepard Fairey is an American contemporary street artist, graphic designer, activist, and illustrator who emerged from the skateboarding scene. He earned a Bachelor of Fine Arts in illustration from Rhode Island School of Design in 1992. While a student there in 1989, he created the "Andre the Giant has a Posse" sticker that transformed into the OBEY GIANT art campaign, with imagery that has changed the way people see art and the urban landscape. He is known for his Barack Obama "Hope" poster, which he created in support of the 2008 presidential campaign. Fairey's stickers, guerilla street art presence, and more than 100 large scale public murals are recognizable worldwide. His work is in the collections of several museums, including the Smithsonian in Washington D.C., the Los Angeles County Museum of Art, the Museum of Modern Art, New York, and the Victoria and Albert Museum, London.
James Daichendt, EdD, serves as Dean of the Colleges and Professor of Art History at Point Loma Nazarene University in San Diego. He is the author of several books including Robbie Conal: Streetwise: 35 Year of Politically Charged Guerrilla Art The Urban Canvas: Street Art Around the World; Kenny Scharf: In Absence of Myth; Shepard Fairey Inc., Artist/Professional/Vandal; Stay Up! Los Angeles Street Art; Artist Scholar: Reflections on Writing and Research , and Artist-Teacher: A Philosophy for Creating and Teaching (Intellect Ltd, 2010). He is an art critic and journalist for KCET's Artbound. In addition, he is the Chief Editor of the academic journal Visual Inquiry: Learning and Teaching Art. Jim holds a doctorate from Columbia University and graduate degrees from Harvard and Boston Universities.
Ticket sales are final. Refunds offerred if event is cancelled.
2567 Views - 09/06/2020 Last update
Dynasty Typewriter At The Hayworth
2511 Wilshire Boulevard, Los Angeles, 90057, CA, US
---
Are you an event organizer?
Create events for free. They will be immediately recommended to interested users.
Create event
Nearby hotels and apartments
2511 Wilshire Boulevard, Los Angeles, 90057, CA, US
---
---
Dynasty Typewriter At The Hayworth
2511 Wilshire Boulevard, Los Angeles, 90057, CA, US
Event from
eventbrite.com
---
---
Are you an event organizer?
Create events for free. They will be immediately recommended to interested users.
Create event