Restoration Warriors Women's Conference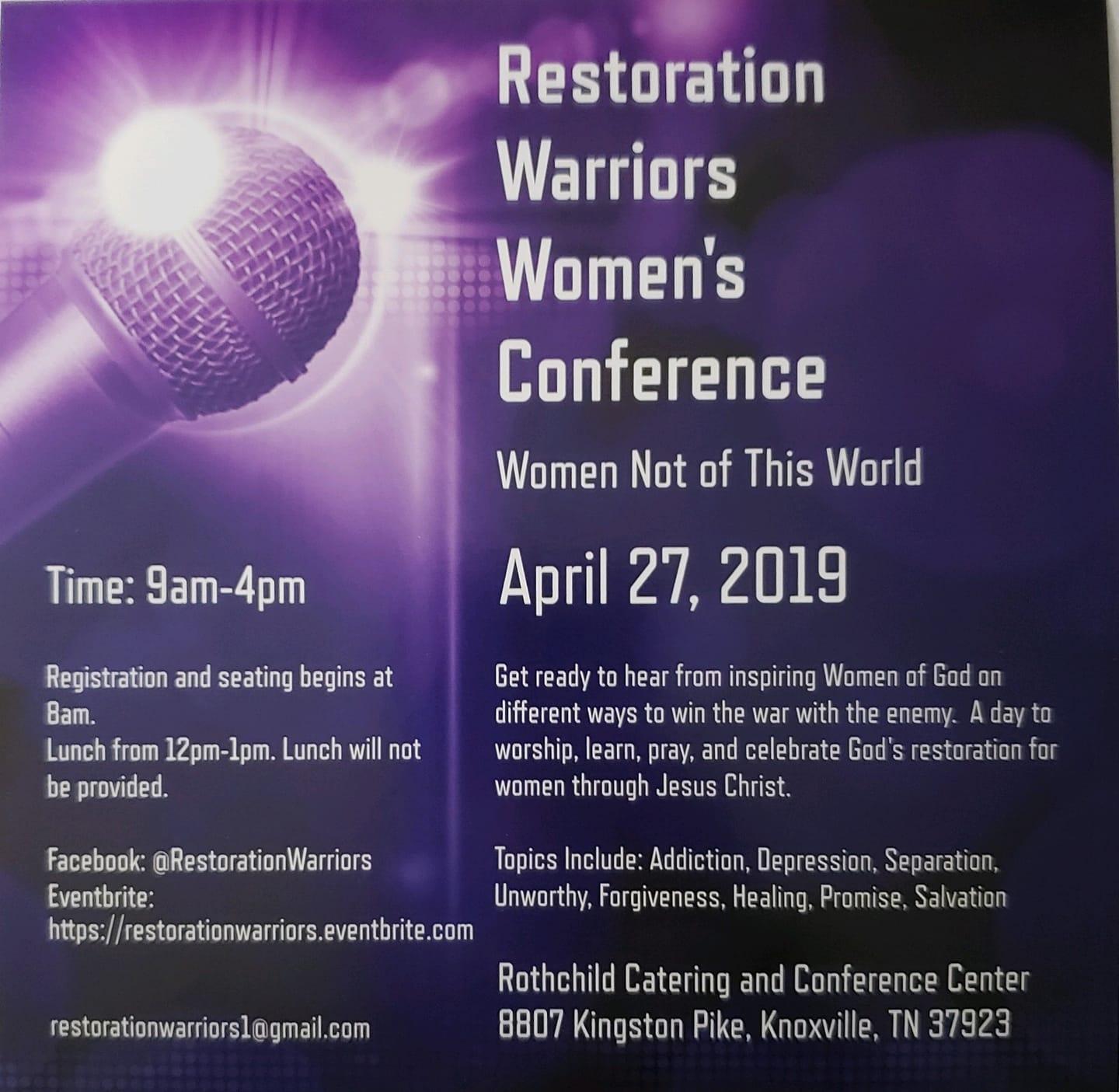 Image from eventbrite.com
---
A day to worship, learn, pray, and celebrate God's restoration for women through Jesus Christ.
Registration/Seating: 8 a.m. -9 a.m.
Begins: 9 a.m.
Lunch: 12 p.m.-1 p.m.
Closing: 4 p.m.
*Lunch will not be provided. Complimentary water, tea, and coffee. No outside food or drinks allowed in conference building.
The last day to order t-shirt with tickets will be March 31, 2020
Introducing this years speakers in no particular order:
Alli Becker:
Alli Becker holds a degree from the University of Minnesota in Biochemistry, has self-studied and tried various exercise programs for over 25 years, and advocates nutrition that is a blessing to God's creation.
In 2008, Alli felt stirred to bring exercises to the public that included her Christian faith, specifically penetrating the "mind-body" fitness field. She responded by becoming ACE certified and created what is now called, Keola®, an exercise for spirit, soul, and body based off of 1 Timothy 4:8 that marries physical and spiritual training while uniquely sharing the love story of the Gospel throughout the movement.
Alli is an ACE certified group fitness instructor and health coach. She encourages and empowers women to live fully in Christ, leads Bible studies, and offers Keola® training for others who want to share Jesus and fitness. Her hope is that God will use Keola® and every instructor to inspire and equip others to actively pursue God's heart, Kingdom, and His individual purpose for their life.
Laura West:
Laura West is a Christian Comedian and inspirational speaker. She has been traveling over 16 years sharing Jesus and spreading joy. She is married to John, a Sevierville Police Officer. They have three children and four grandchildren. Laura and John together fostered over 100 medically fragile children. One of which they adopted. Maleka came to them broken, burned and blind but God was faithful! Laura and Maleka now travel together bringing encouragement and hope to thousands of people across the United States. They share with others that if you have a pulse you have a purpose.
Valerie Garner:
Valerie is 29 years old. She is a wife to Brandon and a mother to her 1 1/2-year-old son, Denver. She is a recovered drug addict who has been clean for 7 years and has been on a beautiful journey of healing and freedom for the past 4 years now. She has radically encountered Gods love and his heart for people, and her deepest desire is to see others experience the goodness and kindness of God. "He heals the wounds of every shattered heart." Psalm 147:3-5. For out of our heart are the issues of life.
Her #1 job is raising her son, but she is also a certified personal trainer with ISSA and bootcamp instructor. She teaches a women's spirit, soul, and body bootcamp in Maryville TN, along with several other training and nutrition programs. Her and her husband own a small training facility called Eternal Fitness. They are both passionate about faith, food, fitness, and freedom.
Darlene Chapman:
Darlene was born and raised in Chattanooga, Tennessee. Daughter of a Baptist minister and grew up in church and started singing and playing the piano at age 3. She has been in full time ministry for 16+ years. She is a wife, mother, grandmother, makeup artist, a Dolly Parton impersonator, an owner of a jewelry business. She travels and shares her testimony to encourage others who find themselves bound by guilt and shame from their past. Her story is one of mercy, grace and redemption. Forgiveness is not something you must give to others, but you must also give to yourself for your past indiscretions.
Due to a divorce, and some very bad choices made in her life, she found herself lost, sad, angry and very bitter and turning away from God. Her story is about a journey and it will inspire you to learn to take what SATAN meant to destroy you and use it for something good. She has chosen to share with others her story and be a living testimony that with God, you can break free from your past and not be a victim but be victorious.
Sheena Coggins:
Sheena Coggins is a 34-year-old mother of a beautiful, smart, 11-year-old daughter named Carmen. She is an East Tennessee native who resides here in Knoxville, Tennessee. She is a recovering addict that overcame the darkness of addiction with the grace, love, and light of Jesus Christ. From a college athlete to a federal inmate, her heart's desire is to deter youths from making the same choices she's made. She's continuing living a life worthy of a daughter of the king.
She's currently continuing her journey in faith by living in a Christ centered reentry program through Focus ministries. With God's help, she's stayed sober, serves the homeless community as a volunteer, and attends celebrate recovery and church at Faith promise. While she is not busy doing these things, she works full-time as a sales representative at Cedar Springs Christian Store where she is able to share both her life experience with God's recovery and the love she shares with others for Jesus Christ. During her most difficult times she leans on her favorite Bible verse: Jeremiah 29:11, " For I know the plans I have for you declares the Lord; Plans to prosper you and not harm you; Plans to give you hope and a future."
560038 Views - 26/04/2020 Last update
Rothchild Catering & Conference Center
8807 Kingston Pike, Knoxville, 37923, TN, US
---
Are you an event organizer?
Create events for free. They will be immediately recommended to interested users.
Create event
Nearby hotels and apartments
8807 Kingston Pike, Knoxville, 37923, TN, US
---
---
Rothchild Catering & Conference Center
8807 Kingston Pike, Knoxville, 37923, TN, US
Event from
eventbrite.com
---
Are you an event organizer?
Create events for free. They will be immediately recommended to interested users.
Create event