Real Estate Networking @Waterside | RSVP Here
Wednesday 23 May 2018 6:00 PM Wednesday 23 May 2018 9:00 PM
Save (1)
Saved (2)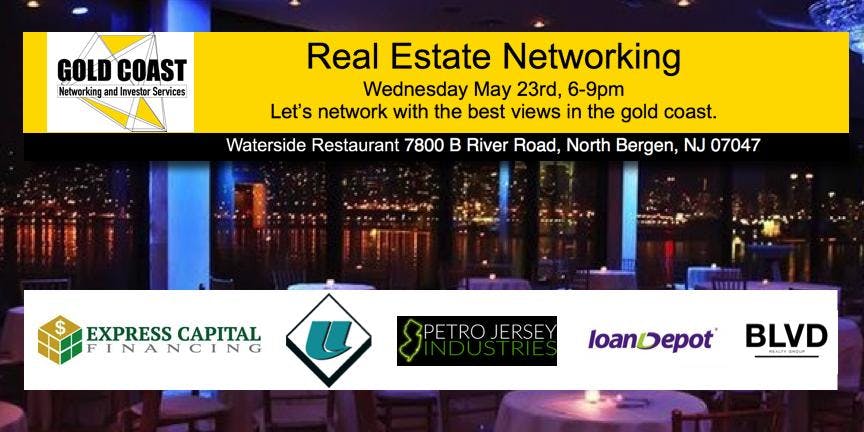 Last update 24/05/2018
253792
LET'S NETWORK, CLOSE DEALS, AND GROW YOUR CIRCLE OF INFLUENCE
Join us again for one of the best real estate networking events in HUDSON and BERGEN County. Everyone in the Real Estate Community is welcome to come.
*We will Raffle 4 Brunch Tickets to Waterside Brunch.* Bring lots of cards! 
MAKE THE MOST OF YOUR NETWORKING
· Dress Code: Business Casual
· Bring lots of business cards
· Wholesalers/Realtors bring deals.
· Lenders come prepared on how to help investors and special programs.
· Investors/Buyers come with your investment strategy
o Flip or Buy&Hold
o Your Cap Rate or COC Required
o Wholesale with deals and your markup
· Timing is Everything: Come at 6:30 ready to network!
PARKING: Free Valet Parking
ADMISSION: FREE
LOCATION : Waterside Restaurant and Catering

Drink Specials all night for our guests
---
OUR SPONSORS
EXPRESS CAPITAL LENDING Martin Chera
O: (718) 535-7718 C: (347) 348-0262| E: martin@expresscapitalfinancing.com
www.expresscapitalfinancing.com/blvd
LOAN DEPOT
Mitello Camay
O:(201) 720-3504 C:(646) 492-0936
mcamay@loandepot.com
https://www.loandepot.com/mcamay
PETRO JERSEY: Oil Remediation Services
Ken C:(732)245-9533
contact@petrojerseyindustries.com
http://www.petrojerseyindustries.com
UNITY BANK: SBA Business Lending
Sarika Sikand VP M:(732) 266-4545
Sarika.sikand@unitybank.com
http://www.unitybank.com
BLVD REALTY GROUP
Kamran Mirza: Broker
O:201-435-5000 C:609-558-7212
www.blvdjc.com kamran@blvdjc.com
_____
FAQ
· Who Should Attend? Anyone in the real estate community looking to grow their network.
· How to make the most of this event? Be yourself, talk about what you can offer and/or looking for. Everyone is a professional, we like to be direct.
· Who will be attending? Investors, Realtors, Lenders, Vendors offering services to Investors and anyone looking to network in this community.
Everyone in the Real Estate industry is welcome. Whether you are new to the business of investing or a seasoned professional, Gold Coast Networking will help you increase your business!
Nearby hotels and apartments
Waterside Restaurant & Catering
7800 B River Road, North Bergen, 7047, NJ, United States
Waterside Restaurant & Catering
7800 B River Road, North Bergen, 7047, NJ, United States