Project Management Professional (PMP)® Certification Exam Prep Bootcamp
Monday 9 July 2018 9:00 AM Thursday 12 July 2018 6:00 PM
Save
Saved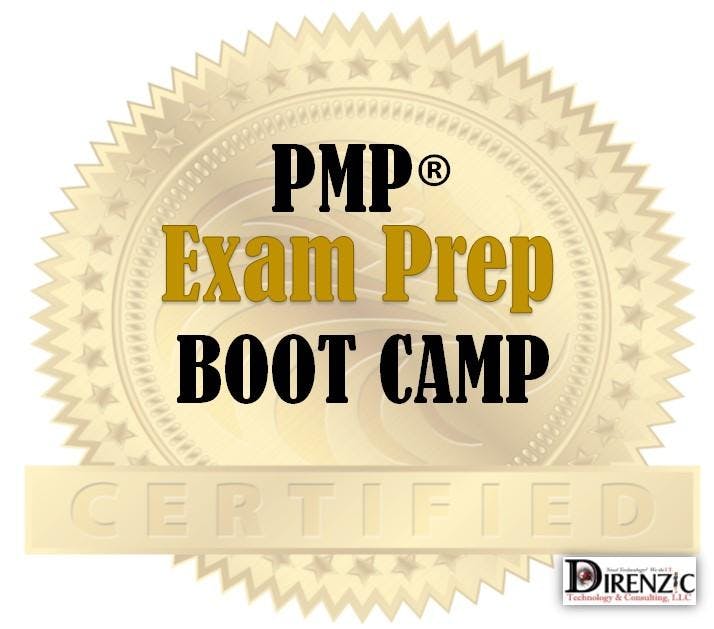 Last update 13/07/2018
305
Are you planning to take the PMP® Exam?  Looking for an intense, rigorous, hard-hitting course before the big day?  Well this is the course for you!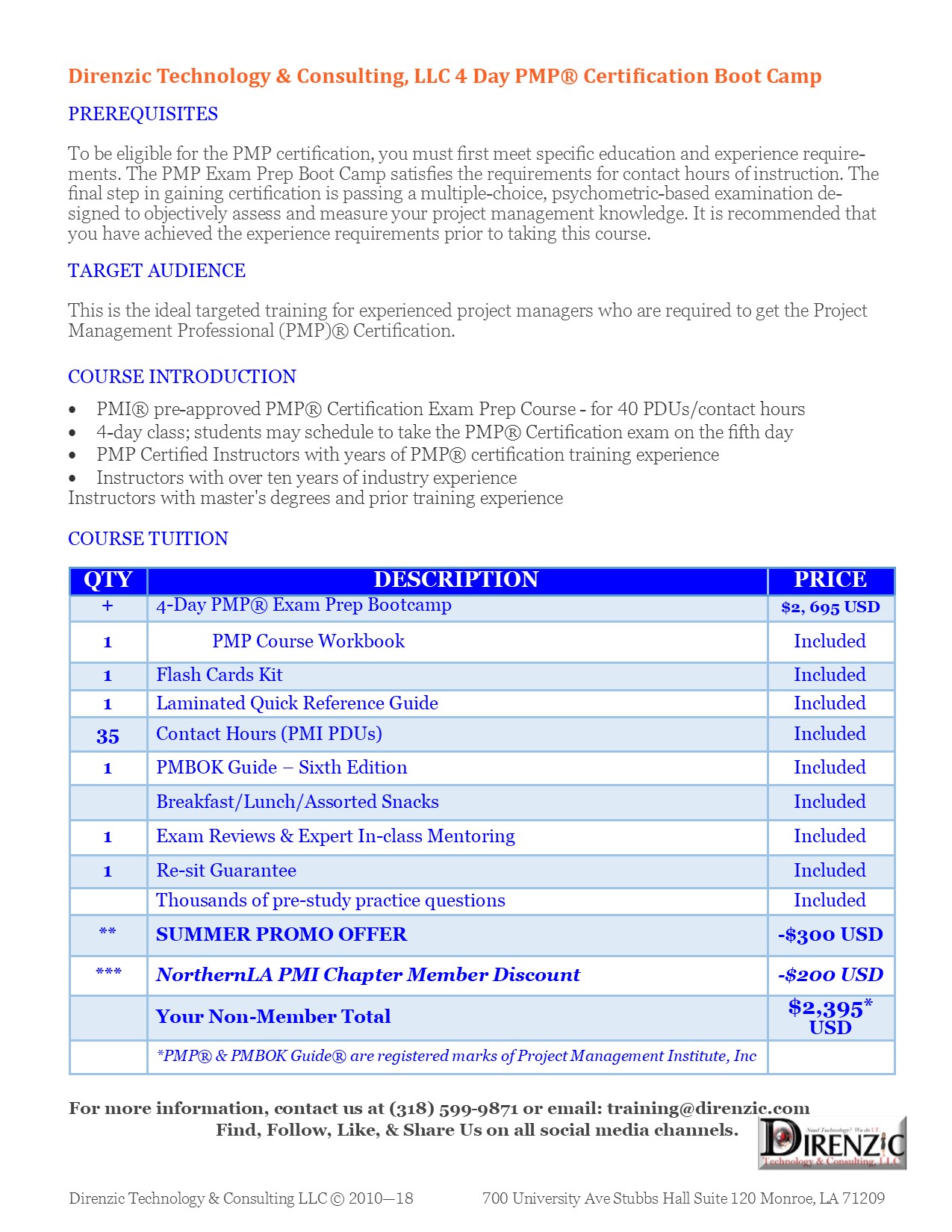 Delivery Method 
Instructor led, group-paced, classroom-delivery learning model.


Instructor: Ieshea Jones, PMP®, is a certified project management professional and instructor with Direnzic Technology & Consulting.  Her passion for educating technology professionals to become more effective and achieve greater success in their field is second to none.  A graduate of the University of Louisiana at Monroe, Mrs. Jones has a BBA degree in Computer Information Systems, a Masters degree from the George Washington University in Project Management, and nearly 15 years of corporate and private sector experience as both a Project & Program Manager.


Our seats fill up fast so guarantee your enrollment by paying your tuition today. You will receive a confirmation once your registration is complete. Payment is due before the program.
Program Schedule
Check-in: 8:30 a.m. – 9:00 a.m.
Program: 9:00 a.m. – 7:00 p.m.
Cancellations and Substitutions
You may cancel your registration up to 10 business days before the program, and we will refund your tuition less a nominal cancellation fee. Substitutions and transfers may be made at any time to another program of your choice scheduled within 12 months of your original event. Please note, if you do not cancel and do not attend, you are still responsible for payment.
Cancellation Policy: Refunds for this event will be given to attendees who email a cancellation request to training@direnzic.com no less than 7 days prior to the start of the event. Please note, if you do not cancel and do not attend, you are still responsible for payment.
Please Note
• You will be notified by email, fax and/or mail if any changes are made to your scheduled program (i.e., date, venue, city or cancellation).
• Walk-in registrations not accepted for this event.
• No audio or video recording allowed.
• Dressing in layers is recommended due to room temperature variations.
Join us for this scheduled course OR contact us 

to arrange a private session.
CALL (318) 599-9871 | EMAIL Contact@direnzic.com
Other Direnzic Technology & Consulting LLC courses include: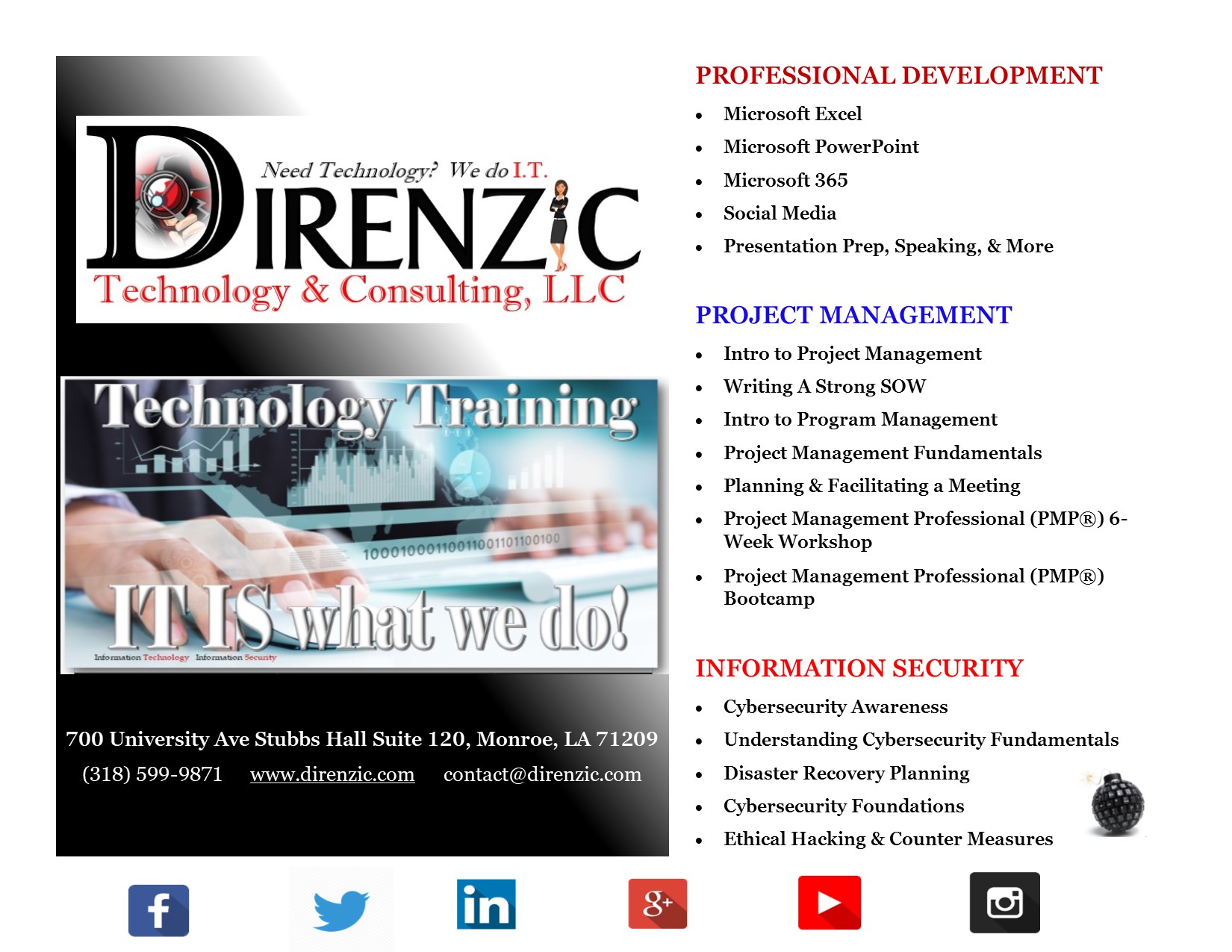 culture
business
education
technology
Nearby hotels and apartments
University of Louisiana at Monroe (ULM) Small Business Conference Center
700 University Ave, Monroe, 71209, LA
University of Louisiana at Monroe (ULM) Small Business Conference Center
700 University Ave, Monroe, 71209, LA