Private Reiki Session @ Yoga High
COVID-19: many events have been canceled or postponed, please check with the organizer the event status.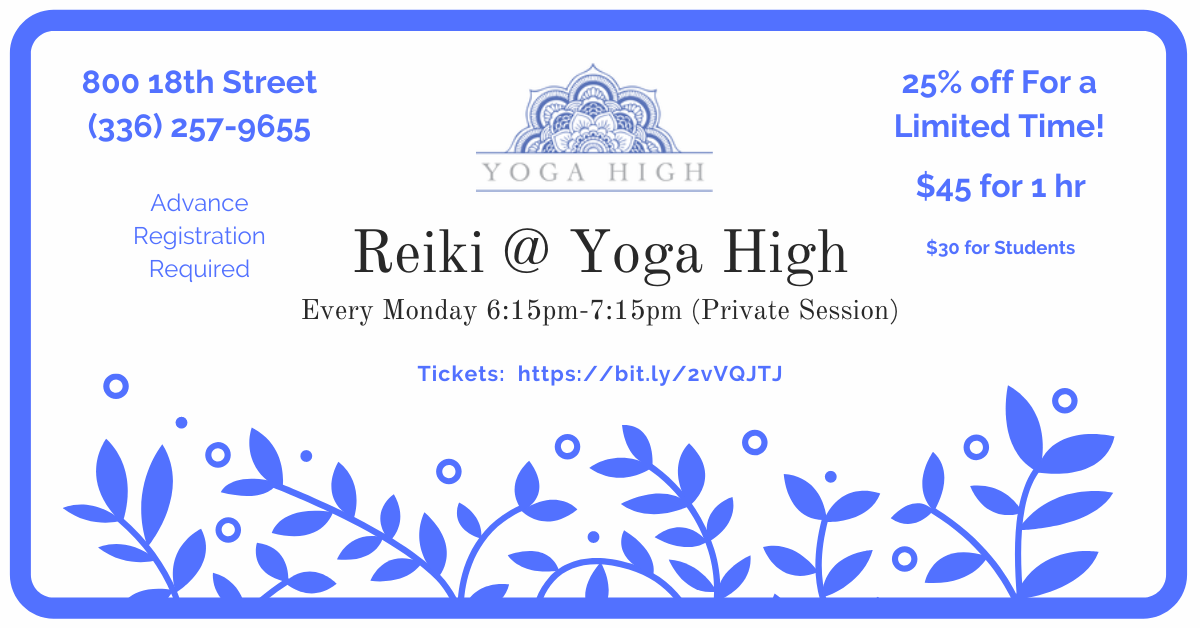 Image from eventbrite.com
---
(Advance Registration Required)
Light and Sound Therapy is utilized to help the client enter deeper states of meditation while work is being done.
(This is completely optional and is counter-indicated for those who experience seizures from lights)
-----
Reiki uses the same principles as Acupuncture to allow the body to heal from injury or illness. Reiki is NOT a replacement for medical intervention. (Reiki is completely non-invasive and is a touch-less healing modality)
-----
HISTORY:
Both Reiki and acupuncture originated in Asia; as a healing art, each practice can be traced back thousands of years.
The names for both practices describe what they are and how they work. Acupuncture literally means, "needle piercing". The earliest written account of acupuncture use can be found in The Yellow Emperor's Classic of Internal Medicine, one of the oldest known medical texts.
The system of sounds and symbols that we now associate with Reiki originated in Tibet. In 1922, following a transformative spiritual experience, Japanese educator Dr. Mikao Usui rediscovered Reiki and gave it its modern name. "Rei" means "spirit" or "divine," and "ki" is "life force energy" or "consciousness.""Ki" equates to the Chinese "chi" or "qi", as in qigong, the ancient Chinese meditation and martial arts system still practiced by millions of Chinese today. Acupuncture and Reiki both regulate the flow of ki/qi/chi in the body to create or restore balance, harmony and health.
In Reiki, the power to heal resides more fully with the client than with the practitioner. Whether a healing session takes place in person or over a distance, the individual actively participates in the healing process by drawing down the universal Source energy that is needed for healing.
In acupuncture, the client is more of a passive recipient, lying quietly on the treatment table as sterile needles are inserted into points of energy stagnation, with the potential addition of moxibustion (which warms the body to stimulate the flow of chi).
Whether a patient chooses Reiki attunements, acupuncture treatments, or both modalities, there are myriad physical, mental, emotional and spiritual conditions that can benefit from these non-invasive healing practices. This is because they address root causes, rather than just ameliorating symptoms.
About Day:
Day Monet is a certified yoga instructor, crystal reiki practitioner, and medicine through movement facilitator. After extensive study within the Medical and Business fields, he left his corporate career behind to begin anew as a world traveler, visiting over 40 countries in five years. With a deep understanding of the unique and limitless cultures inhabiting this planet, Day brings the best of all worlds into his facilitations, guided meditations, and energy-work sessions. His vision is to unite community by embracing the shifting paradigms within our planetary and galactic systems.
767 Views - 07/04/2020 Last update
18th street 800
yoga high, denver, 80202, co, us
---
Are you an event organizer?
Create events for free. They will be immediately recommended to interested users.
Create event
Nearby hotels and apartments
yoga high, denver, 80202, co, us
---
---
18th street 800
yoga high, denver, 80202, co, us
Event from
eventbrite.com
---
---
Are you an event organizer?
Create events for free. They will be immediately recommended to interested users.
Create event
Denver

›