Opening Reception for Art Exhibit: _______ Days Since I've Known You.
COVID-19: many events have been canceled or postponed, please check with the organizer the event status.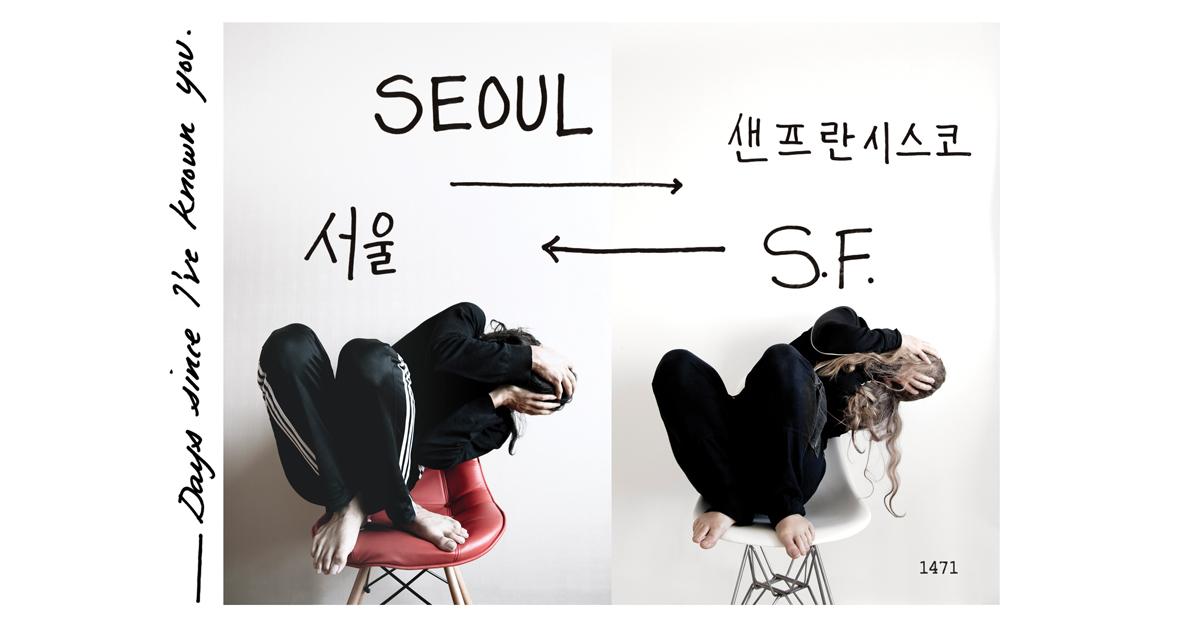 Image from eventbrite.com
---
MODERNISM Presents:
ALEXANDMUSHI
___ DAYS SINCE I'VE KNOWN YOU
March 26—May 31, 2020
"It is not our purpose to become each other; it is to recognize each other, to learn to see the other and honor him for what he is." Herman Hesse.
MODERNISM presents (at MODERNISM WEST / Foreign Cinema) the new exhibition by ALEXANDMUSHI: ___ Days Since I've Known you. Core to any connection between two people is the ability to recognize and see one another. So how do we get to know someone for who they are?
ALEXANDMUSHI is the collaboration between Alex H Nichols and Mushi Wooseong James. As conceptual artists they ask critical questions about what connection can be. Their project called Still Conversations began when Mushi's US visa ran out, putting their collaboration in jeopardy with his return to Seoul. "How can we continue to work, build projects and stay connected living in two different countries?" 'Staying in touch' isn't enough to maintain creative chemistry and growth. All relationships have potential energy but how is that energy harnessed remotely? How do you really get to know someone from afar?
Innovating with the basic tool of being able to send an image instantly ALEXANDMUSHI created a simple playful project with an unexpectedly powerful outcome. The directive was, "Take a picture of yourself. Send it to me. I copy it and make a new one for you to copy." Every morning an image was sent and received seconds after it was taken. What happens when you copy someone's body? What do you feel? What happens if you copy it day after day? In the first image you see a man's body curled in a red chair, fingers long and delicate wrapped around toes. Next to it is another image of a woman's body curled in the exact same position on a white chair. From this simple action of mimicry and a commitment to the project, Alex and Mushi uncovered a concrete method towards a deeper knowing of each other.
On the surface this project is a conversation in still photography between a man in Seoul and a woman in San Francisco. Beyond the surface is active empathy, an interchange of thoughts and feelings, the experience of inhabiting another person, transferring both what is conscious and unconscious while bridging the gap that exists between Seoul and San Francisco. It is not apparent at first glance of the side-by-side images that there is actual distance. Time is marked on each artwork as Day 57 or Day 1171 in their collaboration. Unique to this series of works is their personal handwritten stories that reveal the individual identities of Alex and Mushi in their full-time collaboration.
In addition, ALEXANDMUSHI present their other projects, Chair Conversations and Two Chairs, which also explore communication and connection. They showcase these projects in a new form which combines the tactile element of a still printed image with the animated element of video. An image of two people is printed on rice paper, which has a quality of history like etched Rembrandts, this is the frozen image. Behind it is the video, the shadows of the same people moving across the image, their movements before, during and after. ALEXANDMUSHI believe our experience of time is both static and moving and that connection is both a present and fleeting experience.
ALEXANDMUSHI's process is their practice. Each of their projects begin with an active desire to connect. Conversation, story, video, image, and performance come together to synthesize and share the experience of connection.
808 Views - 28/03/2020 Last update
oreign Cinema
2534 Mission Street, San Francisco, 94110, CA, US
---
Are you an event organizer?
Create events for free. They will be immediately recommended to interested users.
Create event
Nearby hotels and apartments
2534 Mission Street, San Francisco, 94110, CA, US
---
---
oreign Cinema
2534 Mission Street, San Francisco, 94110, CA, US
Event from
eventbrite.com
---
---
Are you an event organizer?
Create events for free. They will be immediately recommended to interested users.
Create event