MedCamps Dinner & Auction
Friday 10 August 2018 6:30 PM Friday 10 August 2018 9:30 PM
Save
Saved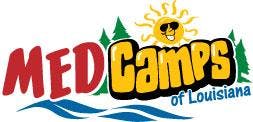 Last update 11/08/2018
87
This event is hosted at the West Monroe Convention Center in West Monroe, LA.  There will be both a live and silent auction held with items ranging from hunting trips to local art, destination dinners, and more.  The Dinner & Auction is open to the public and tickets are $30 per person. 
All proceeds from this event will benefit MedCamps of Louisiana's summer camping program for chronically ill and disabled children.
This event is sponsored by Mike and Vicki Zambie, Vantage Health Plan, John and Debbie Luffey, and Scott Powerline & Utility Equipment. 
Nearby hotels and apartments
West Monroe Convention Center
901 Ridge Avenue, West Monroe, 71291, LA, United States
West Monroe Convention Center
901 Ridge Avenue, West Monroe, 71291, LA, United States