Market Center Financials w/Gene Rivers, NW Tampa MC
Wednesday 26 June 2019 9:00 AM Thursday 27 June 2019 5:00 PM
Save
Saved
Last update 28/06/2019
389
S. FL REGION PRESENTS - MARKET CENTER FINANCIALS w/GENE RIVERS!!
Note: Market Center Financials is a 2-Day course.
It is vital that Leaders in the Market Center learn the tools to discover exactly where the business stands financially!
Market Center Financials will teach you to use the balance sheet, income statement, Vital Signs, WinMORE and other reports to guide your market center to maximum profitability.
Audience: Operating Principals, Team Leaders, Market Center Administrators & ALC Financial Planning Committee Chair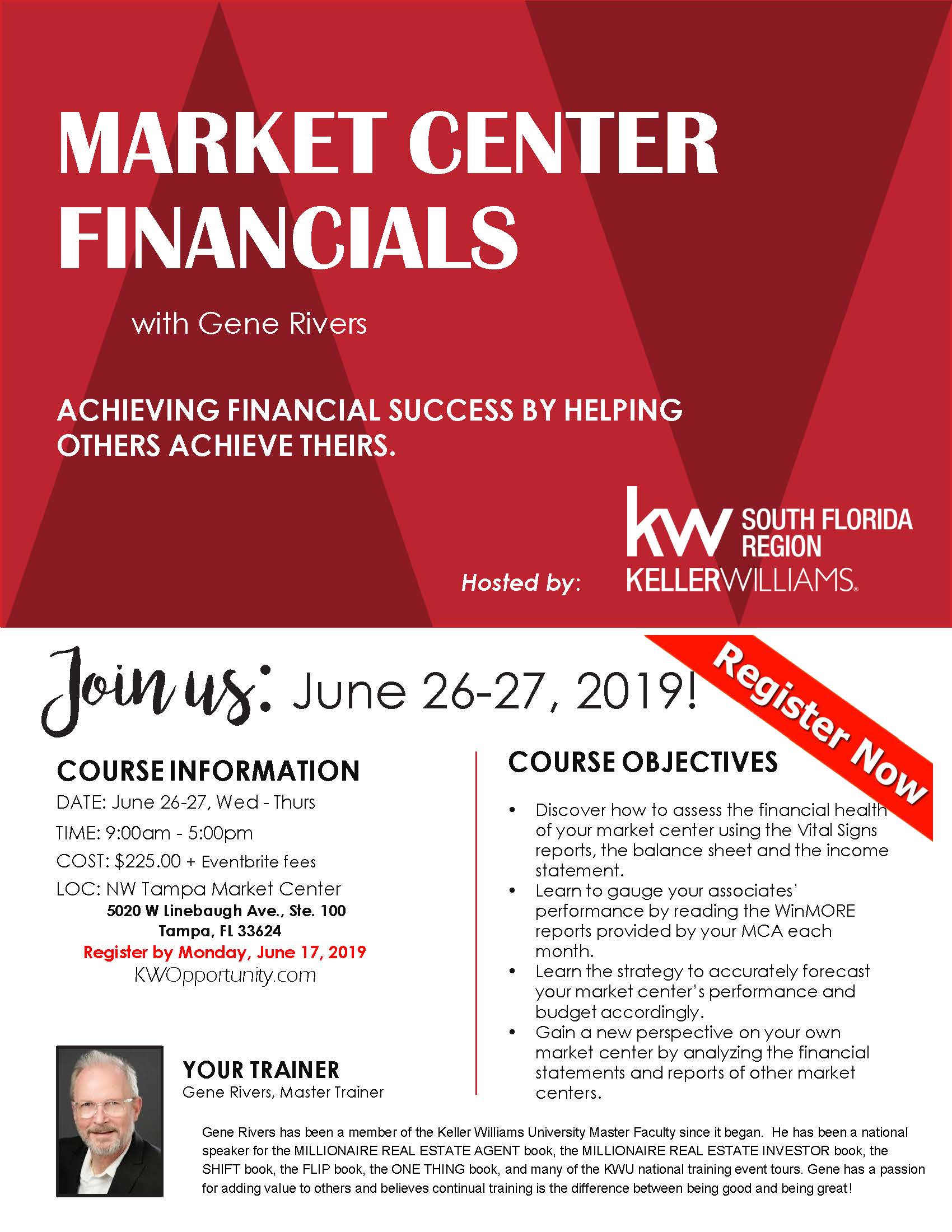 ***TERMS & CONDITIONS***
- Any registrations cancelled at least 10 days prior to the event are refundable, less a $20 cancellation fee.
- Any registrations cancelled less than 10 days to the event are NON-REFUNDABLE.
- Registrations can be transferred to an associate not already registered to attend the event.
- Registrations CANNOT be transferred to a future event.
- Registrants who do not provide notice of their inability to attend prior to the event, "No-shows", will not receive a refund and will forfeit their ability to transfer.
- All refunds and cancellations must be requested in writing to the event organizer prior to the start of the event.
Nearby hotels and apartments
NW Tampa Market Center
5020 W. Linebaugh Ave., Suite 100, Tampa, FL, United States
5020 W. Linebaugh Ave., Suite 100, Tampa, FL, United States
Event from
eventbrite.com