Life After 40: Creating the thriving life you want to live today (Online USA)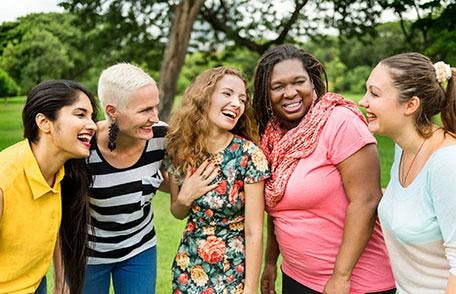 Image from eventbrite.com
---
Hello ladies. I'm thrilled that you have found this post, and it is my deepest hope that this group resonates with you and we will, together, collaborate to bring joy, fun and love into your life.
This group is for women who live anywhere in the USA. Please be aware that this posting will show it starting day after day. This is for promotional purposes only. The start date is September 19th. Please choose the September 19th date only.
Do you tell yourself that you are too old, whether you are 40, 50, 60 etc. and that your dreams have passed you by? Is it impossible to meet new friends that you really connect with, find new romance when it seems virtually impossible, have peace of mind when there is so much chaos in the world, feel healthy while your body seems to break down more and more each year and/or just feel good about you and who you are as a person in today's society? Are you feeling challenged after a divorce, dealing with an empty nest, separating from friendships that no longer serve you or not even knowing why you are not fulfilled and happy and just needing to figure it out?
What if things could be different? What if you could start to create something other than the daily rinse and repeat life that you have now? Getting up day after day without enthusiasm, going to a job that does not fulfill you, living alone when you want companionship, having companionship but not being heard, telling yourself you are not enough (pretty enough, wealthy enough, slim enough, smart enough, outgoing enough, etc. etc. etc.). Let's change all of that starting now!
2020 is almost here, and if you're like many, you have this idea that when the new year comes you will make some promises to yourself to do something different in your life, only to have those promises disappear within days or months. You don't have to wait. You can make the choice to change anything at any time in your life. You can make a commitment now to be happy.
This Life After 40 group has the potential to completely change your life. The women in this group are all going to be like you. How refreshing is that? You will have common goals, desires, needs and dreams as well as common experiences, challenges, feelings and struggles. Imagine what you will be able to do together on this new journey?
As a life coach, I get the pleasure of guiding and watching my client's reach for, and achieve, life goals they truly believed to be elusive. At this particular time, I am seeing more and more women feel stressed, unhappy, purposeless, joyless and even hopeless about their futures. There is so much uncertainty, aloneness and chaos in the world today, and they are feeling more discourged than ever before. I want to tell you that if this is you, you don't have to accept this as your way of life. You have the personal power to have your desires in life. You just need to make a commitment to persevere and love yourself enough to make your life different. This does take courage, but you are courageous. You can do this with the right guidance and support system to see you through.
As your mentor, it is my responsibility to help you find new, better and different ways to create a more fulfilling and joyous life. Does something new and different sound like a breath of fresh air to you? Just as importantly, you will also have the amazing support of each member of the group without any fear of judgment or criticism. You will contribute to the success of each of the members, as they will contribute to your success. You will have the opportunity to make life-long friendships with the other women of this group, and I find that to be one of the most powerful components of a group life this. People are so important to our lives. Finding even one true friend to share it with can forever change your life.
Do you want to know more? Here are some details.
We will meet once a week, via online for one hour. This is a 3 month program so there will be 12 weeks in total. Each week, one member will have what is known as the hot seat. They will get ½ of the hour to get help from myself and each of you with a specific problem. A side note: You may believe that focusing on a specific member's challenge will take away from your experience, but I guarantee you it will not. Even though your challenge will not be specifically the same, the resolve of the challenges will have a great impact on you. You will relate to the member's challenge and be able to incorporate much of what is stated and resolved with the person in the hot seat. There will be a new member each week so everyone gets their turn.
I will give handouts and offer books to read that correspond with our challenges. I will offer professional guidance during our weekly meetings. It is up to you to utilize this information. It is extremely important for you to understand that I can't do the work for you. I will provide you with tools to help you move forward, but it is ultimately up to you to do the work. The more you are committed to doing the work the more success you will have. This is like everything in life. You get out of it what you put into it.
So if you are interested but still on the fence, I want you to ask yourself a few questions:
If you knew you were going to live another 30 years, what would your top priorities be? Would you be okay with continuing to live your life as it is?
What is something you consistently long for that you just can't make happen?
What goals have you set repeatedly and not done? Would the right support system have helped?
What is one thing, that when you do accomplish it, will boost and invigorate your life?
If you had a magic wand, what would your life look like? Why hasn't happened thus far?
Were you surprised at any of your responses? Could this group help you with any of the responses from the questions above?
I want to help you find success and the results you are desiring. If you would like more information, please reach out to me via e-mail or phone. I am really excited to get this group started. We need a minimum of 4 people, but no more than 8, to get this class started. If you are ready to get going, please sign up as soon as possible so we can get started creating your new and more fulfilling life.
You can sign up via Eventbrite, however there are additional fees that they charge that I must pass on to you. If you want to avoid the fees, you can use Zelle and send the payment to my account via the following e-mail address: dapacct@yahoo.com. Please call or e-mail me if this is how you choose to pay.
As an incentive to get you started as soon as possible, I am offering a discount to have you say yes to yourself and your dreams right now. I will take $100.00 off of your tuition for a limited time. Instead of of being $600 for this 3 month group program, it will be $500. This promotion is good until September 10th.
70 Views - 05/11/2019 Last update
Anywhere in the USA ( Online Group USA )
Seattle, 98133, WA, United States
---
Are you an event organizer?
Create events for free. They will be immediately recommended to interested users.
Create event
Nearby hotels and apartments
Seattle, 98133, WA, United States
---
---
Anywhere in the USA ( Online Group USA )
Seattle, 98133, WA, United States
Event from
eventbrite.com
---
---
Are you an event organizer?
Create events for free. They will be immediately recommended to interested users.
Create event