First Things and The King's College present: The Future of Literature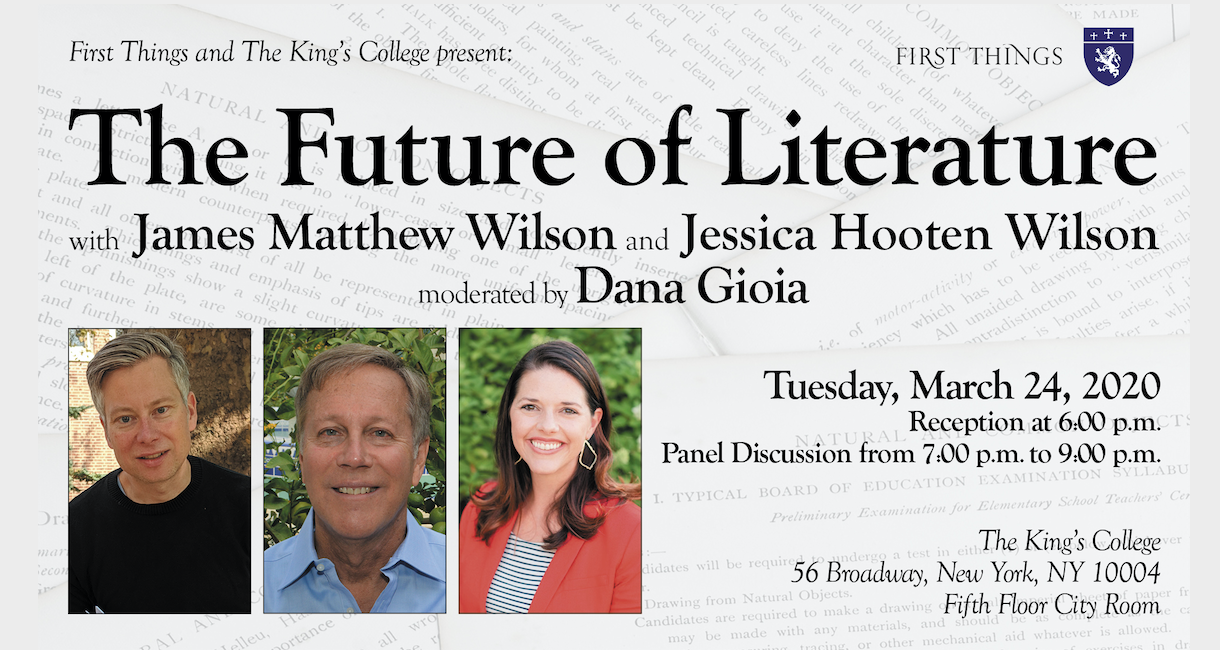 Image from eventbrite.com
---
On March 24th, join First Things and The King's College as they host James Matthew Wilson and Jessica Hooten Wilson for a panel discussion on "The Future of Literature" moderated by Dana Gioia.
Schedule
6:00 p.m.: Reception, The King's College lobby
7:00 p.m. to 9:00 p.m.: Panel Discussion and Q&A, The King's College City Room
Books for Sale
The following titles will be available for purchase at a highly discounted rate before and after the event:
Attendees may also purchase a Bundle Deal Ticket for $32 that includes all four books.
About the Speakers
James Matthew Wilson is Associate Professor of Humanities and Augustinian Traditions at Villanova University. An award-winning scholar of philosophical theology and literature, he has authored dozens of essays, articles, and reviews on all manner of subjects secular and divine.
He has published nine books, the most recent of which are the poetry collection The Hanging God (Angelico, 2018) and the poetic sequence The River of the Immaculate Conception (Wiseblood, 2019). Wilson is the poetry editor of Modern Age magazine, the series editor of Colosseum Books, of the Franciscan University at Steubenville Press, and the director of the Colosseum Institute for writers. He also serves on the boards of several learned journals and societies.
Wilson has twice been awarded the Lionel Basney Award by the Conference for Christianity and Literature; he has been a runner up for both the Foley Prize for Poetry by America magazine and the Jacques Maritain Essay Prize by Dappled Things magazine. The Dallas Institute of Humanities and Culture awarded him the 2017 Hiett Prize in the Humanities, the largest award of its kind.
Jessica Hooten Wilson is Associate Professor of Humanities at John Brown University, where she directs the graduate certificate in Classical Christian Studies. She is the author of three books: Giving the Devil his Due: Flannery O'Connor and The Brothers Karamazov, which received a 2018 Christianity Today book of the year award; Walker Percy, Fyodor Dostoevsky, and the Search for Influence; and Reading Walker Percy's Novels. In 2019 she received the Hiett Prize for Humanities from the Dallas Institute of Humanities and Culture. She is co-editor of the volume Solzhenitsyn and American Culture: The Russian Soul in the West, a collection of essays on the legacy of Aleksandr Solzhenitsyn. Currently, she is preparing Flannery O'Connor's unfinished novel Why Do the Heathen Rage? for publication.
Dana Gioia is an internationally acclaimed poet and writer. Former California Poet laureate and Chairman of the National Endowment for the Arts, Gioia was born in Los Angeles of Italian and Mexican descent. The first person in his family to attend college, he received a B.A. and M.B.A. from Stanford and an M.A. from Harvard in Comparative Literature. For fifteen years he worked as a businessman before quitting at forty-one to become a full-time writer.
Gioia has published five full-length collections of verse, most recently 99 Poems: New & Selected (2016), which won the Poets' Prize as the best new book of the year. His third collection, Interrogations at Noon (2001), was awarded the American Book Award.
An influential critic, Gioia has published four books of essays. His controversial volume, Can Poetry Matter? (1992), was a finalist for the National Book Critics Circle award. The book is credited with helping to revive the role of poetry in American public culture.
Gioia has also edited or co-edited two dozen best-selling literary anthologies, including An Introduction to Poetry (with X. J. Kennedy) and Best American Poetry 2018. His essays and memoirs have appeared in The New Yorker, Atlantic, Washington Post, New York Times, Hudson Review, and BBC Radio.
Gioia has won many awards including the Laetare Medal from Notre Dame, Presidential Citizen's Medal, Aiken Taylor Award in Modern Poetry, and Walt Whitman Champion of Literacy prize. He has been awarded ten honorary doctorates.
Gioia teaches each fall semester at the University of Southern California where he holds the Judge Widney Chair of Poetry and Public Culture. He divides his time between Los Angeles and Sonoma County, California.
Contact
Contact Susanna Loe at sloe@tkc.edu with questions.
For 80 years, The King's College has educated young leaders to integrate their faith, ethics, and morality seamlessly into their lives and careers. A traditional Christian liberal arts college located in the heart of New York City, King's prepares students for principled leadership around the world. Visit tkc.edu for more information or request a personalized visit by calling 888-969-7200.
1559 Views - 25/03/2020 Last update
The King's College
56 Broadway, New York, 10004, NY, US
---
Are you an event organizer?
Create events for free. They will be immediately recommended to interested users.
Create event
Nearby hotels and apartments
56 Broadway, New York, 10004, NY, US
---
---
The King's College
56 Broadway, New York, 10004, NY, US
Event from
eventbrite.com
---
---
Are you an event organizer?
Create events for free. They will be immediately recommended to interested users.
Create event