A Journey Into Happiness

Image from eventbrite.com
Wednesday 20 November 2019
---
---
HAPPY PEOPLE create a HAPPY WORLD
This course is taught live from India to 40+ cities in the US and Canada
LOWER PRICE: previous courses have cost as much as $125 to attend.
NOW: $79 for first timers and $49 for returnees.
$49 price also for friends & family brought by returnees and students with valid ID
Some "pay as you can" tickets available - contact Rick for details
---


NEW VENUE: THE SWEDISH CLUB Svea Room
*** A true Mid-Century Classic ***

THE SWEDISH CLUB is just North of South Lake Union and downtown Seattle.

FREE PARKING and JAW DROPPING VIEWS of Lake Union
Come enjoy an "OLD SEATTLE" icon - You will love it!
*No Swedish required! Knowledge of ABBA a plus!*

---
A Journey Into Happiness is a One-Day Course, taught live by a Oneness Monk in India, focused on helping you create permanent Happiness.

There are places in the brain that correspond to 108 different qualities. This course focuses on your Happiness. Each time we come to these Journey courses different parts of our brain are activated, creating corresponding changes in our daily lives.
What if you were truly HAPPY for NO REASON? How would this transform your life?
Right now you are only happy when something happens to you. You are happy when you get what you want. You are happy when someone praises you. You are happy when you achieve something.

But does this happiness last? Very soon you are back into a suffering state. You want something new. You fail at something. You look in the mirror and don't like what you see. Someone says something that you don't agree with. Any number of things destroy your happiness. You consider this to be normal.

What if you lived in a PERMANENT STATE OF HAPPINESS now? Come to this course to experience this elevated state and how to make it permanent.
Through ancient sacred practices, powerful teachings, and meditations led by enlightened teachers, guided by the Great Compassionate Light, India is bringing gifts for which we've all been waiting, including:
A Calm Mind

Profound Inner Peace

Spiritual Growth

Transformation in Consciousness

Improved Well-Being

Loving Relationships

Enhanced Capacity for Success

Remove Blocks in Your Life

Becoming HAPPY for NO REASON
Move toward Awakening, Enlightenment and God Realization.
Enhance your psychic abilities and ability to connect to Source.
As we make the shift and deepen our embodiment of awakening, we become catalysts for others to also shift and together we build the momentum for a new way of compassionate living, also known as the Golden Age..
HAPPY PEOPLE create a HAPPY WORLD

Space is limited. Reserve your spot now!





Event Schedule: Wednesday November 20.
7:00 am - Registration

7:30 am - 5:00 pm - Estimated duration with lunch and breaks

Course involves:

Livestream teaching
Pranayama breathing techniques to release blocks
Personal contemplation + reflection on what comes up for you - becoming conscious.

Ecstatic Dancing to release blocks and raise your consciousness and BE HAPPY!
Look into the eyes of an Enlightened Being and receive a direct Divine Energy transmission
A 90-minute meal break is scheduled for lunch. Bring your own food or purchase lunch in the area.
Bring your lunch back to the SWEDISH CLUB and sit on the balcony overlooking Lake Union and watch the floatplanes take off and land.

50 Free parking spots in the SWEDISH CLUB parking lot. Free street parking also.

What to bring/wear


It is suggested that you wear/bring loose fitting comfortable clothing that includes jackets, socks, sweatshirts and shawls so you'll be more comfortable to adjust for temperature fluctuations.
Please b

ring a notebook and pen and a water bottle.

Minimum age 14.
Happy September Journey into Happiness attendees in Seattle


Happy October Journey into Happiness attendees at Fisherman's Terminal Seattle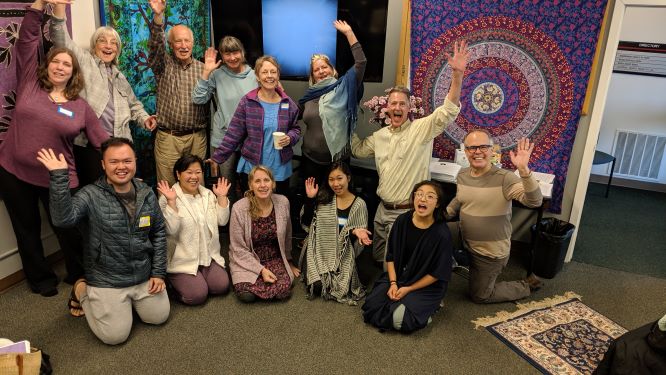 Here are a few of the experiences of recent attendees:
"A wonderful experience. I feel much lighter and I felt a lot of releases and shifts happening."
"The writing and reflecting were very powerful. A very unique course."
"Gently guided and Divinely inspired!"
"It was a lot of fun! I really enjoyed myself. A very nurturing environment."
17069 Views - 21/11/2019 Last update
The SWEDISH CLUB - SVEA Room
1920 Dexter Ave N, Seattle, 98109, WA, US
---
Are you an event organizer?
Create events for free. They will be immediately recommended to interested users.
Create event
Nearby hotels and apartments
1920 Dexter Ave N, Seattle, 98109, WA, US
---
---
The SWEDISH CLUB - SVEA Room
1920 Dexter Ave N, Seattle, 98109, WA, US
Event from
eventbrite.com
---
---
Are you an event organizer?
Create events for free. They will be immediately recommended to interested users.
Create event
Seattle

›