INTERNATIONAL SYMPOSIUM OF QUANTUM CONSCIOUSNESS & HEALING
Friday 19 April 2019 2:00 PM Sunday 21 April 2019 10:00 PM
Save (1)
Saved (2)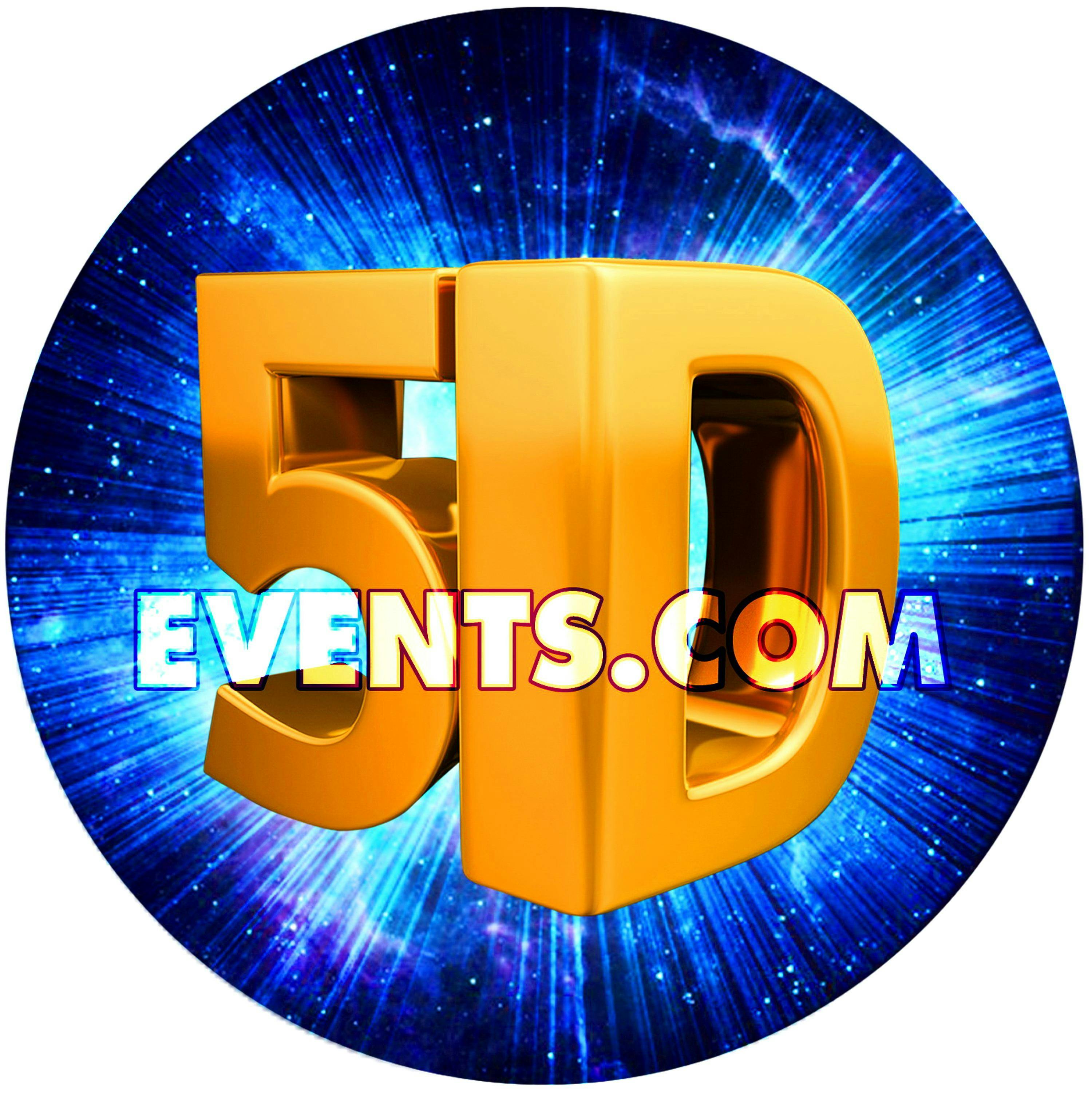 Last update 12/02/2019
185000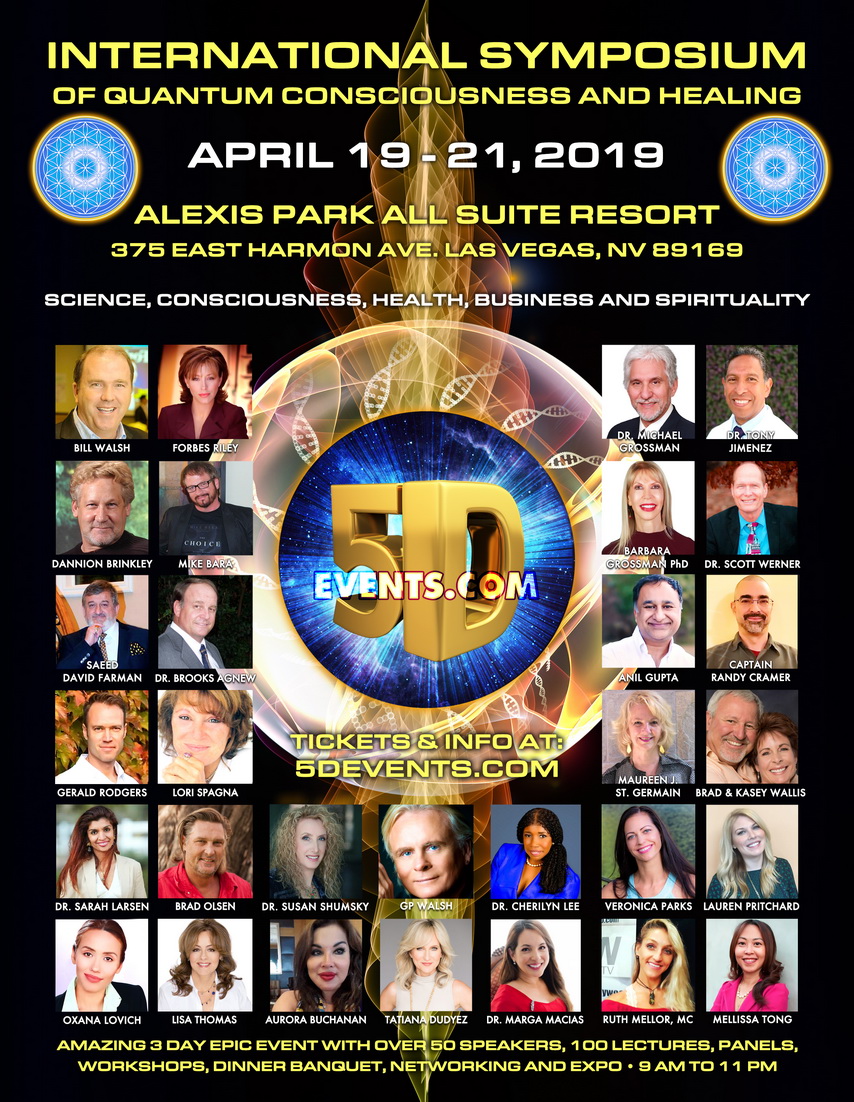 5D Events
"Pioneers in Consciousness, Health, Science & Space Research":
WELCOMES YOU TO THEIR 19TH CONSCIOUSNESS EVENT:
INTERNATIONAL SYMPOSIUM OF QUANTUM CONSCIOUSNESS & HEALING
APRIL 19-20-21, 2019
Alexis Park All Suite Resort, 375 E. Harmon Ave, Las Vegas, NV 89169  
Hotel Website: www.alexispark.com (All-suite non-gaming hotel located in front of Hard Rock Hotel and Casino)
Event info: http://5devents.com/id145.html
Speakers List & Bio:
Page 1: http://5devents.com/id142.html
Page 2: http://5devents.com/id139.html
Page 3: http://5devents.com/speakers.html
Event hours: 9 AM to 11 PM daily Sunday close at 9 PM
Annual Las Vegas Global Gathering of Scientists, Medical Doctors, Researchers, Business Coaches, Healers, Space Scientists, ET Disclosure groups, Whistleblowers, Visionaries, Star Seeds & Lightworkers building a New Humanity Movement.
Amazing 3 day epic event is about creating a better future with Quantum consciousness, Stem Cell Research, Anti-Aging, DNA Activation, Longevity, Quantum Healing, Space Science, ET Disclosure, Business & Life Mastery plus many more topics with many Keynote Speakers giving over 100 Lectures, Workshops, Panels, Expo Exhibits, Panels plus Saturday night Dinner Banquet with Speakers.
Event is about: Group of advanced souls who influence the future timelines by raising consciousness and bringing new ideas in science, technology, eco systems, health, wellness & spirituality.
Topics: Quantum Consciousness, Health, Wellness, Quantum Healing, Bitcoin, Time Travel, Secret Space, ET contact, Spirituality & Human Origins.
Intention: "Influencing the future with Raising Global Consciousness in Science, Technology, Health, Healing, Peace & Transformation"
Website: http://5devents.com
Door Ticket will be $195 limited seats please register Now! (Saturday night Dinner is $60 extra, Friday night Meet and Greet party is $25)
***Refunds: only 50% of Ticket can be refunded up to 30 days before the event.
***Live Streaming of the Lectures in the Main Ballroom is $69 
***If unable to attend tickets can be passed to family or friends event director needs to be notified by email: david@5devents.com
***Alexis Resort is family friendly with no Casino great for kids to visit Vegas WITH OVER 500 Suites.
Please note you must be Must be 18+ to Attend the conference.
NO KIDS, PETS, DRUGS, OUTSIDE FOOD, RECORDING & BACKPACKS ARE ALLOWED.
***Attire: Dressy Casual
***Workshops are free with general admission
***Exhibits are only $10 cash at the door for public to visit,
***Free hotel parking.
***Estimated attendees for 3 days 1500 people, great networking opportunities for different groups and businesses.
***Ticket prices go up each month 3 day door tickets are $195
***questions please call 1-310-908-6682 or email info@5devents.com
culture
food
expos
nightlife
business
rock
party
streaming
Travel
Nearby hotels and apartments
Alexis Park All Suite Resort
375 E. Harmon Ave, Las Vegas, NV 89169 , LAS VEGAS, 89169, NV, United States
Alexis Park All Suite Resort
375 E. Harmon Ave, Las Vegas, NV 89169 , LAS VEGAS, 89169, NV, United States