Inner Landscapes Journey / Sound Ceremony
Monday 16 October 2017 7:30 PM Monday 16 October 2017 9:30 PM
Save
Saved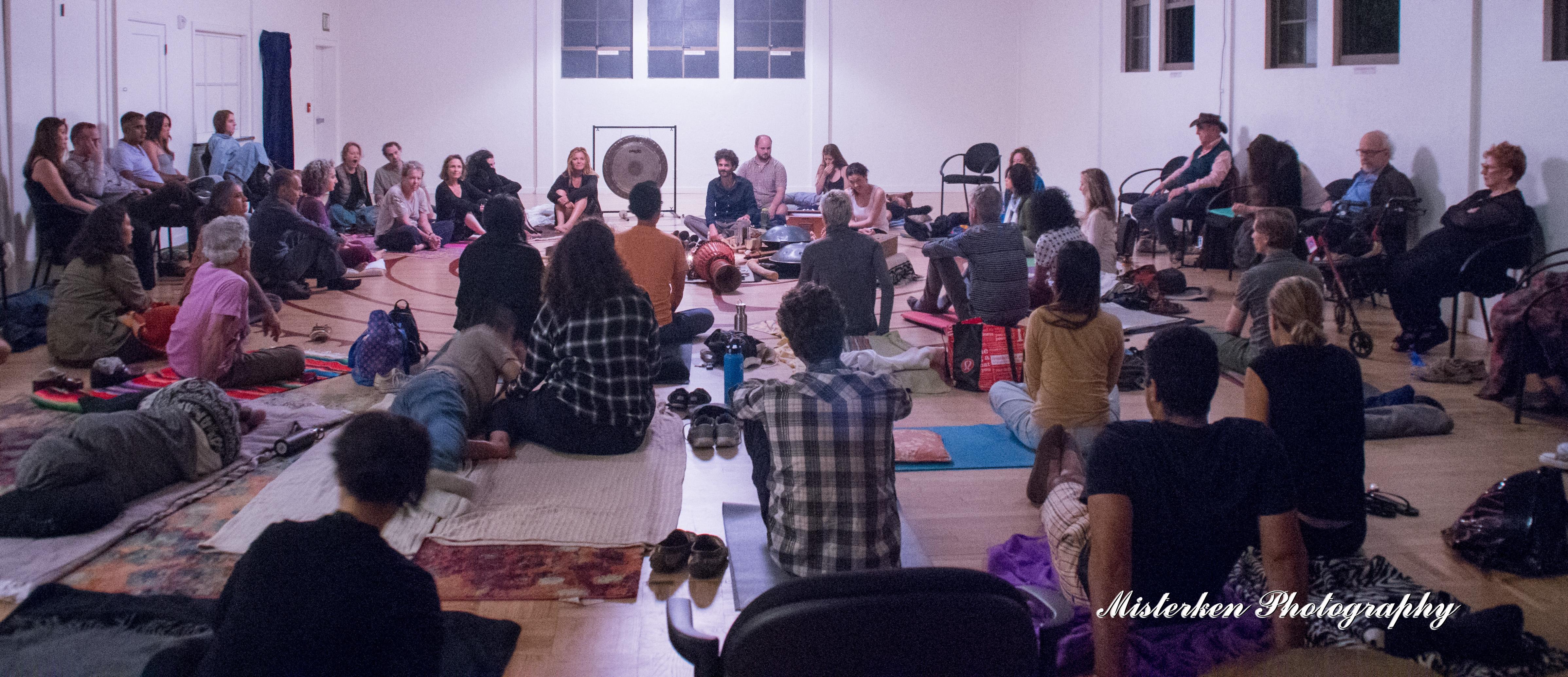 Last update 09/05/2018
32699
Samavesha presents
Inner Landscapes Journey / Sound Ceremony
with Laura Inserra and Jérémy Marais
As part of the Rose Labyrinth Series
Inner Landscapes Journey is the development of Laura Inserra's work around the transmutational and evolutive power of music which invite and nurture personal transformation, healing, and self-awareness. These 'sound ceremonies' are a musical immersion into enchanted soundscapes and an invitation to listen with your whole body your inner visions, moods, feelings, thoughts, and states. In other words, is an inspiration to relax into your precious 'presence' through a form of sound meditation.
We are pure vibration and everything vibrates around us which it means everything emanates sounds. Hearing is one of the first senses that activates when we come into life, and it is the last one to dissolve when we die. There is more to listening to than what we are aware of. Imagine only that we can hear up to 10 octaves compared to one octave of the color spectrum that the sight is able to perceive. With that in mind, our vision of life expands wilder than what only our eyes are able to receive. So much to say about that…
These performances display a rich palette of global sounds using ancient and modern instruments which she infuses with a unique blend of harmonies and melodic lines on top of intricate rhythmic expressions.
The room will be set up in a way that we can fully and comfortably immerse ourselves into the inner journey or dance the flow of the invisible… There will be available regular chairs, room to lay down in the wood floor, and an assigned area where where to dance. You are welcome to bring a mat, an eye mask, pillows, or blankets if you want to lay down and completely surrender to the experience. 
Doors open 30 minutes prior to the concert and will close at 7:30pm sharp. No one is allowed after that to enter the space. Please arrive not later than 15 minutes prior to the concert to allow yourself to land and set up your seat. 
Online ticket sale ends at 1pm before the concert. Tickets will still be available at the door at an extra charge.
Dates: Every 1st and 3rd Mondays of October and November
Doors open: 7pm
Concert: 7:30pm 

Rose Labyrinth - 2138 Cedar Street, Berkeley (1 mile walk from Downtown Berkeley BART & in the middle of the Gourmet Ghetto!)
About the musicians:
Laura Inserra is a multi-instrumentalist, sound therapist, composer, teacher, and event producer from Sicily. Thanks to her musical and spiritual studies with teachers from ancient and modern schools of wisdom, she has developed a unique form of healing practice called 'Harmonizing Therapy'. Using sacred sounds, rhythms, and melodies, she creates Inner Landscapes Journeys to facilitate and nurture personal transformation and self awareness. She applies this method in one on one sessions, as well as group settings, concerts, workshops, and company retreats. Laura's music displays a rich palette of global sounds using ancient and modern instruments which she infuses with a unique blend of harmonies and melody lines on top of intricate rhythmic expressions. She performs in a variety of public, private, and site-specific events including retreats sacred ceremonies. She composes soundtracks and sound design for dance, theater, art installations, and movies. Since the age of 21, she has been teaching music to students of all ages and levels in private and group sessions . In particular, since 2003, she is worldwide the most recognized teacher of the Hang.  She has a unique style in allowing people to access their innate creativity and express their unique abilities. She is the founder and artistic director of Samavesha, a multidisciplinary arts organization based in the San Francisco's Bay Area. Her vision is increase awareness of the vital importance of creativity in human lives as an inexhaustible source of awakening, inspiration, and healthy living. She produces site-specific performances and programs involving a variety of local and international artists of all disciplines. Her productions are deeply connected to the environment and the people she works with. Among her productions the Art in Nature Festival, the Cave Concerts, Creative Explorations, and Rose Labyrinth Series are some of the most popular. More info at www.laurainserra.com
Jérémy Marais, born and raised in the French Alps, he started to study saxophone as a kid and very soon developed a strong interest for improvised music. He has been living and studying traditional music in various parts of the world: West Africa, Spain, India, Turkey and Israel. As a multi-instrumentalist, Jérémy, in addition to alto and baritone sax, performs with clarinet, frame drum, kalimba, shruti box and various little percussions.Jérémy performed with international bands touring internationally for many years.During the last 10 years through various significant spiritual experiences Jérémy discovered the power music has to affect reality, to help shift, heal, let go, release, journey and grow.He is now using his musical skills toward this goal doing regular "Sound Healing Journeys" with "The Murmurations Duo" and "Sonic Shamanic". He offers one on one healing sessions using voice, music and energy healing. Jérémy also offers weekly workshops on "Music Sound and Voice Improvisation".For more infos visit http://www.vibratingcells.com/
music
concerts
culture
theater
art
trade shows
festivals
courses
jazz
education
Nearby hotels and apartments
Rose Labyrinth
2138 Cedar St., Berkeley, 94709, CA, United States
2138 Cedar St., Berkeley, 94709, CA, United States