Infinite Writing Fall Workshop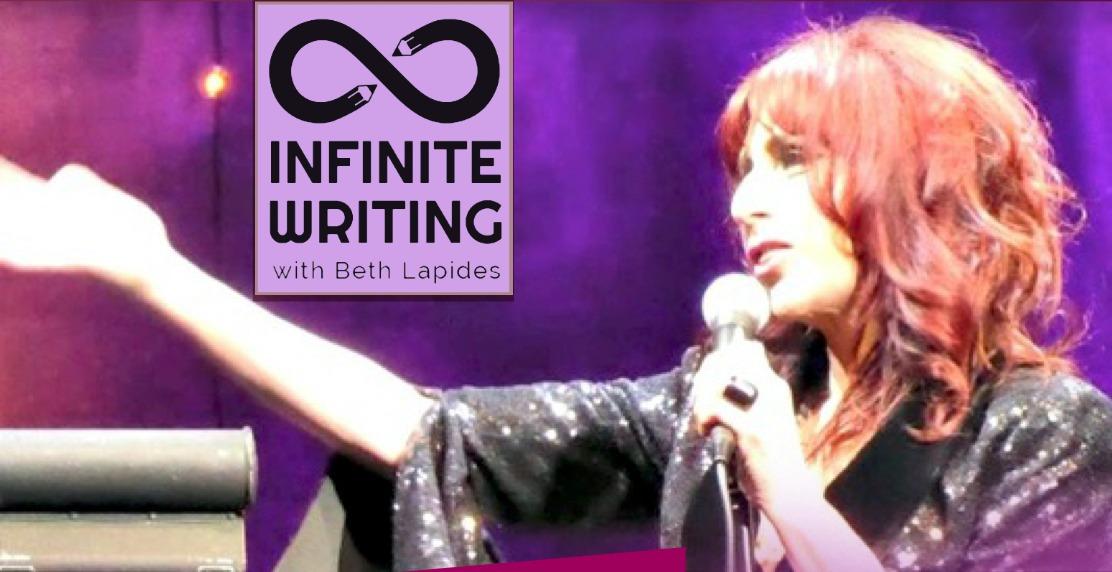 Image from eventbrite.com
From Tue 22 September 2020 to Tue 27 October 2020
From Tuesday 22 September 2020 to Tuesday 27 October 2020
---
Are you ready to break thorugh to the next level? Change your life in 6 Tuesday nights!
This workshop is perfect for elevating your stand-up, storytelling, spoken word, content creation or memoir. A perfect place to be you, but funnier. It's a creative environment for you who are yearning to know your story, to be funnier with it and in it. Comedians, musicians, lawyers, teachers and directors have all flocked to this class to hone their story sense, timing and connection to their most essential creative selves.
Beth created, hosts and produces the legendary UnCabaret. She wrote this LA Weekly cover story about that. She works as a writer, comedian, producer, host and actor (see below for more details) as well as a teacher, creative consultant and a professional muse. In addition to her own inspiring work, Beth has helped thousands of people fulfill their dreams and find their life purpose while getting funnier. And having more fun.
In this workshop Beth helps you to uncover your most authentic and compelling stories. To develop the techniques to reach your comedic capacity. To distill your point of view. And to figure out where in the marketplace you will most flourish.
Infinite Writing refers to the infinite loops of creative energy built from looping between writing and performing. Working material out on its feet, whether or not you are planning to perform it, breathes life into your writing. And then bearing down writing, helps your performance gain depth.
Beth has been helping creatives grow their careers for 18 years. Her particular areas of expertise are teasing the most personal funny out of anyone. Helping comedians find their unique comedic perspective. Helping writers find the golden vein of their stories. Helping all creatives find their own personal sutra. The thread that carries through all of their work. She is especially adept at helping creatives surf transitional periods in their creative lives.
Her first inclination that she might be good at teaching and coaching came when her friend Jessica Bendinger was at a crossroads and shared a handful of projects she night pursue. "The cheerleading story," Beth said with assurance. Fade out fade in.... Bring It On.
Since then Beth's taught both independently and at institutions such as UCLA Extension, Second City Chicago, Skirball Cultural Center, Kripalu Center for Yoga and Health and The Scottsdale Museum of Contemporary Art. She also speaks on creativity and comedy and has appeared at Brown University, The University of Iowa, A Place of Peace and more.
Her students have gone on to succeed in stand up, TV writing, screenwriting, publishing, one person shows, web series, acting, producing, storytelling and better lives.
Beth also works one-on-one with private clients. This work is very effective for longer projects, clients outside of Los Angeles, clients who require privacy and creatives with high powered day jobs needing more flexibility. Beth has worked this way with big name stars, bloggers, lawyers, comedians and more. Email beth@uncabaret.com to schedule a free 10 minute assessment call.
Beth's general principles have helped both writers and performers get past creative blocks, through overwhelm, past plateaus and to break free from work that isn't quite funny but definitely comedy adjacent. 6 weeks to creative breakthrough, 6 weeks to change your life.
WHAT EXACTLY HAPPENS IN THE WORKSHOP?
It's almost impossibly simple.
And impossibly effective.
Beth opens each class with inspiration and instruction on comedy, writing, performing and process. Then she answers questions about technique, work flow, career strategies and specific writing and performing challenges , opportunities and focuses on helping you set and achieve goals.
Then each participant gets 10 minutes of focused one on one time with Beth.
Generally the time is divided into 5 minutes at the mic and five minutes of Beth's detailed notes. Ongoing students might spend more time at the mic and less time with notes because they will already have shorthand with Beth.
Time at the mic (no mic is required if you'd rather simply sit and talk) can be a stand up set, reading a new piece, working from bullet points or working with Beth on a question and answer format. The only thing that isn't generally very effective is working on the same five minute chunk over and over. This is a workshop intended to help you discover a broad range of material, your own themes, your biggest story, how to develop new material and how to make material work better first time out. It is a great place for risk taking. For finding your creative edge. For venturing into the unknown whch is where everything exciting happens. There are tons of classes to help you hone a tight five minute set. If you have done those and are looking to go deeper, jump to the next level, take creative leaps, get to your funniest self, you have found the right place.
Beth's notes cover what worked and why, what didn't work so well and why not. Why something was or wasn't funny. Why something was or wasn't a great new direction. Suggestions for what to work on in the coming week and individual assignments for the next class.
Beth BIO

Beth is a maker and a muse. She works as a writer, producer, actor host and is the creator of the legendary UnCabaret. Read about that in a recent Variety review of the 25th Anniversary Show. And in her LA Weekly cover story.
Beth has hosted and produced UnCabaret on Comedy Central, Amazon, Comedy World Radio. Additionally she has toured her critically acclaimed one woman shows internationally, in theatres, clubs, colleges and art centers. She has worked extensively in comedy clubs in Los Angeles and New York. She's appeared as a personality on CNN, NPR, Politically Incorrect. She's acted in 'Sex and The City', 'Will and Grace'. Her first book "Did I Wake You? Haiku for Modern Living" was publishd by Soft Skull Press to critical acclaim and she's has written for O Magazine, The LA Times, Time Magazine and more.
Connect with her on social. Twitter. Facebook. Instagram. IMDB.
"Beth's class was a wonderful and supportive catalyst, and my one-man show feels much more real now. Highly recommended." ALEXANDER NEMSER
"I took Infinite Writing to work with a master comedienne, also known for nurturing the careers of countless other successful entertainers. Beth's knowledge about how to "make it" in LA at every level is phenomenal. Her method of helping students craft their stories and performances is clearly informed by over 25 years of experience. It's also highly individualized and magical. I was inspired to write and perform new pieces weekly; and left with new-found confidence in what makes me unique." JANE ALCALA
"Beth gives great notes. She's insightful, whip smart and she goes deep to move you forward in your writing." DANA JOY ALTMAN
"Beth is a superhero dedicated to fighting the evil that is untapped creative potential! Beth skillfully guided me out of the weeds when helping out on my pilot script. Brainstorming with Beth will transform whatever you're working on into a truer version of itself - and here's the bonus - you'll have a tremendous amount of fun!" MONIQUE REYMOND
"You need alt comedy swami, Beth Lapides!" LA WEEKLY
"She has a mic and she knows how to use it." THE LA TIMES
"Hilarious!" NPR
"Beth provides a safe container to blossom the essential self. She is a consummate muse; funny, loving, insightful, kind. In short, she is a comedic sage goddess." MELANIE LUTZ WRITER/DIRECTOR/LOVE ACTIVIST
More TESTIMONIALS HERE
FAQs
Are there ID or minimum age requirements to enter the event?
This is a workshop for adults. We have made exceptions for a few mature high school seniors, with permission only. No ID is required, unless it akes you feel good to get carded.
What are my transportation/parking options for getting to and from the event?
The usual in Los Angeles. Drive, bike, bus, Lyft, Uber, walk! There is free parking around the neighborhood, bit it;s a little tight so leave 15 minutes or so. If you arrive late, it happens, #traffic, #life, the front door to the building will be locked. Go around to the back. Take the beautiful elevator to the second floor. Thsi was a building Liberace had a place in so you know it's going to be a pretty swanky elevator and it is! Or take the staors and get some excercise!
What can I bring into the event?
You can and should bring all your enthusiasm, questions, concerns, brilliance, ambition, insecurity, talent. Bring somethng to take notes on. And something, 5 minutes or under, you are working on to do for the class. If you arenlt sure how to choose, bring a few and Beth will help you. If you don't have anything no probelm, Beth will work with you one on one asking you questions and leading you to material.
No food, no drugs.
How can I contact the organizer with any questions?
Feel free to contact us with questions, or to set up a free phone assessment, or to schedule private consults. Text Beth at 213-706-3630. Or email beth@uncabaret.com.
3703 Views - 28/10/2020 Last update
Actors Comedy Studio
7461 Beverly Blvd, Los Angeles, 90036, CA, US
---
Are you an event organizer?
Create events for free. They will be immediately recommended to interested users.
Create event
Nearby hotels and apartments
7461 Beverly Blvd, Los Angeles, 90036, CA, US
---
---
Actors Comedy Studio
7461 Beverly Blvd, Los Angeles, 90036, CA, US
Event from
eventbrite.com
---
---
Are you an event organizer?
Create events for free. They will be immediately recommended to interested users.
Create event