IGNITE Series: Skills to Spark a Great Career (Jan 10 - Feb 26, 2019)
Thursday 10 January 2019 1:00 PM Tuesday 26 February 2019 4:00 PM
Save
Saved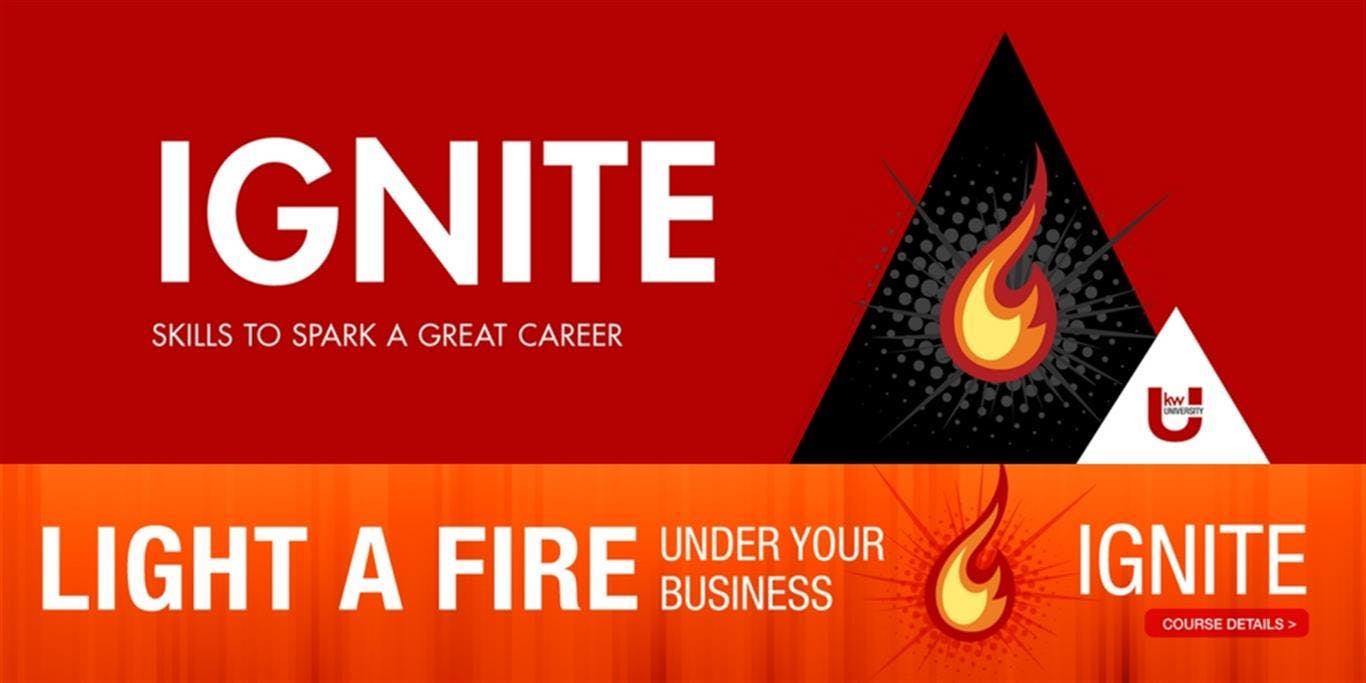 Light a fire in your real estate career NOW with this action-focused, results-driven approach to lead generation, lead conversion and contract negotiations.
Ignite is for any agent who wants to close at least 16 transactions per year,
 

leveraging the proven models and systems that power the most successful agents in the business.  

"Ignite will allow you to get off to a fast start you can build on. If you repeated the principles every day for a year, believe me, you'd have an AWESOME first year!"
– Gary Keller, co-founder and chairman of Keller Williams Realty, Inc.

To fully participate in Ignite you will commit to:
Completing all activities including the Daily 10/4 (habit-building lead generation actions)
Building a database of at least 200 new contacts
Practicing and using scripts
Making business phone calls and asking for business and referrals every day
Sharing your KW mobile search app
Ignite consists of:

13 three-hour classes, most TTh over 7 weeks
Ignite Homebase website with all the resources you need for success in the class
Daily 10/4 activities tracked through myTracker
Workbooks, scripts, videos, checklists, job aids and more
Built-in accountability
Certified Ignite Faculty with proven success in real estate
Ignite Schedule is as follows:
1/10/19 (Thursday) 1:00 - 3:00 PM = IGNITE Launch Day

1/15/19 (Tuesday) 1:00 - 4:00 PM

 

= (IGNITE #1) Ignite Your Business - Build a Career Worth Having 

1/17/19 (Thursday) 1:00 - 4:00 PM

 = (IGNITE #2) Build Your Business - The Size of Your Database will Determine the Size of Your Bank Account

1/22/19 (Tuesday) 1:00 - 4:00M

 

= (IGNITE #3) Find Your Business - Prospecting Is the Cornerstone of Lead Generation

1/29/19 (Tuesday) 1:00 - 4:00 PM

  = (IGNITE #4) Win the Seller - Practiced Listing Presentations Lead to Signed Listing Agreements

1/31/19 (Thursday) 1:00 - 4:00 PM

 

= (IGNITE #5) Price to Sell with Your CMA - The Competitive Skill of Pricing

2/1/19 (Friday) 1:00 - 4:00 PM

 

= (IGNITE #6) Sell Your Listings - For Sale Signs Don't Pay the Bills, Sold Sign Do!

2/5/19 (Tuesday) 1:00 - 4:00 PM

 

= (IGNITE #7) Find and Win the Buyer  - Converting Buyer Leads to Signed Buyer Agreements

2/7/19 (Thursday) 1:00 - 4:00 PM

 

= (IGNITE #8) Find and Show Homes - Making Your Buyer's Dream a Reality

2/12/19 (Tuesday) 1:00 - 4:00 PM

  = (IGNITE #9) Make & Receive Offers - Aim for Offers that Win

2/14/19 (Thursday) 1:00 - 4:00 PM

 

= (IGNITE #10) Negotiate the Deal  - Find Common Ground for Win-Win Agreements

2/21/19 (Thursday) 1:00 - 4:00 PM

 = (IGNITE #11) Close the Deal  - Conclude a Successful Transaction, Secure a Customer for Life!

2/26/19 (Tuesday) 1:00 - 4:00 PM

 = (IGNITE #12) Ignition - Blast Off! - Powerful Habits to Reach and exceed Your Business Goals 
Materials: $35 for hardcopy materials / Free for KW associates at http://www.kwconnect.com/page/ignite-student (KW login required)
Qualification for a Certificate of Completion: Ignite Cappers In Training will receive a Certificate of Completion for Ignite, upon attending 80% of classes, including Ignite #1 and Ignite #12 + turn in their weekly Daily 10/4 numbers. 
FAQs 
What are my transportation/parking options for getting to and from the event?
There is metered and non-metered parking in the surrounding area. There is a parking structure on 4th Ave, between Laurel St and Kalmia St that is $5 for 8 hours. 
Nearby hotels and apartments
Keller Williams San Diego Metro (Training Center)
2250 4TH AVENUE, SAN DIEGO, 92101, CA, United States
Keller Williams San Diego Metro (Training Center)
2250 4TH AVENUE, SAN DIEGO, 92101, CA, United States