HIPLIFE FEST (AFROBEATS FESTIVAL)
Friday 26 July 2019 5:00 PM Monday 29 July 2019 5:00 AM
Save (4)
Saved (5)
Last update 30/07/2019
1843566

The HIPLIFE FEST is a 3-day celebration, in Harlem, to support the VISION 2020 CAMPAIGN of The RESCUE PROJECT. The RESCUE PROJECT is a non-profit subsidiary of HAVEN HANDS Inc, a 501(c)3 aimed at providing clean water and sanitation for over 200 million individuals worldwide by raising $20 million for the cause.
The HIPLIFE FEST kick-off will take place on Friday, July 26th. Attendees will enjoy various shows, art exhibitions and parties. On Saturday, Budukusu and many other Afrobeat artists will perform a free concert at the Adam Clayton Powell building from 2pm-8pm. Festivities will conclude on Sunday, July 28th with an elegant African fashion-themed fundraiser (HAVEN HANDS CAREGIVERS BALL) from 3pm-8pm. The installation of HIPLIFE FEST will conclude every year with the #CAREGIVERSBALL, a benefit fundraiser, bringing together compassionate people from all walks of life, celebrities and supporters to close out the event with a bang. The night will also honor and recognize artists and those who have dedicated their lives in support of basic human rights, through award programs during the ball.
Read more about our tax-deductible ticket offerings to attendees of the HIPLIFE FEST below:
PREMIUM BADGE (3 Days All Access)
The best and most convenient route is to buy a Premium badge. The Premium badge will grant you exclusive access to all parties, happy hours, and events throughout the festival on a first-come, first served basis. As a HIPLIFE FEST Premium badge-holder, you'll be eligible for discounts with our local bar & restaurant partners.
VIP BADGE (3 Days)
The VIP badge will give you preferential treatment and no line waiting.
OTHER EVENTS
Happy Hour: Panel Discussion & Comedy Show (7/26, 4pm-9pm)
Vision 2020 Early Brunch Party (7/27, 10am – 1pm)
Harlem Outdoor Day Party (7/27, 2pm-8pm)
Caregivers Ball (7/28, 3pm-8pm) - Late Brunch Party / Dress with African Elegance
Unlimited drinks with entrée.
HIPLIFE FEST website FAQ link for further info and to find out how you can volunteer to gain free access to events. https://www.hiplifefest.com/faq/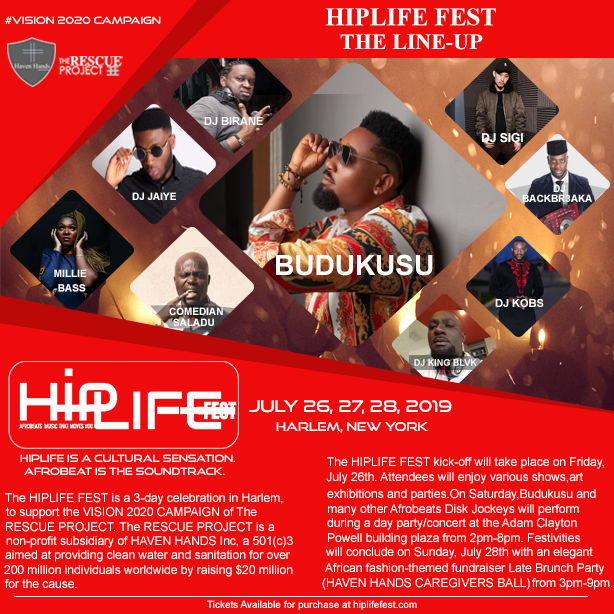 The RESCUE PROJECT is the brainchild of Resk 'Que, birthed out of his passion to give back. Through his experience growing up in Ghana, West Africa, he gained firsthand knowledge of what it means to have no access to clean water. He also experienced the dangers of eye health issues as the child of a mother who had eye problems that could have been easily prevented with proper treatment.
The RESCUE PROJECT is aimed towards Sub-Saharan African countries, but upholds an objective to advocate for healthy drinking water in Asia, the Caribbean, East Europe, Latin America, and everywhere else that clean drinking water is scarce. VISIT HERE TO LEARN ABOUT OUR WORK: https://donorbox.org/dianamorvey
SUPPORT US! https://havenhands.org/ or visit https://therescueproject.org/.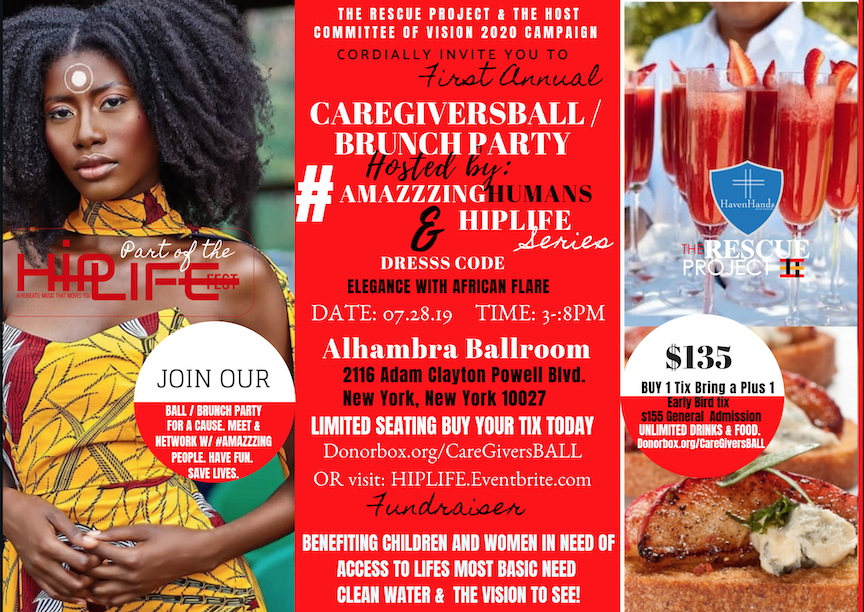 music
concerts
food
nightlife
festivals
hip hop
party
happy hour
Nearby hotels and apartments
Harlem-125th St.
New York, 10035, NY, United States
New York, 10035, NY, United States
Event from
eventbrite.com