(Hed) P.E.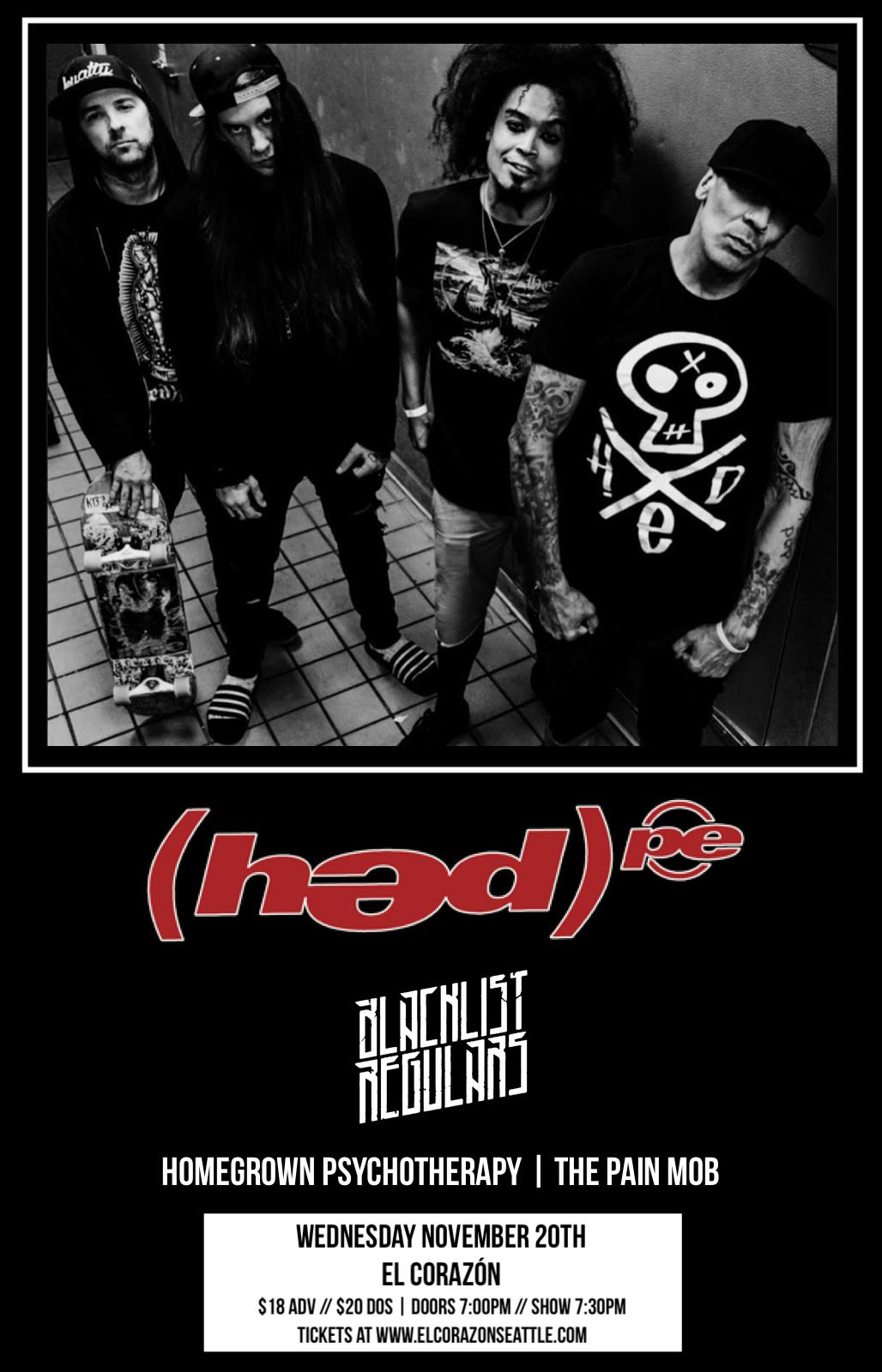 Image from eventbrite.com
Wednesday 20 November 2019
---
(Hed) P.E., Blacklist Regulars, Homegrown Psychotherapy, and The Pain Mob LIVE at El Corazon - Seattle

(HED) P.E.
Originally based in Huntington Beach, CA, (Hed) p.e. was founded in 1994 by frontman Jahred, whose goal was to fuse the region's long-standing punk rock heritage with G-funk-inflected hip-hop. He was shortly joined by bassist Mark who has remained alongside the band until present day. The line up is currently rounded out by guitarist Jaxon and drummer Trauma.

(Hed)p.e was snatched up by Jive Records early in its career, but it wasn't until the year 2000 when they released the album "broke" that they received mainstream success. It was this album that solidified them as a mainstay in the rock and metal community.

(Hed)p.e. released its third album "Blackout" in 2003 which continues to be their most successful album to date. The group is infamous for changing the image and style of the band and music from release to release. Infusing moments of punk, metal, rap, reggae, and rock into their very eclectic yet precise sound.

Many have asked what the name (Hed) p.e. means and stands for. According to vocalist Jahred, "The name (Hed) p.e. is a name I came up with which basically means our consciousness is connected to the planet and the planet is evolving, therefore, we as her children, evolve with her. The "p.e." originally was defined as PLANETARY EVOLUTION, and sometimes morphs to PLANET EARTH and back, but both carry the same message, the (Hed) is the symbol for consciousness. WE ARE ON THE MOTHERSHIP!"

Despite many bands and peers from their genre, (Hed)p.e. has never taken a break from releasing albums and touring, which has enabled them to survive and meet with very strong independent success over the years. As a member that has been with the band from inception, bassist Mark attributes this to a passion for music and for playing in (Hed)p.e. for over 2 decades. "I moved from NewCastle England to pursue music in the United States and have never looked back." says Mark. "Our goal is to be a band that can connect with fans for decades to come, much like bands like the Rolling Stones have been able to do for over four generations of music."

Staying true to the (Hed)p.e. standard of change and growth both personally and musically, the new album "Evolution" takes the band back to their metal and underground roots they grew up on as kids. With tracks like "One More Body" and "No Tomorrow" holding down the metal and aggressive front, to the Led Zeppelin infused track "2 Many Games", this album delivers every style imaginable and even rounds the album out with three reggae inspired/infused album closers.

In a time when so many bands are playing it safe and going through the motions, whether it be out of fear of failure or lack of new ideas, (Hed)p.e. embraces change and "Evolves" with their greatest work to date.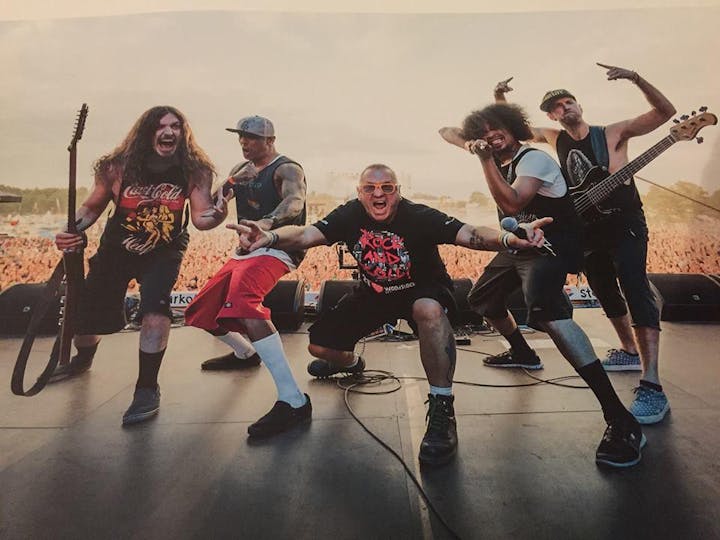 Blacklist Regulars
Blacklist Regulars are an in your face rock band with an international twist.
The band is a combined force of a vocalist from Ireland backed by a band from Venezuela. A lack of music opportunities and a corrupt political climate led the members to leave their respective countries. They all came to Chicago looking for like-minded musicians and joined together to pursue their common goal of touring the USA playing authentic rock music.

Screaming guitar lines from Arturo Banus with the tight rhythm section of the brothers Tomas and Alejandro Zabala provide a foundation for Luke Keating's Alice in Chains inspired vocals. The band provides a modern twist of the hard rock genre with a nod to bands like Soundgarden and Stone Temple Pilots.

Tackling the difficult realities of life, Blacklist Regulars' tracks open up to the world of despair, addiction, worldly struggles and resilience, cultivating a sense of attachment through their music, story, and culture.

The band have opened for Saving Abel, Powerman 5000, Adelitas Way, Deadset Society, Meytal, September Mourning. They have toured with Flaw as part of their June U.S Tour and have a full thirty day national tour scheduled for the fall on the 'Days of Disorder Tour' with Powerman 5000, Hed Pe and Adema.

Their debut record 'Through the Blast' is out now on Pavement Entertainment.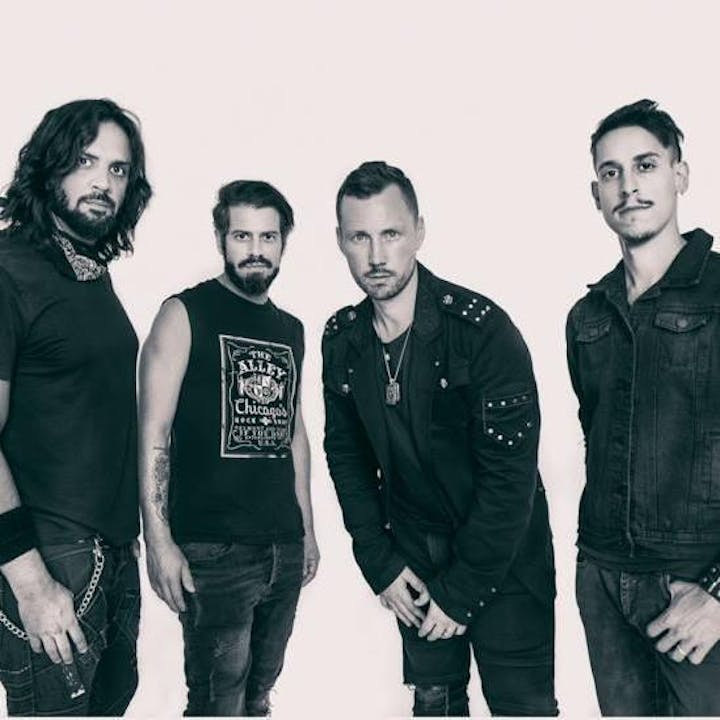 HOMEGROWN PSYCHOTHERAPY
hardcore rap from the northwest
Born in crack city (everett wa) March 24 1994 severed started in 2009 I started writing my lyrics and recording wicked shit .i opened up for artist such as boondox ,saint dog ,Kung fu vampire ,mars ,AMB and more .but fuck it I'm here for me and my fans.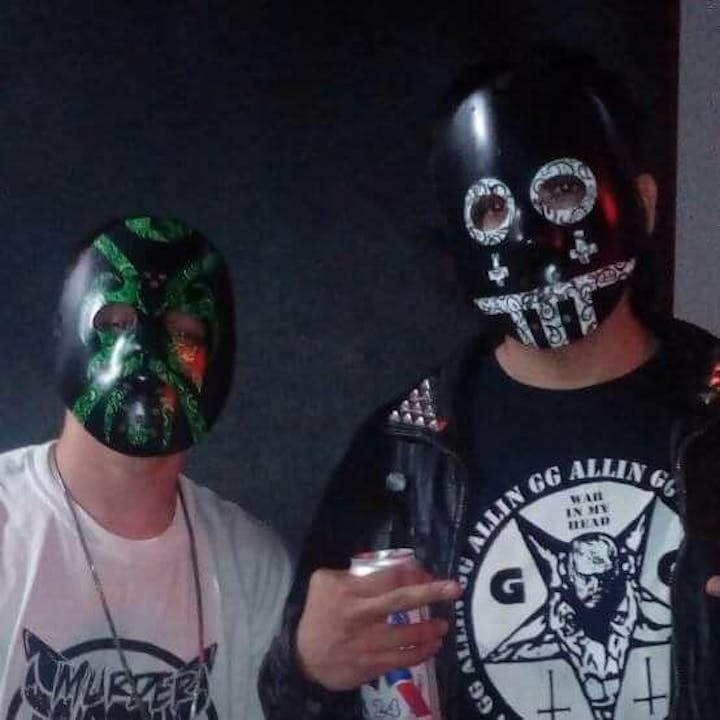 THE PAIN MOB
the Pain Mob is here to make your brain throb. the Pain Mob's self titled EP release date is 3-17-19 Saint Patty's day.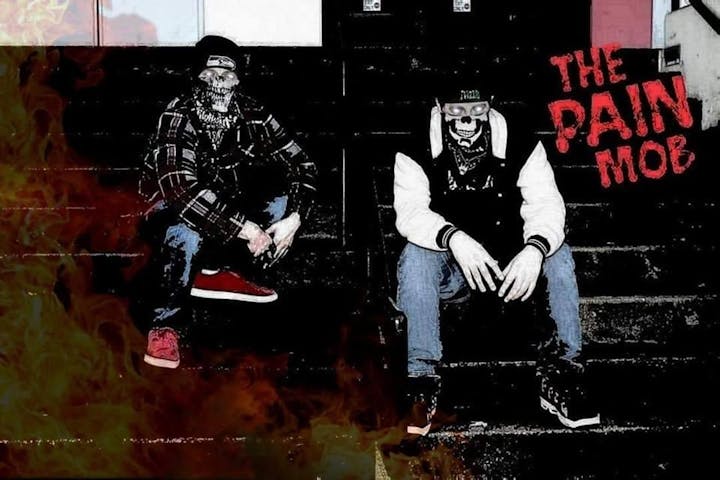 17234 Views - 21/11/2019 Last update
El Corazon
109 Eastlake Ave East, Seattle, 98109, WA, United States
---
Are you an event organizer?
Create events for free. They will be immediately recommended to interested users.
Create event
Nearby hotels and apartments
109 Eastlake Ave East, Seattle, 98109, WA, United States
---
---
El Corazon
109 Eastlake Ave East, Seattle, 98109, WA, United States
Event from
eventbrite.com
---
---
Are you an event organizer?
Create events for free. They will be immediately recommended to interested users.
Create event
Seattle

›