Girls in Tech - Microsoft YouthSpark Workshop for Kids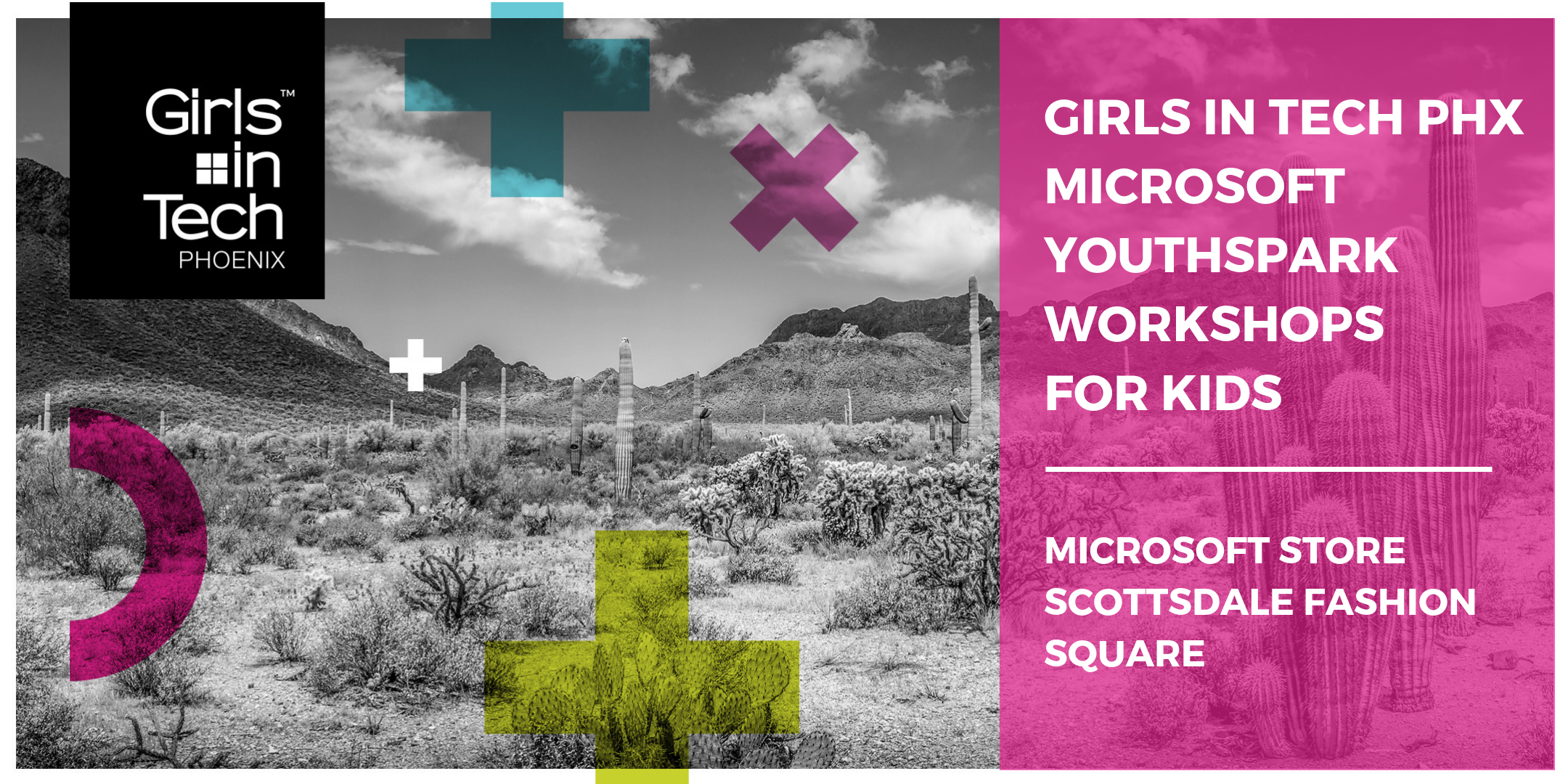 Image from eventbrite.com
---
Girls in Tech Phoenix is excited to be partnering again with the Microsoft Store to offer 10 FREE YouthSpark Workshops for kids!
These workshops are ideal for kids around 8 to 12 years old, all genders welcome!
Developed by education experts with input from our local Microsoft Store Associates, these workshops will deliver coding, robotics, moviemaking and philanthropic skills. With an emphasis on real-world relevance in a fun and interactive environment, students will be provided with the tools needed today to be successful when pursuing any career tomorrow.
Please sign the photo/video release form for your child to attend: https://forms.gle/jF5ghNvtFPyJHmwQ6
Classes and schedules below for 2019/2020
September 1st - Work Faster and Smarter in School with OneNote
Students will learn OneNote and it's range of uses for powerful organizing to work faster and smarter in school.
October 6th - Online Safety: Preventing and Combating Cyberbullying
Students, parents, and caregivers will learn the various forms of cyberbullying as well as the academic and social impacts. Participants will gain key insights on how to address and prevent cyberbullying through engaging activities and conversations. Additionally, attendees will prepare a strategy to combat cyberbullying in their classrooms, schools, and homes.
November 3rd - Harry Potter Creative Coding Camp
Students will use the Harry Potter coding wand to creatively code spells. Students will also learn fundamentals of coding, like algorithms, loops, coordinates, and debugging.
December 1st - STEM: Minecraft Coding and Computer Science
In this coding workshop, students will play in Minecraft while they learn how to code with Microsoft's MakeCode platform. They will program an Agent robot to complete challenges and even change the weather, or as they say in the world of Minecraft: they will make it rain Ocelots and Wolves!
January 19th - Create Digital Art
Students will explore the freedom and power of creating original digital art with this workshop. Students will use an array of tools to create lifelike paintings, original drawings, collages, and so much more. They'll take a tour of Fresh Paint basics, then explore more advanced skills like blending paint colors and layering mixed media to create their own unique works of art.
February 2nd - Make Hustle Happen: Start Your Own Business or Champion a Cause
Students will brainstorm ideas for their own business or a supporting a cause, then draft an action plan using Windows 10. At the end of the workshop, students present their action plans and get the inspiration they need to execute next steps.
March 8th - DigiGirlz: Women in Gaming
This DigiGirlz workshop is an engaging interactive way for students to understand more women in gaming. Through unplugged activities and group discussions, students will learn key life skills of teamwork, resilience, and communication and how they relate to gaming. Students will practice ways to use these life skills in everyday life including gaming (game used is Rocket League).
April 5th - Create Wow Presentations and Projects with SWAY
Students will learn the ease and endless possibilities of Sway. Participants will learn tips for creating and delivering a wow presentation or project, and immediately implement them as they create a presentation from start to finish. Participants will also practice their communication skills and stage presence as they present their Sways to one another.
May 3rd - Code Your Own Video Game with MakeCode
Students will use block coding to create a video game with MakeCode Arcade. Students will learn fundamental game and coding concepts—like sprites, variables, and coordinates—and use their new skills to create and customize a playable game.
June 7th - Intro to Robotics with Ohbot
Students will gain an introduction to robotics and coding with Ohbot & the Ohbot Win10 app, as well have the opportunity to work individually & collaboratively to program Ohbot to move & speak.
July 12th - STEM: Seismographs and Earthquakes
Students will learn how to build a Seismograph using everyday objects and explore modern engineering techniques (Tuned Mass Damper) used to mitigate earthquake damage. Furthermore, students will learn to use a Surface and Excel to visualize data generated from their Seismographs.
1108 Views - 08/06/2020 Last update
east camelback road 7014
microsoft store scottsdale fashion square, scottsdale, 85251, az, us
---
Are you an event organizer?
Create events for free. They will be immediately recommended to interested users.
Create event
Nearby hotels and apartments
microsoft store scottsdale fashion square, scottsdale, 85251, az, us
---
---
east camelback road 7014
microsoft store scottsdale fashion square, scottsdale, 85251, az, us
Event from
eventbrite.com
---
---
Are you an event organizer?
Create events for free. They will be immediately recommended to interested users.
Create event