Getting Functional Medicine to Medical Students
COVID-19: many events have been canceled or postponed, please check with the organizer the event status.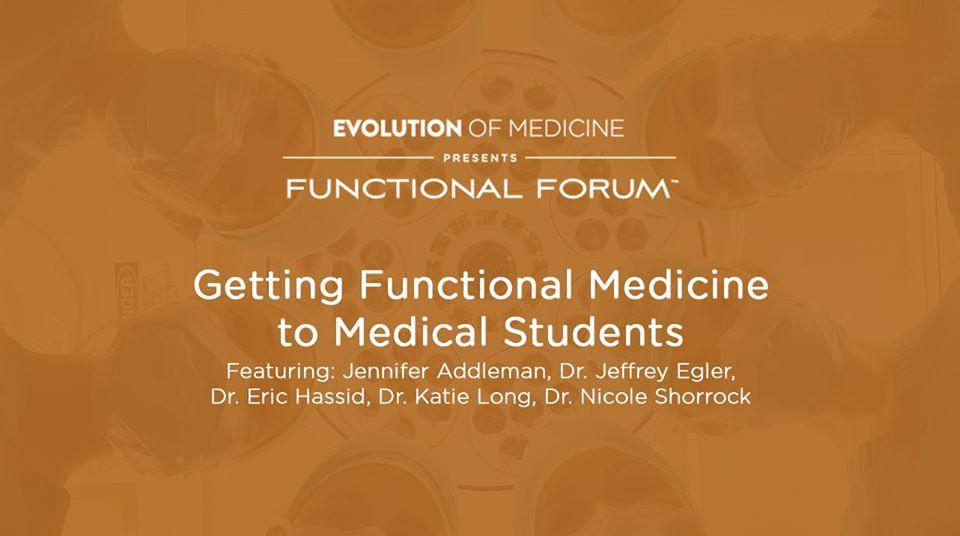 Image from eventbrite.com
---
Featuring:
Jennifer Addleman
Dr. Jeffrey Egler
Dr. Eric Hassid
Dr. Katie Long
Dr. Nicole Shorrock
Evolution of Medicine is thrilled to announce our 75th Functional Forum, on a topic that has been boiling under the surface for years and one of the biggest issues facing the growth of functional medicine. Health professionals, particularly doctors, must undertake further education outside their core training to learn, and in some cases, unlearn some of what they learned in medical school, to be able to practice functional medicine.
This Functional Forum is possible because of the innovation of Jennifer Addleman, an undergraduate student at University of California-Davis. Jennifer is a regular attendee of the Folsom Functional Forum meetup and having met so many great doctors at the meetup, decided to put on a conference at UC-Davis. What you'll see at this conference is not only some great speakers and some great content, but we're also going to talk about how you can help to organize this at a medical school near you. Because ultimately, we need to expand it. And the good news is that the factors you might think would stop it from spreading might not be that insurmountable after all.
You'll hear from the organizer, Jennifer Addleman, as she shares her strategy for getting this event organized at UC-Davis. You'll also hear from a number of the speakers, including Dr. Jeffrey Egler, who was recruited by the Adventist Health System to bring functional medicine to their organization, which includes more than 20 hospitals, 300 clinics and 30,000 employees in four states. Dr. Eric Hassid will discuss the six parts of optimal vitality. You'll also hear from pediatrician sisters, Dr. Katie Long and Dr. Nicole Shorrock, who will talk about their practice and their work as functional medicine-trained pediatricians. Other physicians who presented at the conference will also share their insight.
One of the most interesting things about this group of doctors is that they're not all in private practice. Most of the doctors who are speaking work at the major medical institutions in the Sacramento area, which showcases a new, exciting future for functional medicine in which it's not just being delivered in private practices for cash, but also available on insurance inside medical systems and inside health plans.
About The Functional Forum
The Functional Forum is a monthly "medutainment" web show for health professionals and industry insiders who are passionate about the evolution of medicine.
Curating the industry's leading innovators, the Functional Forum brings together the latest health news, functional medicine research, practice development and health technology in an upbeat, entertaining way.
We have 450+ meetup groups around the world comprised of doctors and practitioners who get together to learn about health-related subjects like "The Omics Era." If you' would like to join a meetup group, or find one located in your area, click on the "Find A Local Meetup" button.
Who Should Attend?
Any practitioner who is curious about addressing the root cause of chronic disease
Any health professional who practices:Functional Medicine
Preventative Medicine
Integrative Medicine
Holistic Medicine
Digital Health Innovators
Medical Stakeholders
Health Professionals:MD, DO, ND, PA, DC, RN, RD, NP, LAc., CHT, CCN, DDS, Midwives, PharmD, Pharmacist, Vet, Colon Hydrotherapist, Health Coaches etc.
2364 Views - 08/04/2020 Last update
Whole Foods Market
100 Pitt Street , El Paso, 79912, TX, US
---
Are you an event organizer?
Create events for free. They will be immediately recommended to interested users.
Create event
Nearby hotels and apartments
100 Pitt Street , El Paso, 79912, TX, US
---
---
Whole Foods Market
100 Pitt Street , El Paso, 79912, TX, US
Event from
eventbrite.com
---
---
Are you an event organizer?
Create events for free. They will be immediately recommended to interested users.
Create event
El Paso

›