Focusing on Food Loss and Food Waste: 2017 Food Tank Summit NYC
Wednesday 13 September 2017 9:30 AM Wednesday 13 September 2017 6:00 PM
Save
Saved
Invite friends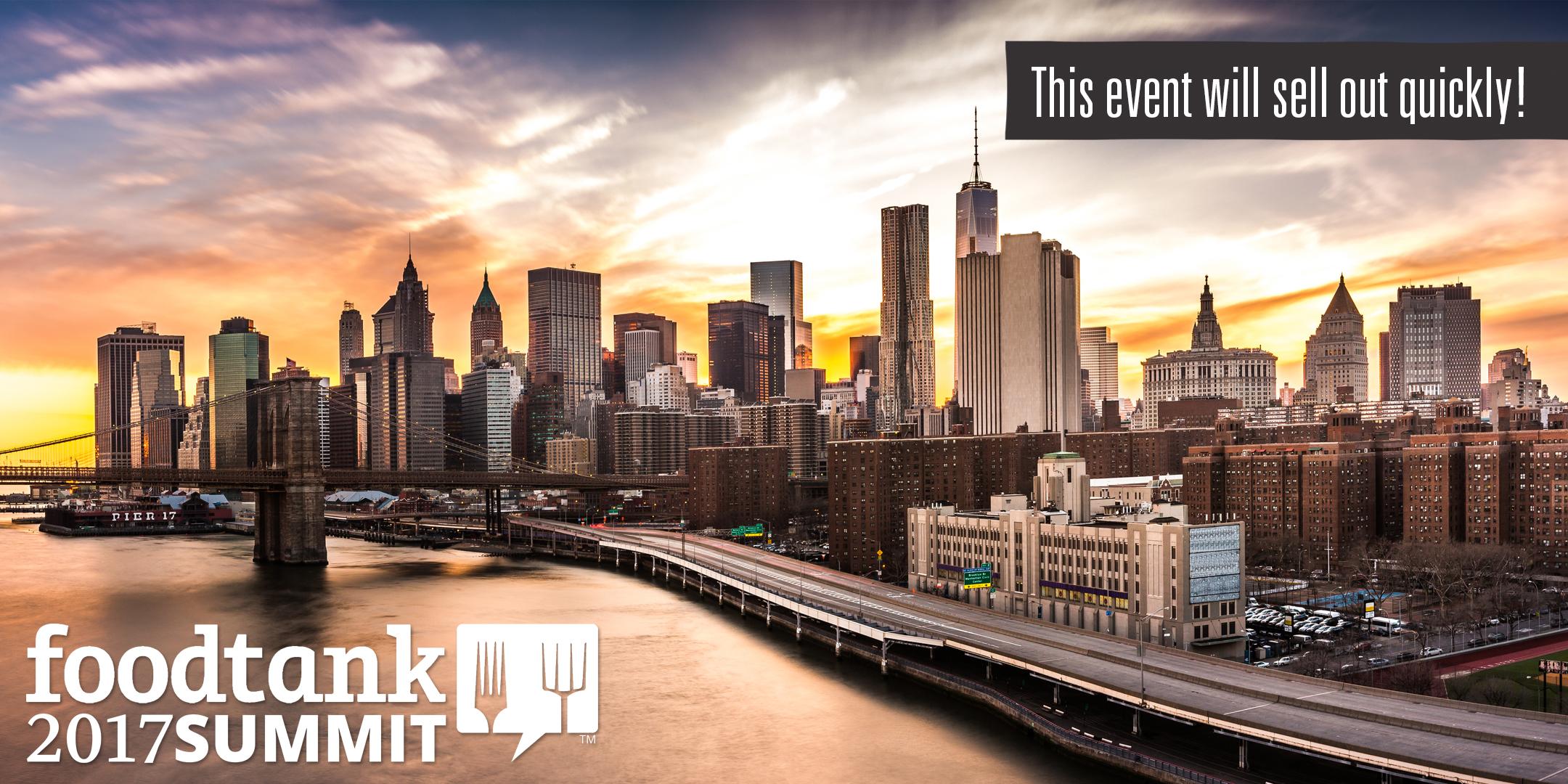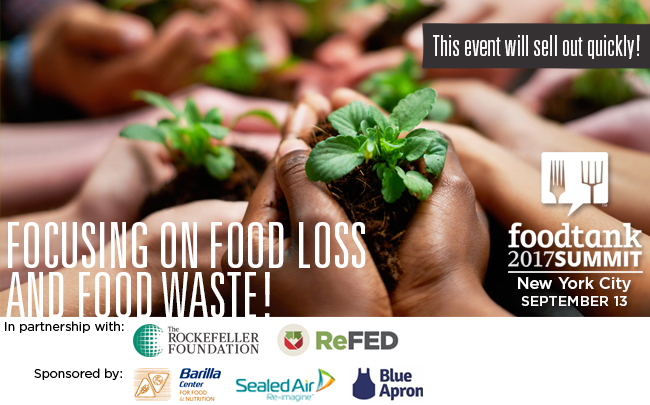 * Food Tank is committed to building an engaged and diverse audience.  You must have an access code to purchase tickets for this event. To apply, please fill out this form.  Hurry, this event will sell out!*

Food Tank, ReFED, and The Rockefeller Foundation are excited to announce the inaugural NYC Food Tank Summit! This one-day event will feature more than three dozen different speakers from the food and agriculture field. Researchers, farmers, chefs, policy makers, government officials, and students will come together for discussions on diverse topics. The theme for the Summit is Focusing on Food Loss and Food Waste.
This Food Tank Summit is being held in partnership with ReFED and with support from The Rockefeller Foundation and The Fink Family Foundation. ReFED is a multi-stakeholder nonprofit, powered by an influential network of the nation's leading business, nonprofit, foundation, and government leaders committed to reducing U.S. food waste. The Rockefeller Foundation is supporting this Food Tank Summit as part of its $130 million YieldWise initiative, launched in January 2016 to address the global crisis of food loss and waste. The Foundation is working with private, public and nonprofit actors to foster a "greener revolution" in the food system, and connecting good ideas with the actors who can implement them at scale. Together, we can halve global food loss and waste and realize major benefits for people, companies, cities, and the planet.
This is the third event in our 2017 Food Tank Summit Series, which will bring together some of the world's most impactful food system leaders. Every Food Tank Summit to-date has sold out, and more than 175,000 viewers from around the globe have tuned in for the livestream. This is a can't miss event for 2017!

Confirmed speakers include:
Emily Bachman, Compost Program Manager, Zero Waste Programs, GrowNYC
Elizabeth Balkan, Director of Policy and Senior Advisor, Office of the Commissioner at NYC Department of Sanitation (DSNY) 
John Boyd, Jr., Founder and President, National Black Farmers Association
Joan Briggs, Executive Director, Fink Family Foundation
Gigi Lee Chang, Managing Director, FoodFutureCo
Chris Cochran, Executive Director, ReFED
Tom Colicchio, Chef and Owner, Craft restaurants & 'wichcraft 
Karl Deily, President of Food Care, Sealed Air

Ron Gonen, Co-Founder and CEO, Closed Loop Partners
Tony Hillery, Executive Director, Harlem Grown
Helen Hollyman, Editor-In-Chief, MUNCHIES
Lynette Johnson, Executive Director, Society of St. Andrews
Prasanta Kalita, 

Director, ADM Institute for the Prevention of Postharvest Loss, University of Illinois at Urbana-Champaign

 
Justin Kamine, Partner, KDC Ag - Kamine Development Corporation
Sam Kass, Chef, Entrepreneur, and Founder, TROVE
Devon Klatell, Associate Director, The Rockefeller Foundation
Jude Medeiros, Regional Vice President of Schools, Sodexo
Clare Miflin, Architect, Kiss + Cathcart
Monica Munn, Senior Program Associate, The Rockefeller Foundation
Kimbal Musk, Chef & Co-Founder, The Kitchen
Danielle Nierenberg, President, Food Tank
Tinia Pina, Founder & CEO, Re-Nuble
Brian Roe, Professor, College of Food, Agricultural, and Environmental Sciences, The Ohio State University
Stephanie Strom, Food Business Writer, The New York Times
Brian Wansink, Professor and Director, Cornell University Food and Brand Lab
Jocelyn Zuckerman, Contributing Editor, Modern Farmer
Konstantin Zvereff, Founder and CEO, BlueCart
Ticket Information and Details:

The Summit. Includes the entire Food Tank Summit (breakfast and lunch provided) on September 13th. 35+ incredible speakers held at The Greene Space. $299 (scholarships available).
Food Tank is committed to building an engaged and diverse audience.  Tickets for this event are available by application only. To apply, please fill out this form. We provide full and partial ticket scholarships for students, farmers, individuals with financial need, and other underrepresented groups. You can apply for scholarships on the ticket application.  Hurry, this event will sell out!
Thank you to our Summit partners, sponsors, and media partners: Barilla Center for Food and Nutrition, Blue Apron, The Fink Family Foundation, ReFED, The Rockefeller Foundation, and Sealed Air.
Interested in becoming a sponsor? Please email Bernard Pollack at bernard@foodtank.com for more details
Interestested in volunteering? Please send your resume and availablity to Vanesa Botero-Lowry at vanesa@foodtank.com. 
Food Tank's Refund Policy: We understand that schedules change. The deadline to cancel your registration and receive a full refund is August 13, 2017. Any requests made after August 13, 2017 can not be processed
food
business
courses
education
volunteerism