Fat Girls Hiking, Phoenix: Hiking & Burgers!
COVID-19: many events have been canceled or postponed, please check with the organizer the event status.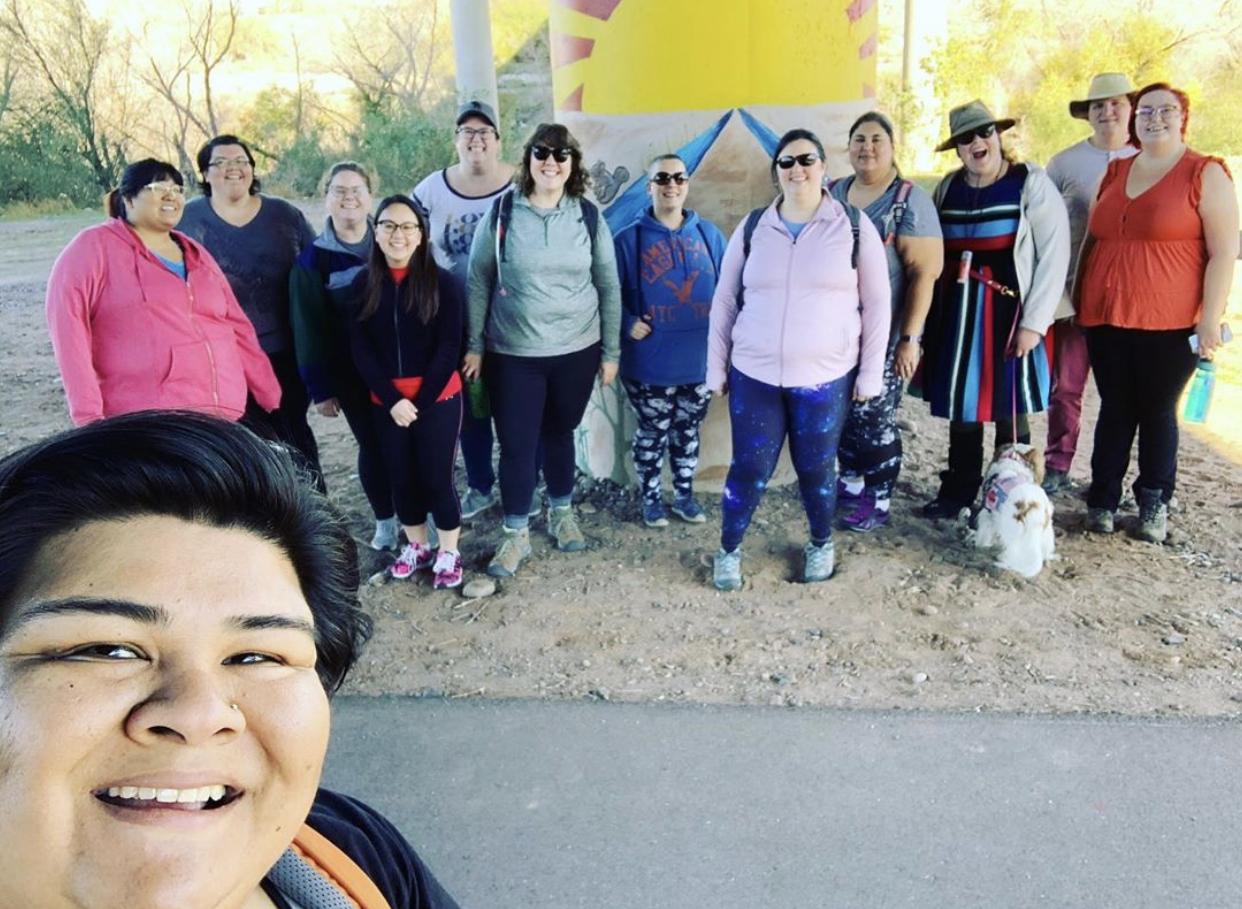 Image from eventbrite.com
---

This hike will be lead by our Phoenix ambassador, Amy. For more information on your ambassadors, click here: https://fatgirlshiking.com/phoenix-az/
To stay up-to-date on hikes/events in your area, follow Fat Girls Hiking on Eventbrite: https://www.eventbrite.com/o/fat-girls-hiking-8629131029
Hike Name: Phoenix Hiking and Burgers!
Description: We will be hiking a variation of the Voaz Loop Trail. Typically, the VLP is a 3.8 mile hike, with over 700 ft of elevation. We will be taking a route that follows it, and is more flat. The trail we will be doing is closer to 3 miles, and will be closer to 500 ft of elevation. This hike is more rough in terrain, though inclines are subtle. Walking sticks are recommended if they'll make you more comfortable in the rocky terrain.
We will take the hike slow, and listen to our bodies, with the option of wrapping up earlier if needed.
After the hike, we will convene at Aioli Gourmet Burgers in North Phoenix for lunch, where most menu items are $10 or less.
Native Lands (https://native-land.ca): This hike takes place on the ancestral territories of the Yavapai, Akimel O'odham and Hohokam nations. Fat Girls Hiking acknowledges that our hikers may be guests, settlers & immigrants to this land. We recognize that outdoor recreation is rooted in colonialism and commit ourselves to undoing these dynamics while we're on the trail.
Mileage: 2.5-3.5 miles
Elevation Gain: 500 ft
Trail Conditions: loose-rock terrain, with long stretches of gravely flat trails and some subtle inclines. 

Wheelchair/mobility device accessible info The first mile of the trail is flat, but this trail is not wheelchair/ADA accessible. There are no benches along the trail. There is not much shade along the trail.
Dogs Allowed: Yes, on leash only
Kid Friendly: Yes
Website: https://www.alltrails.com/trail/us/arizona/voaz-loop
Address: 8828 N 32nd St. 85028
Directions from City Center: Take 51 N and exit 32nd St, make a right and head down until the dead end, where you need to park along 32nd St. to walk to the trailhead. The address listed is a residential address next to the trailhead.
Parking Info: Free parking along 32nd St., please don't leave valuables in your car, and try to carpool when able to.
Meeting Point: The end of 32nd St. leads to a trailhead we will be waiting for folks at
Bathrooms: No bathrooms on the trail, please use bathrooms before you arrive

Fees: No fees
Other Notes: This hike will be more physically challenging than the other Phoenix hikes so far. We will take it easy and see how much of it we can do, and listen to group needs as we go along. It might be helpful to bring walking sticks on this hike. Don't forget your water bottles!
****PLEASE NOTE****Review the information below to ensure you're familiar with our community guidelines:
Fat Girls Hiking a safer space for fat folks and people who live in marginalized identities. We don't allow any weight loss talk, diet talk or body shaming at any of our events or hikes.
Kids of all ages are welcome (unless noted, typically if there are unsafe conditions that wouldn't be good for kids, this will be noted in the event description above.)
Dogs are allowed (unless the area where the hike is located doesn't allow them, typically wildlife refuges or natural conservation areas, this will be noted in the event description above.)
We are inclusive to all genders, all sizes & abilities. We love when non-fat allies show up for us!
We go at the pace of the slowest hiker with NO shame! We lead hikes from the back, so the slowest folks receive the most support from hike leaders.
We are inclusive to queer folks, transgender folks, gender non-conforming folks, feminists, fat folks, people of color & all marginalized people.
Be mindful of gender pronouns! Don't assume someone's pronoun by their appearance. Every group hike starts with intros that include everyone stating their name & pronoun!
For more info read the Fat Girls Hiking mission: https://fatgirlshiking.com
Please make sure that these guidelines will meet your expectations when you are participating in the Fat Girls Hiking community in person or online.
Ticket Info: Fat Girls Hiking group hikes/events have limited tickets available for the safety, enjoyment and to be respectful to the areas we are hiking, other folks on the trail and to create a community where all participants, including our hike leaders, will have an opportunity to connect with one another.
We have a limited amount of free tickets that are limited to 1 per person. We ask that if you are financially able to, consider making a donation to Fat Girls Hiking by purchasing a ticket to this hike. OR support the growth of FGH by donating to one of our accounts. All donations help us to sustain and grow the Fat Girls Hiking community.
FGH founder, Summer, works full time on FGH and is completely community funded (not funded or sponsored by corporations). She would not be able to continue to do this work without the generous donations of this community! She is currently working toward opening more FGH chapters across North America and globally. If you're able to donate via Go Fund Me, here's the link for Fat Girls Hiking: Fat Van Life https://www.gofundme.com/f/fat-girls-hiking-fat-van-life
CashApp: $sumrlovin or Venmo @fatgirlshiking are other ways to donate. We thank you so much for helping us sustain this community!
384 Views - 21/03/2020 Last update
voaz loop trail 8828 n 32nd phoenix
az, 85028, az, us
---
Are you an event organizer?
Create events for free. They will be immediately recommended to interested users.
Create event
Nearby hotels and apartments
az, 85028, az, us
---
---
voaz loop trail 8828 n 32nd phoenix
az, 85028, az, us
Event from
eventbrite.com
---
---
Are you an event organizer?
Create events for free. They will be immediately recommended to interested users.
Create event