Ecstatic Dance at The Heartbeat Collective with Gabriel Francisco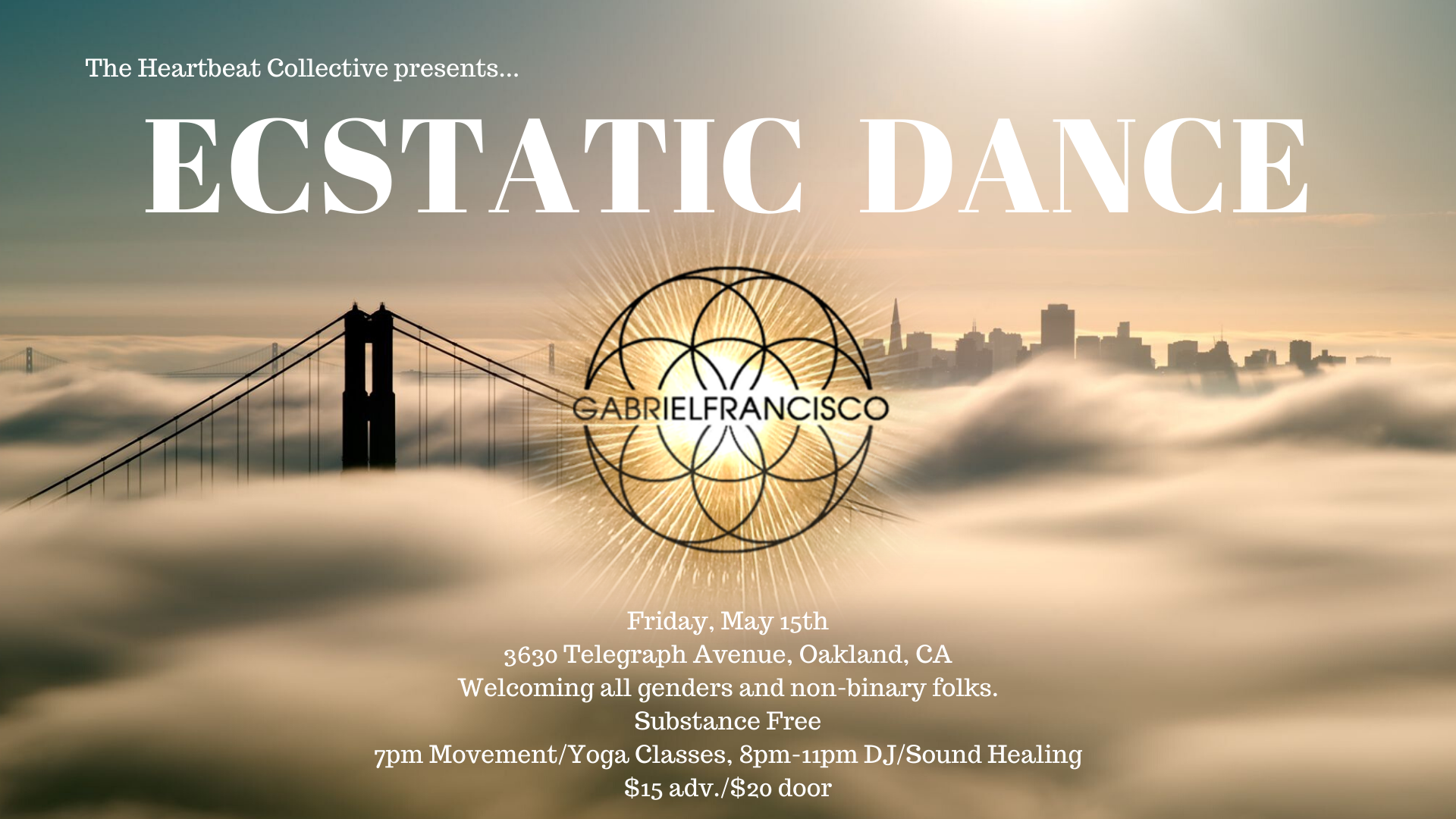 Image from eventbrite.com
---
Ecstatic Dance at The Heartbeat Collective with the Amazing Gabriel Francisco. Come move with us and connect over an evening of love and connection.
This Event will be outdoors in the Heartbeat Parking lot. Masks Required for entry. This event is non refundable.
-- ? --
Hello BIG REMINDER:
This is a silent disco event. The city of Oakland wrote us and the following guidelines must be implemented until I hear more from the city...
1. Silent disco which means bring your smart phone and headphones to connect to the music
2. Face masks at all times unless seated, stationary and more than 30 ft from other people. (this is a city of Oakland Mandate not The Heartbeat Collectives)
3. Bring a mat/towel/blanket/rug to mark your own distanced spot. All dancers must be 6 feet from one another at all times.
In my opinion we have been very safe and distanced at our Dances and due to the complaint by a neighbor we must take these next rounds of dance seriously.
So excited to boogie with you this weekend!
------------------------------------------
? EVENT SCHEDULE
? 11:45AM: Doors Open | Stretch + Connect
? 12-1: Yoga
? 1-2:45pm: ECSTATIC DANCE with Gabriel Francisco - Non Linear Movement and Free Flow Dance
? 2:45 - 3PM: Closing Circle
- - -
// Chill out zone
------------------------------------------
? GABRIEL FRANCISCO
? www.gabrielfrancisco.com
As an International presenter, Gabriel Francisco has spent the last 16 years connecting, sharing and inspiring on the highest, most professional level of dance education. From studios and
in Japan and Brazil, to teaching choreography in Europe, Russia, Australia and New Zealand, Gabriel has given his entire adult life over to unlocking the movement potential in other beings.
~ ' Dance is Life' ~ workshop
This class is dynamic zen, body/mind connection, human awareness, FREEstyle (to be free of style.) It is primal, inclusive, basic and advanced. Movers will discover more about themselves and therefore the world around them; Keys to life, living and loving. We will work both solo, duo and in groups. This lecture & dance workshop fusion is a movement catalyst, life changer and a whole lot of fun!
As a DJ....
The wild and deep score of a future-ancient gathering. The soundtrack of the Cosmos, vibrating and rich with movement potential. Electronic percussion, heady almost nostalgic in its real-time recollection. Windy, wet and silky, yet Earthy, tanned and ashy. Sonic support for the Soul, binding past, releasing present and moving the future!
As an international dancer, teacher, and choreographer, Gabriel's entire professional career has been to take movers on an enriching, educational and insightful journey. In class it has been with movement he creates to music he loves, spinning tales, giving advice, helping, healing...
Transforming from Dancer to DJ, Gabriel has found an evolution, moving from the floor to the decks. Knowing what dancers want, has provided a special insight on what to provide as a DJ. Gabriel has taken his love of music and movement abroad, dropping DJ sets all over Europe, Thailand, Mexico, Australia and New Zealand. Has opened for Dimond Saints, Random Rab and MORiLLO to name just a few...
Check out his sounds:
https://soundcloud.com/superherohiphop
------------------------------------------
? How it works:
We open with a special warmup yoga or movement class facilitated by a skilled practitioner. The opening class blends seamlessly into the the two hour freeform dance journey facilitated by our guest DJ. At the end of the DJ set we close with a sound bath or group exercise to ground and complete the experience.
------------------------------------------
? What to expect:
Ecstatic Dance is a community gathering for people who want to express themselves freely, to connect, and to expand together.
? Live DJs | Free-Form Movement | Workshops | Yoga | Sound Bath ?
Join us and enjoy a safe and inspiring space to dance without talking, drinking, and the nightclub vibe. This is about self-expression, freeing your mind and body, and connecting with yourself and those around you. No booze, no shoes and no chit-chat on the dance floor helps us keep it intentional. Amazing music helps us keep it all about Dance.
------------------------------------------
? Guidelines:
? No talking on the dance floor (theres room to talk in the lounge space or quietly at the edge of the dance floor)
At Ecstatic Dance, we join together to create a sacred space for dancing. No talking on the dance floor allows us to move out of our heads and into our bodies, hearts, and spirits. We leave behind the words and worries of the day, and connect with spirit and each other in new ways. - Donna Carrol (Co-Founder Ecstatic Dance Oakland)
? Move your body however you wish
? Maintain care/awareness for the space and those around you
? This is a drug and alcohol free event
? No photos or videos; cellphones muted and out of sight
? Ecstatic Dance is a barefoot practice. If you need to wear shoes due to health reasons, please note dance-specific shoes are allowed, but only shoes that have not been worn on the street
::COVID::
Due to Covid, Mask must be worn at all times unless seated outdoors and 30 ft away from other participants.
Dance will be restricted to personal mats, blankets or towels.
We ask you to abide by all CDC guidelines and Temperature will be taken at door.
------------------------------------------
?What to Bring:
1. Loose-fitting clothes that let you move your body and free yourself
2. Water and a water bottle. You can refill it at the venue.
3. A good attitude, open heart, your business card or flyers for networking
4. If you want to sit, you can bring your own chair or squish
5. HIGHLY RECOMMEND: A Mat or rug to dance on!
---------------------------------------
Tickets:
? $20
1567 Views - 07/12/2020 Last update
The Heartbeat Collective
3630 Telegraph Avenue, Oakland, 94609, CA, US
---
Are you an event organizer?
Create events for free. They will be immediately recommended to interested users.
Create event
Nearby hotels and apartments
3630 Telegraph Avenue, Oakland, 94609, CA, US
---
---
The Heartbeat Collective
3630 Telegraph Avenue, Oakland, 94609, CA, US
Event from
eventbrite.com
---
---
Are you an event organizer?
Create events for free. They will be immediately recommended to interested users.
Create event
Oakland

›