Ebge Omo Yoruba North America Convention & 25th Anniversary
Wednesday 17 July 2019 10:00 AM Sunday 21 July 2019 8:00 PM
Save
Saved
Last update 22/07/2019
9788
Join us for the Egbe Omo Yoruba North America Convention and 25th Aniversary live in Baton Rogue, Lousiana July 17th-21st,2019!!!! This conference is a time to network, connect, learn, and have fun! There will be specific events for young professionals, young adults, and youth!
Register and enjoy yourself with fellow Omo Yorubas in North America! See you there!!!!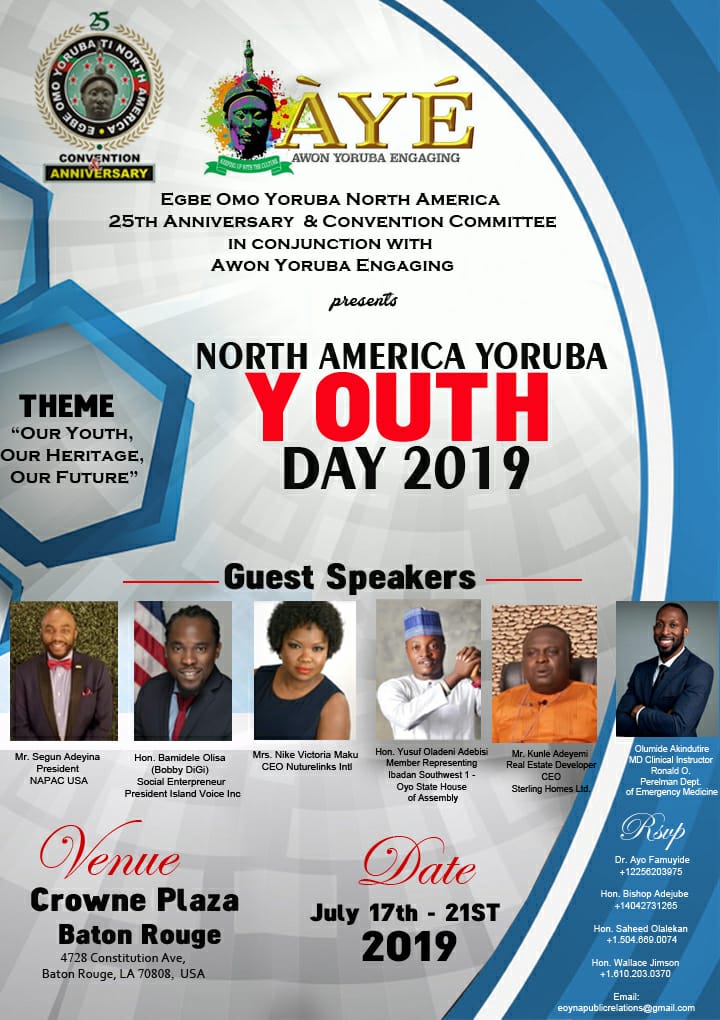 Please contact the following people for any comments, questions, or concerns.
DR. AYO FAMUYIDE +1.225.620.3975
HON. BISHOP ADEJUBE +1.404.273.1265
HON. SAHEED OLALEKAN +1.504.669.0074
HON. WALLACE JIMSON +1.610.203.0370
Nearby hotels and apartments
Crowne Plaza Hotel
4728 Constitution Avenue, Baton Rouge, 70808, LA, United States
4728 Constitution Avenue, Baton Rouge, 70808, LA, United States
Event from
eventbrite.com