Discovering Silicon Valley (Innovative Ecosystem and Disruptive Innovation Trends) 1 Day Event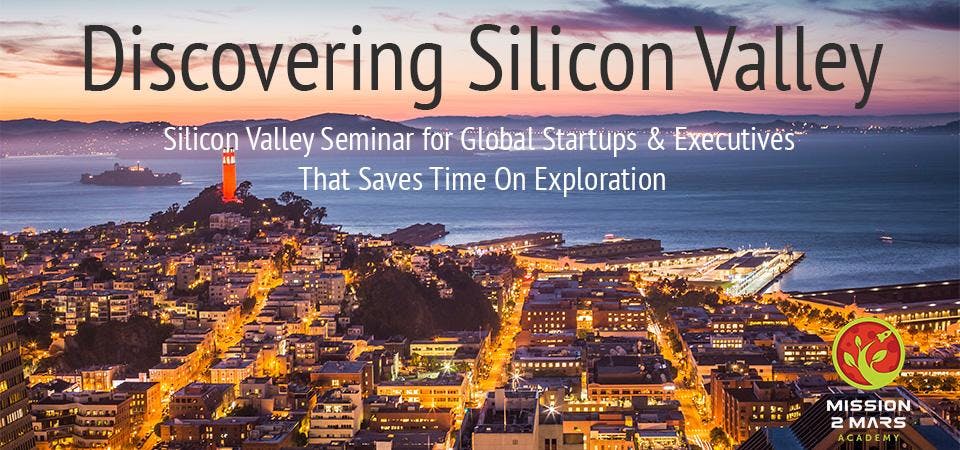 Image from eventbrite.com
---
DISCOVERING SILICON VALLEY
1 Day Bootcamp & Networking Event
Join Mission2Mars Academy's featured seminar and networking event
to learn about innovation from the Silicon Valley insiders
About Discovering Silicon Valley 1 Day Bootcamp
Visiting Silicon Valley for the first time is quite a challenge: your time is short, the horizon of opportunities is unlimited, and you don't know where to start.
This one-day experience will be your perfect first introduction into the innovative ecosystem and culture of Silicon Valley.
You will learn what makes Silicon Valley such a unique place and who the main players are - accelerators, incubators, venture funds, Angel groups, corporations, disruptive startups, universities, and R&D labs.
If you are a startup - you'll learn what are the rules of the game of this community: where to find your investor and how to pitch to get an offer.
If you are a corporate manager that seeks for insider experience and are curious to learn about the secret sauce of innovation - this program will also give you some valuable insights on:
- Where the innovation starts for leading high tech corporations
- What are the disruptive innovation trends that you need to be aware of
- What are the lessons all corporations can learn from Silicon Valley startups
- How to innovate in the Silicon Valley way.
A perfect way to discover your opportunities and to learn key things about this unique land of high tech unicorns with Mission2Mars.Academy!
Start your journey to the innovative future with this event and build your insider strategy for Silicon Valley.
We are here to connect you to the Future.
Who Should Attend:
Business teams, Corporate Leaders and Executives, Global Startup Founders and their teams, Global Entrepreneurs, all Silicon Valley conquerors and explorers.
At this 1 Day Bootcamp in Silicon Valley you will learn about:
Disruptive innovation trends: New technologies that Silicon Valley startups are currently developing

Innovative ecosystem of Silicon Valley. Who is who in Silicon Valley and who is doing what: learn about main investment firms, accelerators, incubators, angel groups, tech corporations and unicorn startups, universities and R&D labs.

The secret sauce of innovation: what makes Silicon Valley unique.

Investment trends: what is the next big thing in innovation, what are the new products and technologies Silicon Valley VCs and angels are investing in now.

Startup culture and ecosystem : what all companies can learn from Silicon Valley startups

Latest trends in AI and practical applications of AI technologies for business

Blockchain as the hottest current trend and its impact on future of enterprise.

Get answers to your questions about innovation in Silicon Valley and get help to build your innovative roadmap in Silicon Valley.
"Discovering Silicon Valley" Bootcamp Program:
9.30 AM: Coffee and Opening Keynote Presentation. Silicon Valley Innovative Ecosystem and Who is Who in Silicon Valley.

Decode the secret sauce of Silicon Valley Innovation with Dr. Tatiana Indina, CEO & Founder of Mission2Mars Academy. You will get a perfect introduction to the innovative culture and ecosystem of Silicon Valley, hear about main stakeholders and innovations they are working on. Learn what drives and powers the innovative potential of Silicon Valley and how you can build your own Silicon Valley, knowing the main ingredients.
11 AM: Disruptive Innovation and Silicon Valley Investment Trends. Presentation from Silicon Valley Investor.
You will meet a representative of the top Silicon Valley VC firms and learn first hand on what are the most disruptive technological trends of today that Silicon Valley investors are looking for. What were the largest investments last year and what is coming next. Get an overview of the innovative technologies that Silicon Valley startups have been working on throughout the year. Get an investor perspective on what is going on in Silicon Valley today and what are the disruptions your company needs to get ready for. Hear about most legendary investment deals of Silicon Valley angel groups, VCs and corporate venture funds.
12 PM: Lunch with Silicon Valley Startup (hosted by Mission2Mars.Academy)
Meet one of Silicon Valley startups, hear their story and ask everything you wanted to know about Silicon Valley startup lifestyle.
1 PM: The Startup Way. Startup culture of Silicon Valley and What all Companies can Learn from Silicon Valley Startups. Presentation from Silicon Valley Mentor.

Day-by-day, for decades Silicon Valley startups have been developing not just new technologies that are disrupting the world today but also their unique culture that inspires creativity and innovation, best practices of successful teamwork and agile product development methodologies. Not depending how big or small your company is you can learn important lessons from Silicon Valley startups: how to learn as you go, be flexible, experiment & take risks, be open, collaborate, pivot, grow exponentially, fail fast and win ! Meet our guest expert and mentor who has worked with hundreds of Silicon Valley startups to get his insider insights.
2 PM: Transforming the World with AI. Practical applications of AI for your business.(Presentation from AI technology expert)

Artificial intelligence or Machine Learning is one of the main disruptive trends impacting all industries and businesses today. From autonomous cars to AI powered robots and smart home devices, AI has taken a part of our everyday life. AI is also transforming the way companies do businesses today. Meet our AI expert to hear about the mechanics of AI, most famous AI companies and their use cases, get a sense of practical applications and the future of AI for your business.

3 PM Blockchain Revolution. The impact for enterprise. (Presentation from Blockchain Technology Expert)

Blockchain is the biggest buzz word in the world right now. Silicon Valley is the epicenter of technological revolution where blockchain community is one of the largest in the world. Meet our blockchain expert and take a 45494e;background-color:transparent;vertical-align:baseline;white-space:pre-wrap;">deep dive into how exactly the blockchain works and what are its use cases in the corporate world. Learn how it can make complex processes in your business faster and simpler. Get the latest insights about the trends of cryptocurrencies, crypto trading and crypto investment directly from the source of Blockchain revolution.

4PM Innovation Strategy Roadmapping (For Corporate Groups).
Practical workshop with Tatiana Indina that will help you navigate through the world of Silicon Valley resources and innovations and build your action plan for innovative transformation. Can be tailored to your industry (depending on the profile of the attending group).
4 PM Design Thinking and Product Development Bootcamp (for Startup Teams) Learn how to build a great product with one of our Silicon Valley mentors at this short practical workshop. Apply the instruments of design thinking and customer development to improve your current product and present your prototype to the group.
5 PM : Networking with Silicon Valley entrepreneurs

One of the main assets of your Silicon Valley tour are your connections. Finish your day of Silicon Valley discovery and innovative insights at the entrepreneurs Happy hour in one of the signature bars of Silicon Valley. We have invited some of the most insightful and knowledgeable entrepreneurs in the area to meet you! Meet Silicon Valley entrepreneurs and members of Mission2Mars community, create lasting connections and partnerships in the most innovative place the world. And definitely come back! Silicon Valley is waiting for you!
Event Host: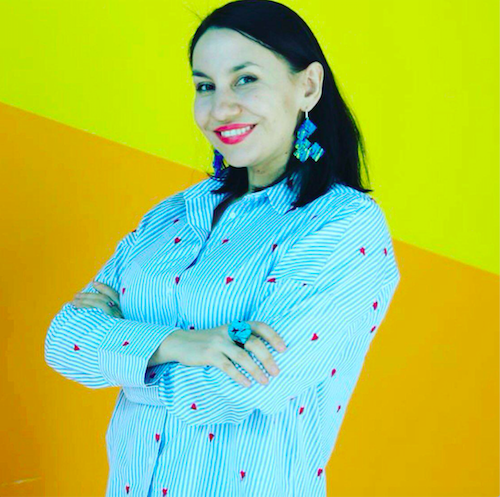 Tatiana A. Indina
CEO, Founder - Mission 2 Mars Academy
Innovation & Technology Consultant,
Team and Leadership Coach,
Scholar, Author, Mentor
Tatiana A.Indina, PhD is the CEO of Indina-Consulting Business Communication Agency, providing training & consulting for startups & entrepreneurs in Silicon Valley and globally. She is an international professional in business training & consulting.
In 2012, Tatiana was a Fulbright Visiting Scholar at the Woodrow Wilson International Center for Scholars (Washington, DC), and in 2014 she was a Visiting Fellow at the Berkman Center, at Harvard University.
For a number of years Tatiana has been teaching courses on leadership & entrepreneurship at international business schools and MBA programs in Russia and CIS countries, consulting international companies & leaders.
Her professional portfolio includes diverse projects of working with small businesses, startups, big corporations, NGOs, political leaders & international organizations. Born and raised in Central Asia, Tatiana has lived and worked in Eastern & Western Europe. She is a writer and a speaker at International conferences worldwide. She is currently writing a book about global and local trends in innovation & entrepreneurship.
Tatiana's LinkedIn: 1155cc;background-color:transparent;vertical-align:baseline;white-space:pre-wrap;">https://www.linkedin.com/in/tatiana-indina-92787a3/
Tatiana's Twitter: h1155cc;background-color:transparent;vertical-align:baseline;">ttps://twitter.com/TatiIndina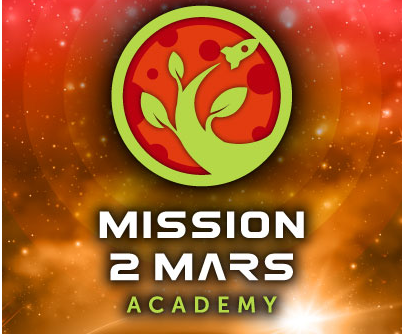 GET FUTURE READY!
ff0000;background-color:transparent;font-weight:bold;vertical-align:baseline;white-space:pre-wrap;">JOIN THE MISSION
ff0000;background-color:transparent;vertical-align:baseline;white-space:pre-wrap;">www.mission2mars.academy
Twitter https://twitter.com/Mission2marsA
LinkedIn https://www.linkedin.com/company/mission2mars-academy/
Facebook https://www.facebook.com/Mission2Mars.Academy/
Telegram Channel https://t.me/Mission2Mars
Instagram https://www.instagram.com/mission2mars.academy/
Meetup Group 00a8f2;background-color:transparent;vertical-align:baseline;white-space:pre-wrap;">https://www.meetup.com/Mission2Mars-Academy-Events/
29341 Views - 16/11/2019 Last update
Mission2Mars.Academy
Menlo Park, 94025, CA, United States
---
Are you an event organizer?
Create events for free. They will be immediately recommended to interested users.
Create event
Nearby hotels and apartments
Menlo Park, 94025, CA, United States
---
---
Mission2Mars.Academy
Menlo Park, 94025, CA, United States
Event from
eventbrite.com
---
---
Are you an event organizer?
Create events for free. They will be immediately recommended to interested users.
Create event