Digital Marketing Live Virtual Classroom Training in Peoria, AZ | Eduklas
Monday 23 July 2018 9:00 AM Monday 23 July 2018 5:00 PM
Save
Saved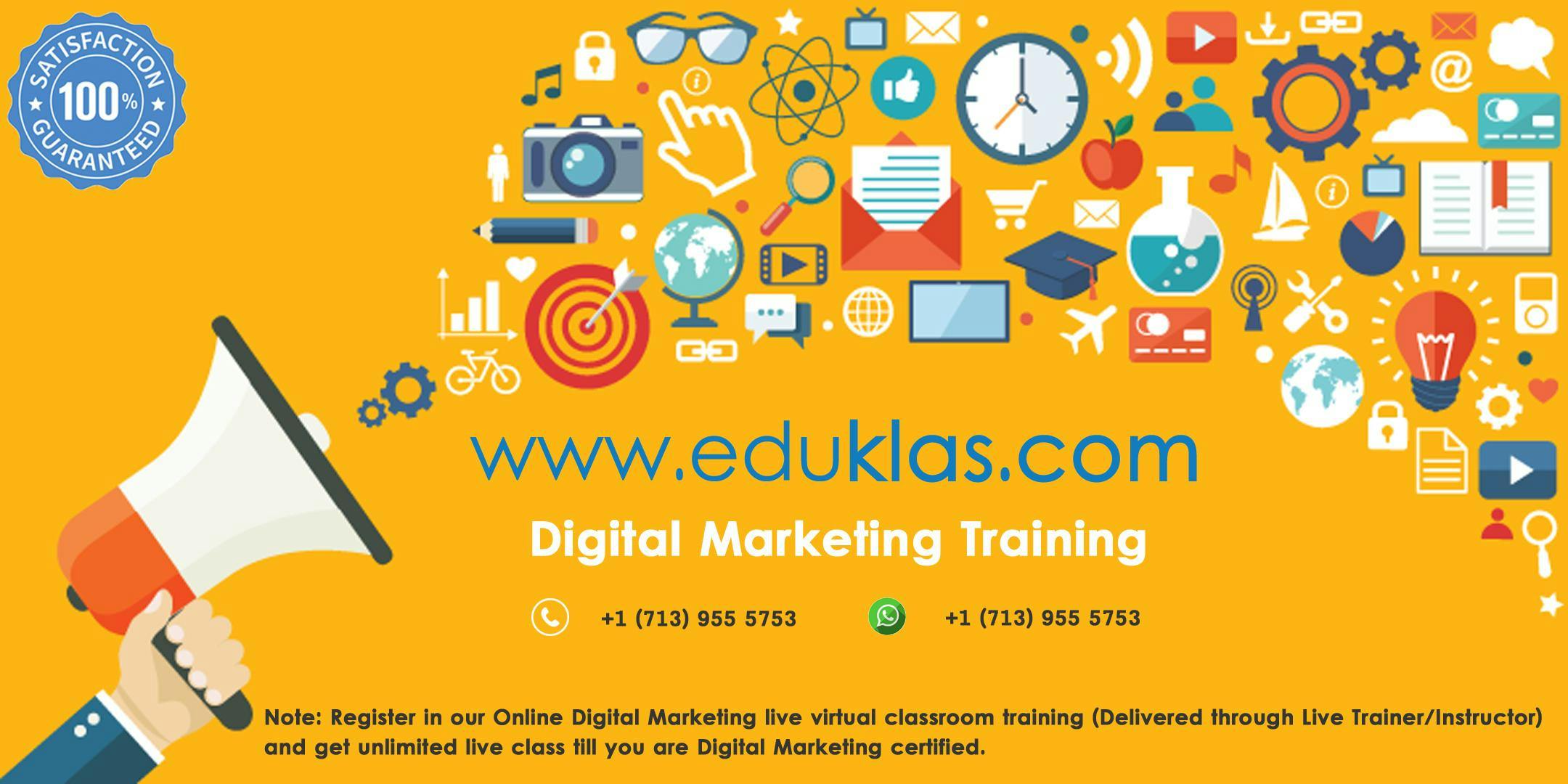 Last update 24/07/2018
512
Digital Marketing Certified Associate Training
The course covers core concepts of Digital Marketing such as Search Engine Optimization (SEO), Social Media Marketing, Pay-Per-Click (PPC), Website Conversion Rate Optimization, Web Analytics, Content Marketing, Mobile Marketing, Email Marketing, and Digital Marketing Strategy. The course will also help you master tools and platforms such as Google Analytics, AdWords, Twitter, YouTube, and Facebook. It includes Mimic Pro simulations to augment the concepts learned via virtual experience.
Eduklas is conducting 4 days Digital Marketing Training in all major cities in United States.
Note: Register in our Online Digital Marketing live virtual classroom training (Delivered through Live Trainer/Instructor) and get unlimited live class till you are Digital Marketing certified.
Register for this 4 day Digital Marketing training (Live Virtual classroom training course-Instructor Led), spread over one weekday and clear the Digital Marketing Exam from an expert trainer.
Key Features - Online Digital Marketing live virtual classroom Training:
Online Interactive classroom training session spread over one weekends/weekdays
Simulated Digital Marketing practice test
Answers and explanations for all the practice questions
Learn from an Digital Marketing expert Trainer
Get 32 Contact Hours PDU certificate
Examination fees included
100% Digital Marketing Exam pass back guarantee
Case studies in the classroom training session
Life time access to Digital Marketing recorded session
Global Approvals and Accreditation
Convenient classroom and online courses
Courses conducted across the globe
Some special offers for you (Offer valid only for Live Online Class- Instructor Led). 
Attend Multiples classes till you are Digital Marketing certified
Real time recorded session for life time
For more information about our Digital Marketing training, please e-mail support@eduklas.com or Call Now! On +1 (713) 239 3167 | +1 (713) 955 5753
We also deliver onsite training for corporate groups. Contact us for group/corporate discount.
5.00% for 3-4 people
10.00% for 5-9 people
15.00% for 10 and above people
Visit us at Digital Marketing Training to know more about our certification training courses in Program Management, ITIL, IT Service Management, Quality Management, Agile, Scrum, and related fields.
We conduct Digital Marketing Training courses in Phoenix, Charlotte, Minneapolis, Boston, Chicago, Houston, Phoenix, Chicago, Washington, Los Angeles, Washington, Indianapolis, Dallas, San Diego, Baltimore and Richmond around USA... Please visit us at to know more about our professional certification training courses in India and across the globe.
Please Contact Eduklas Solutions LLC:
E-mail: support@eduklas.com or tony.parker@eduklas.com
Website: www.eduklas.com || Call Us Now!: USA: +1 (713) 239 3167 | +1 (713) 955 5753
Nearby hotels and apartments
Peoria
Peoria, AZ, United States
Peoria, AZ, United States