The Colored Girls Broadcast Conversation & Book Signing Reception
Sunday 21 July 2019 1:00 PM Sunday 21 July 2019 3:00 PM
Save
Saved
Last update 22/07/2019
4314
Be a part of the Broadcast Conversation & Book Signing of NAACP Image Award Winners of "For Colored Girls Who Have Considered Politics"

Hosted by Lavonia Perryman , the host of The Lavonia Perryman "Welcome to My World" Show.
Broadcasting Live Monday - Friday from 7:00 pm - 9:00 pm EST on 910 AM Superstation
The Lavonia Perryman "Welcome to My World" Show will also celebrate their one year anniversary during this event!
For Colored Girls Who Have Considered Politics is a sweeping view of American history from the vantage points of four women who have lived and worked behind the scenes in politics for over thirty years―Donna Brazile, Yolanda Caraway, Leah Daughtry, and Minyon Moore―a group of women who call themselves The Colored Girls.
AS AN HONORARY HOST YOUR DONATION INCLUDES:
ONE (1) AUTOGRAPHED BOOK
ONE (1) NATIONAL CONGRESS OF BLACK WOMEN MEMBERSHIP (1 year)
FOUR (4) SEATS AT THE BROADCAST CONVERSATION EVENT
FOUR (4) MEET AND GREET RECEPTION INVITATIONS
LISTED IN ALL MEDIA AND PROMOTIONAL MATERIALS
LISTED IN PROGRAM
AN INDIVIDUAL DONATION INCLUDES:
ENTRY FOR ONE (1) PERSON TO THE EVENT
***DONATIONS WILL NOT BE ACCEPTED ON SITE/ AT THE DOOR***
ALL donations are nonrefundable, tax deductible, and payable to: National Congress of Black Women
SPONSORSHIP PACKAGES ARE AVAILABLE...
FOR MORE INFO CONTACT:
202-596-5513 | LAVOINAPERRYMANCOMMUNICATIONS@GMAIL.COM
AUTHORS BIOGRAPHIES:
Donna Brazile, a veteran Democratic political strategist, is an adjunct professor at Georgetown University, author, television political commentator and former Interim Chair of the Democratic Party. She is the author of Cooking with Grease and the New York Times Bestseller Hacks.
Yolanda Caraway is the founder of The Caraway Group, Inc., a nationally recognized public relations and public affairs agency. She has played a major role in shaping the goals and objectives of the National Democratic Party.
The Reverend Leah Daughtry is a nationally recognized preacher, speaker, organizer, leader, strategist and CEO of the 2008 and 2016 Democratic National Conventions.
Minyon Moore, is a partner at the Dewey Square Group, was formerly CEO of the Democratic National Committee, and served as Assistant to the President of the United States and director of the White House Office of Public Liaison, and director of White House political affairs under President Bill Clinton.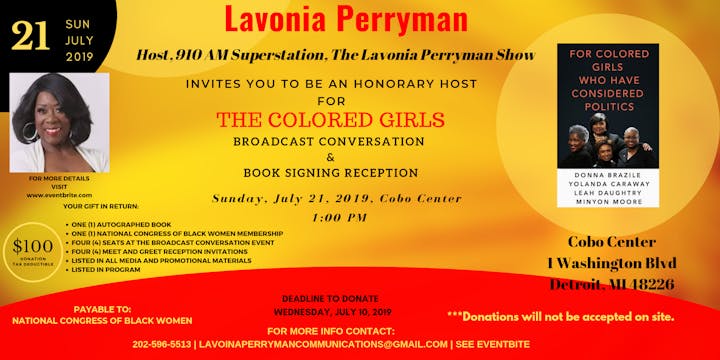 culture
party
education
politics
Nearby hotels and apartments
Cobo Center
1 Washington Boulevard, Detroit, MI, United States
1 Washington Boulevard, Detroit, MI, United States
Event from
eventbrite.com