Coin a Better Future: Reaching Out to Financially Vulnerable Families
Tuesday 17 April 2018 11:30 AM Tuesday 17 April 2018 5:00 PM
Save
Saved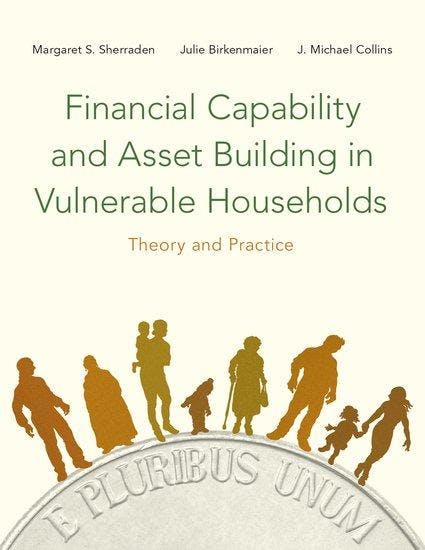 Last update 18/04/2018
636
Join us for a special event celebrating Financial Capability Month!
Continuing Education Units are available.
Learn more about:
How social service practitioners help vulnerable families build financial capability and assets

Award-winning local and national policy and practice innovation
Pioneering resources for teaching financial capability practice
Confirmed speakers include:
Ted Beck, president and CEO, The National Endowment for Financial Education

Ray Boshara, director, Center for Household Financial Stability, Federal Reserve Bank of St. Louis

Darla Spence Coffey, president and CEO, Council on Social Work Education
J. Michael Collins, director,

Center for Financial Security at the University of Wisconsin, Madison




Mae Watson Grote, founder and CEO, The Financial Clinic

Jenny Jones, dean, Whitney M. Young Jr. School of Social Work, Clark Atlanta University
Chris Krehmeyer, president and CEO, Beyond Housing
Paul Woodruff, executive director, Prosperity Connection; vice-president of community development, St. Louis Community Credit Union
Buffet lunch available.
Reception immediately following the forum.
Also introducing the new textbook Financial Capability and Asset Building in Vulnerable Households, by Margaret S. Sherraden, Julie Birkenmaier, and J. Michael Collins.
A limited supply of books will be available for purchase at a discount. Cash and checks are accepted.

The final agenda can be viewed at https://csd.wustl.edu/events.
"Build financial capability for all" is one of the 12 Grand Challenges for Social Work. 
Space is limited. Please register!                   

---
Sponsored by the Center for Social Development at Washington University in St. Louis and the Center for Household Financial Stability at the Federal Reserve Bank of St. Louis.
---
Nearby hotels and apartments
Washington University in St. Louis
Brown School of Social Work, Brown Hall, ​Brown Lounge,, St. Louis, 63130, MO, United States
Washington University in St. Louis
Brown School of Social Work, Brown Hall, ​Brown Lounge,, St. Louis, 63130, MO, United States