GET CLIENTS NOW! WITH MIMI BROWN
Thursday 12 July 2018 6:00 PM Thursday 12 July 2018 8:00 PM
Save
Saved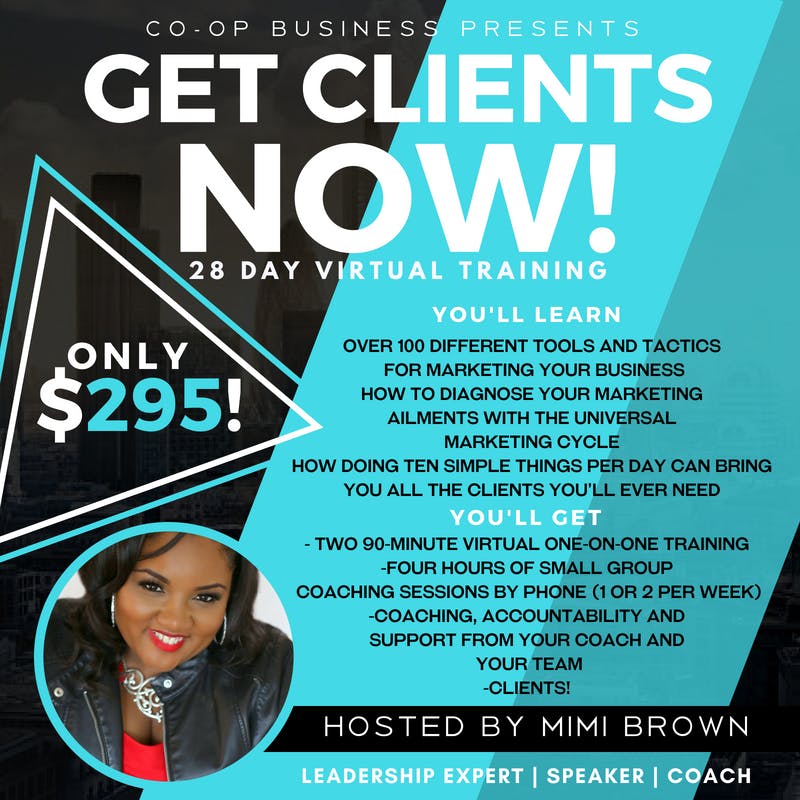 Last update 13/07/2018
249
Experience the learning, coaching, and peer support provided by the road-tested GET CLIENTS NOW! 28-day marketing program. In this highly effective action group format, you and a team of engaged participants work together with a trained coach to get more clients.
Who Takes the 
GET CLIENTS NOW!

 Program:

Accountants • Attorneys • Architects • Bodyworkers • Chiropractor  • Computer Professionals • Consultants • Counselors Designers • Engineers • Financial Advisors • Freelancers Health Practitioners • Insurance & Investment Brokers • MLM Distributors  • Real Estate Agents • Recruiters • Salespeople Speakers • Therapists • Trainers • Writers • YOU!
What You Will Learn
What really works to market a professional services business, and what doesn't
Over 100 different tools and tactics for marketing your business
How to diagnose your marketing ailments with the Universal Marketing Cycle
Discover the missing ingredients that have prevented your marketing from being successful
Break out of "analysis paralysis" and make the right choices about spending time and money on marketing
How doing ten simple things per day can bring you all the clients you'll ever need
What You Get with Your Enrollment
Two 90-minute seminars 

by telephone

 (call from any phone anywhere — no special equipment required)
Four hours of small group coaching sessions by phone (1 or 2 per week)
A toolkit of tested sales and marketing techniques
Your own customized 28-day marketing plan that you can use over and over
Coaching, accountability, perspective, and support from your coach and your team

CLIENTS!
culture
business
technology
Nearby hotels and apartments
Coop Business Plus
25900 Greenfield Road, Oak Park, 48237, MI, United States
25900 Greenfield Road, Oak Park, 48237, MI, United States