CARNAVAL: Bembona, JADALAREIGN, Dos Flakos
COVID-19: many events have been canceled or postponed, please check with the organizer the event status.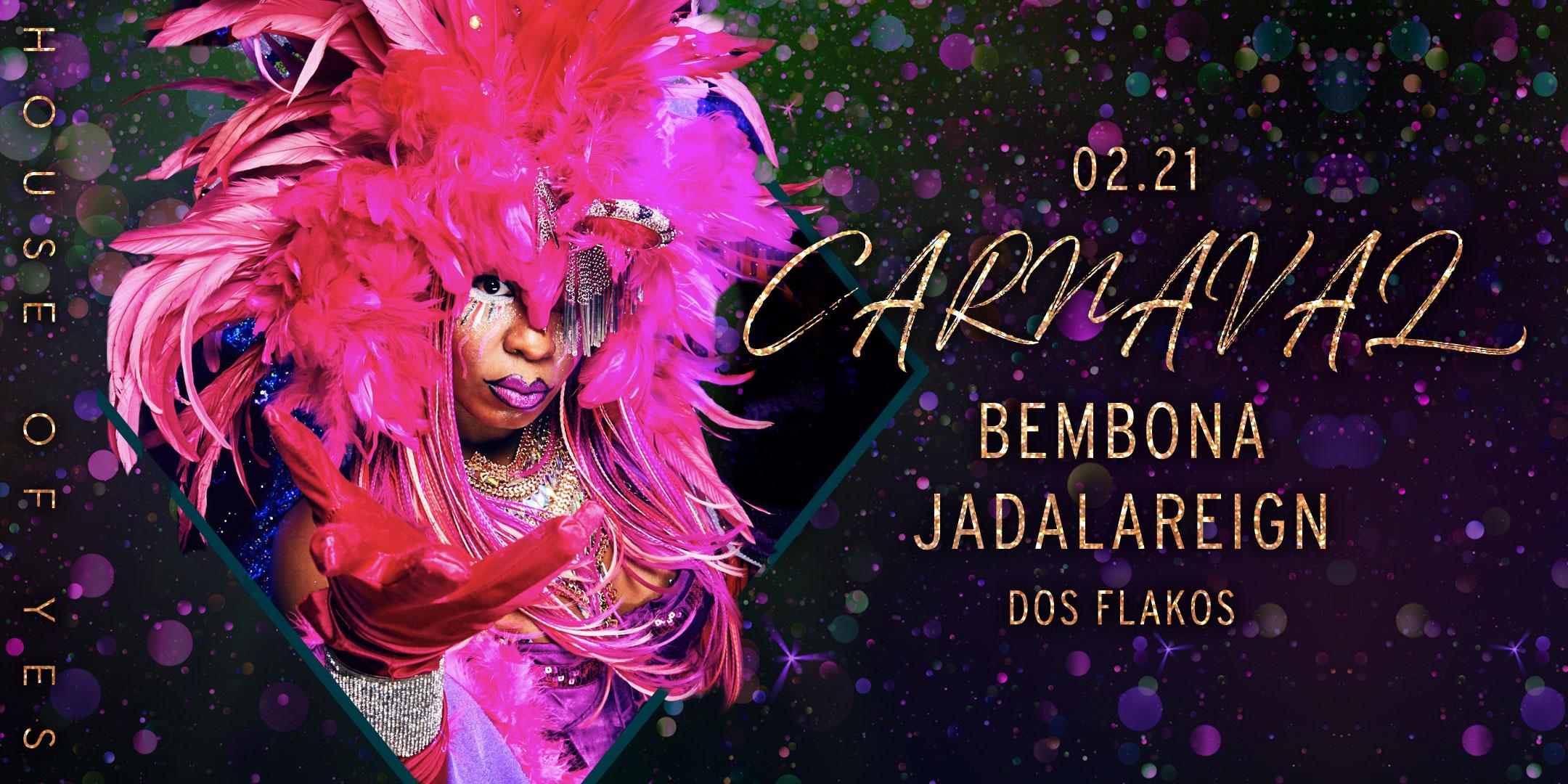 Image from eventbrite.com
From Fri 21 February 2020 to Sat 22 February 2020
From Friday 21 February 2020 to Saturday 22 February 2020
---
Carnivale. Carnival. Carnaval.
A festival of fantasy, an indulgence of inspiration, a parade of passion, a blend of brilliance and most importantly… a celebration of the human spirit.
On this night, we bring you a global convergence of expression and sound.
Feel the heart and beat as we take to the streets of our souls and live our lives out loud.

: : : MUSIC : : :
BEMBONA · JADALAREIGN · DOS FLAKOS
Playing the sounds of Carnaval around the globe: Samba, Frevo, Cumbia, Afrobeat, Soca, Dancehall, New Orleans Jazz, and more!
: : : LOOKS : : :
A full-on fusion of Festival fierceness! Gems and Feathers, Masks and magic, skin and style, colors, vibrance! Big bold beauty, Wild styles, Prints of Paradise, beads and body galore. Creative looks or costumes are required to get in Free before 11pm with RSVP!
*** Native American Headdress are not allowed in this or any of our parties ***
More inspiration here: https://www.pinterest.com/houseofyesnyc/carnivale-mardi-gras/
21+ | No Re-Entry

Subscribe to our email list for first access to events & tickets: bit.ly/YESEMAILS
::::::: FREE-BEFORE-11PM RSVPS :::::::
• An RSVP on Eventbrite is required to get in Free before 11pm.
• There is no free entry at the door without an RSVP.
• Free RSVPs go live when the party is announced.
• A final batch of 50 RSVPs will become available at 9am Monday on the week of the event.
• RSVPs are NON-TRANSFERABLE. Please do not abuse this generous system by grabbing multiple RSVPs under the same name. Allow everyone equal opportunity to get an RSVP. If we see you repeatedly violating this honor system, we will cancel your ticket and it will be invalid for entry.
• Selling a Free RSVP for money is against the spirit of House of Yes - don't do it!

::::::: SAFER SPACES POLICY :::::::
House of Yes is a space for everyone to feel welcome. We have a zero tolerance policy for harassment, unwanted touch, homophobic, transphobic, racist, sexist, ableist, or ageist behavior. Always ASK before touching anyone at our events. If someone is making you uncomfortable or harassing you, please come speak to a security guard or ask for a manager. We will believe you, and we will help. All restrooms in our venue are gender neutral. Everyone is free to use the restroom that best fits their gender identity or expression. All entrances and spaces within the venue are single-level. There are stairs leading to the upper portions of the stage, for those who wish to dance in the spotlight. Strobe lights are used during performances and parties. Questions about our consent policy or procedures? Email consent@houseofyes.org.
::::: TICKETING POLICY :::::
All events are 21+. Valid ID is required for entry. We can only guarantee the validity of your ticket if purchased directly from Eventbrite or Resident Advisor. Any tickets purchased second-hand or via third party vendors cannot be validated or accommodated in the event of an issue (fake or duplicate tickets). Be vigilant about ticket scammers; do not send money unless the ticket seller can prove they are able to do an official ticket transfer. Reselling a ticket above face value goes against the spirit of the event - Don't do it!
480 Views - 23/02/2020 Last update
House of Yes
2 Wyckoff Avenue, Brooklyn, 11237, NY, US
---
Are you an event organizer?
Create events for free. They will be immediately recommended to interested users.
Create event
Nearby hotels and apartments
2 Wyckoff Avenue, Brooklyn, 11237, NY, US
---
---
House of Yes
2 Wyckoff Avenue, Brooklyn, 11237, NY, US
Event from
eventbrite.com
---
---
Are you an event organizer?
Create events for free. They will be immediately recommended to interested users.
Create event