Beyond My Brokenness Women's Retreat
Friday 19 July 2019 6:00 PM Sunday 21 July 2019 11:00 AM
Save
Saved
Last update 22/07/2019
2417
FAR Women's Ministry is happy to host our 1st Annual Women's Retreat

FAR Women's Ministry is pleased to host our 1st Annual Women's Retreat, "Beyond My Brokenness." Abuse, Divorce, Illness, and Addictions are only a few examples of what women today have faced but decided to LIVE! In Matthew 9: 20, we find the story of the woman who had been dealing with an issue for 12 years but had the revelation to act and the faith to believe that if she could just get to Jesus she would be made well. Does this woman sound like you? For years you have been dealing with issues yet decided to defy obstacles you face and because of a divine encounter with God you decided to Live beyond your brokenness. If so, NOW is the time to join us for a weekend full of celebrating and empowering women. But before I go any further, I want to tell you how the story ends, the woman made it to Jesus and Jesus turned to her and said, "Be of Good cheer, daughter, your faith has made you well." Yes, Jesus told her to cheer up it is well because of her faith. Ladies, we would like to invite you to join us as we celebrate living beyond our brokenness.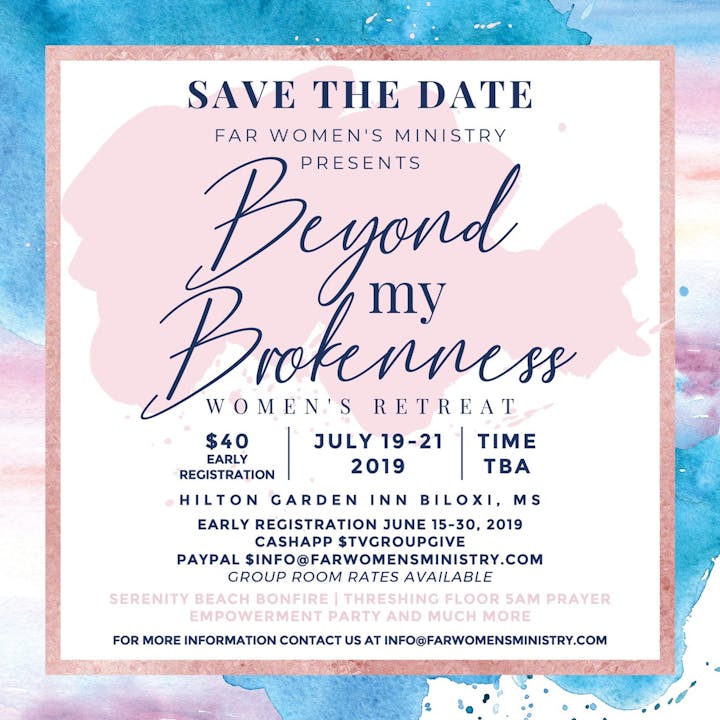 Hotel Group Rates Available at:
Hilton Garden Inn Biloxi - 648 Beach Boulevard, Biloxi, Mississippi, 39530, Phone: 1-228-325-2900

Off retreat venue at Days Inn Biloxi - 1768 Beach Blvd, Biloxi, MS 39531 Phone: (228) 207-6504

When Registering please make all ticket payments through the following:
CASH APP $TVGROUPGIVE
PAYPAL $INFO@FARWOMENSMINISTRY.COM
You may contact the following through email with questions:
Ashickie@farwomensministry.com
Francheska@farwomensministry.com
Early Registration June 15-30: $40.00
Late Registration July1-12: $45.00
Day Rates:
Friday Only $25
Saturday Only: $30
Itinerary
Friday, July 19th

4:00 Check in Begins

6:00-7:00pm Meet & Greet

7:00pm Serenity Bonfire speaker:

Evangelist Alexya Irvin

8:00-10:00pm Serenity Bonfire

Saturday, July 20th

5:00am Threshing Floor Prayer

Evangelist Ashickie Dawson

7:00-9:00am Breakfast

10am- noon Table Talk Hosted by LaTonya Smith

Panelist:

Denisha Quinn

Cassie McDuffey

Tabatha Lewis-Byrd

Ashickie Dawson

Alexya Irvin

12:00-1:00pm Lunch

1:00-3:00pm Empowerment Session with Theresa Friday

3:00-6:00pm Leisure

6:00-9:00pm Empowerment Banquet (semi-formal)

Red Carpet & Banquet Host: Denisha Quinn

Special Guest Performance by: Award winning, Gospel Recording Artist, Kezia Alford

Banquet Keynote Speaker: Rotating finalist of NBC's, The Voice, President and Founder of The Gulf Coast Music Awards (GCGMA) and WQFX Power Gospel Radio Show Host of "Lekeisha Cotton in the Morning", Lekeisha Cotton.


Sunday, July 21

9:00-10:30am Prayer Breakfast

Speaker: Founder and President of FAR Women's Ministry, LaTonya J. Smith

11:00 Retreat Concludes

Nearby hotels and apartments
Hilton Garden Inn Biloxi
648 Beach Boulevard, Biloxi, 39530, MS, United States
648 Beach Boulevard, Biloxi, 39530, MS, United States
Event from
eventbrite.com