Bay Angels & Israel Trade Commission - Digital Health - Sep 14, 2017
Thursday 14 September 2017 9:00 AM Thursday 14 September 2017 2:00 PM
Save
Saved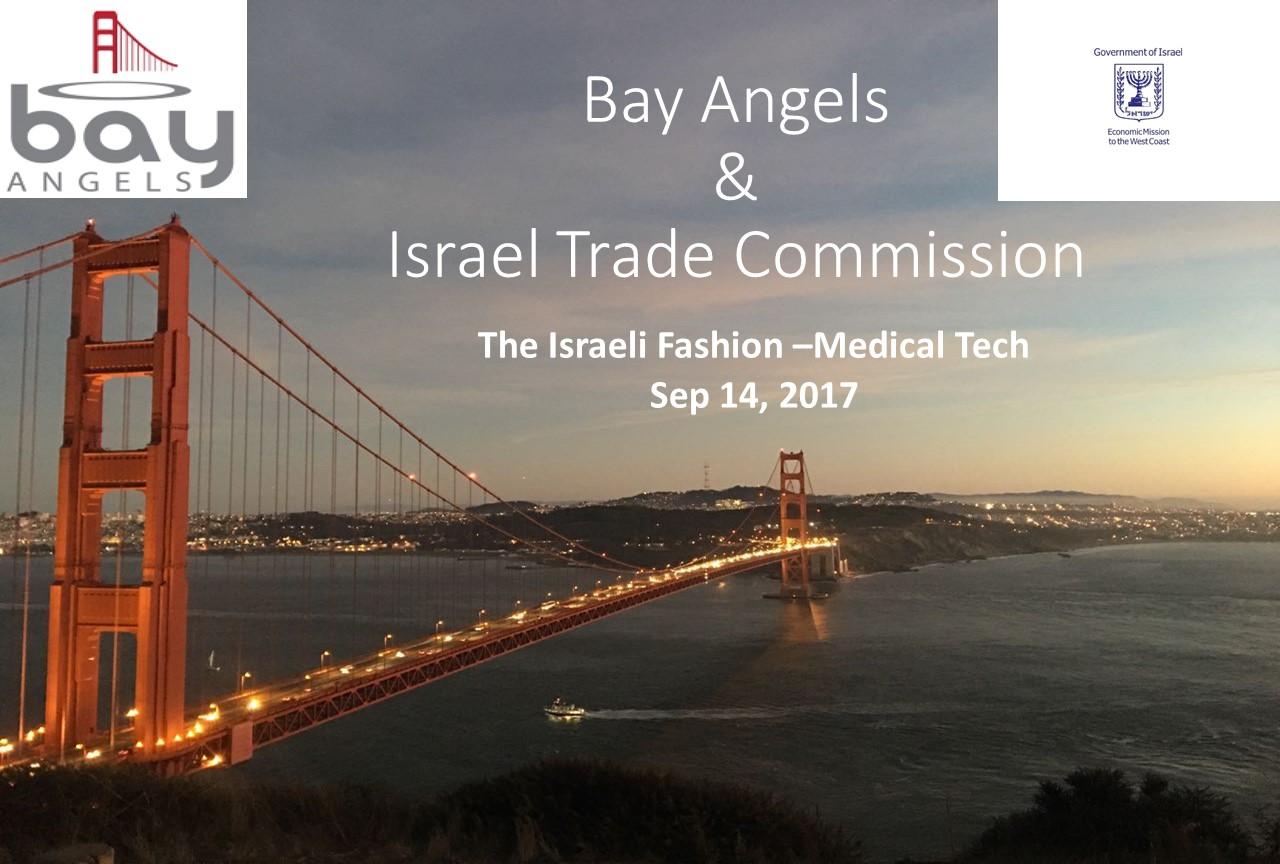 Last update 15/09/2017
38
All accredited investors are invited
Bay Angels and the Israel Economic Mission invite investors to the Israeli Medical Tech startup showcase . Participating in the showcase will provide you with the opportunity to hear about the top Israeli Medical Tech startups, leading investment opportunities in the sector, and to build stronger relationships with numerous stakeholders and executives across the digital and medical tech ecosystem.
Format - 1:1 meeting x (20-30) min each with the startups
As this is an investor only event - all registration will be verified -
Pls contact BayAngels@bayangels.com for assistance.
The candidates include the following - only 10 will be available.
Audyx Online Platform for Audiology Diagnosis. The first Web platform for audiology professionals. Their vision is to provide breakthrough technology and software to audiology professionals. 
GlucoMe Comprehensive Digital Solution for Diabetes Care. GlucoMe's comprehensive digital diabetes care platform streamlines and simplifies diabetes care for patients, caregivers, medical professionals, and payers. 
Irody Digital Medication Identification. Medication Identification Irody developed a new mobile technology that enables digital identification of medications to improve healthcare and eliminate errors. 
KolGene Genetic Test Ordering Platform Genetic Testing KolGene is a digital genetic tests ordering and management platform. 
MEDecide Reducing unnecessary medical procedures Decision Support MEDecide™ Ltd. is a leading innovator of advanced AI based decision support systems for the medical market.
Medical Electronic Systems At home male fertility screening Male fertility The YO® Home Sperm Test (YO) was designed to test your motile (moving) sperm in the comfort of your phone; the first FDA cleared test of its kind.
NiNiSpeech Ltd. Platform for Modern Speech Therapy Speech Therapy Effective speech treatment is measured in everyday life and not just in the clinic. NiNiSpeech provides speech tele-therapy, accessed via computer and smart-phone.
Orpheus Medical Record, Broadcast, and Archive Medical VOD Clincal Media platform - Orpheus Medical integrates digital broadcasting and video-on-demand (VOD) technologies with operating room technologies, providing hospitals with a cost-effective solution that helps streamline processes.
Oxitone Wrist-worn pulse oximetry Remote Monitoring - Oxitone developed a smart wrist-sensor blood oxygen monitor, without a bulky fingertip probe, that enables continuous medical supervision of patients across multiple chronic diseases and all ages and geographies.
ReAbility Online  Online Language and Movement Rehabilitation - ReAbility Online offers a motion and speech system designed to improve patients' access to chronic rehabilitation care.
Somatix Behavioral Analytics Platform Cognitive Behavioral Therapy - Somatix Body Motion Data platform utilizes off-the-shelf smartwatches, smartbands and other connected IoT devices, advanced adaptive machine learning and predictive analytics, to accurately recognize physical and emotional symptoms via simple hand gestures.
VideoTherapy Remote Physical Therapy Platform - VideoTherapy provides an interactive video platform for home physical rehabilitation and prevention.
VRHealth Virtual Reality Platform for Physical Therapy - VRPhysio is the first company in the world to develop a medical rehabilitation platform in virtual reality. They launched their first neck and upper body rehabilitation device June 1st in Boston. The platform transforms any off the shelf high end PCVR into a class II medical device which is billable under CPT codes.
culture
trade shows
business
courses
technology
Start Up
Nearby hotels and apartments
Palo Alto JCC
3921 Fabian Wa, Palo Alt, 94303, CA, United States
3921 Fabian Wa, Palo Alt, 94303, CA, United States