ARD Logistics (Global Automotive Alliance) 20th Anniversary Commemoration Reception
Monday 16 July 2018 5:00 PM Monday 16 July 2018 7:00 PM
Save
Saved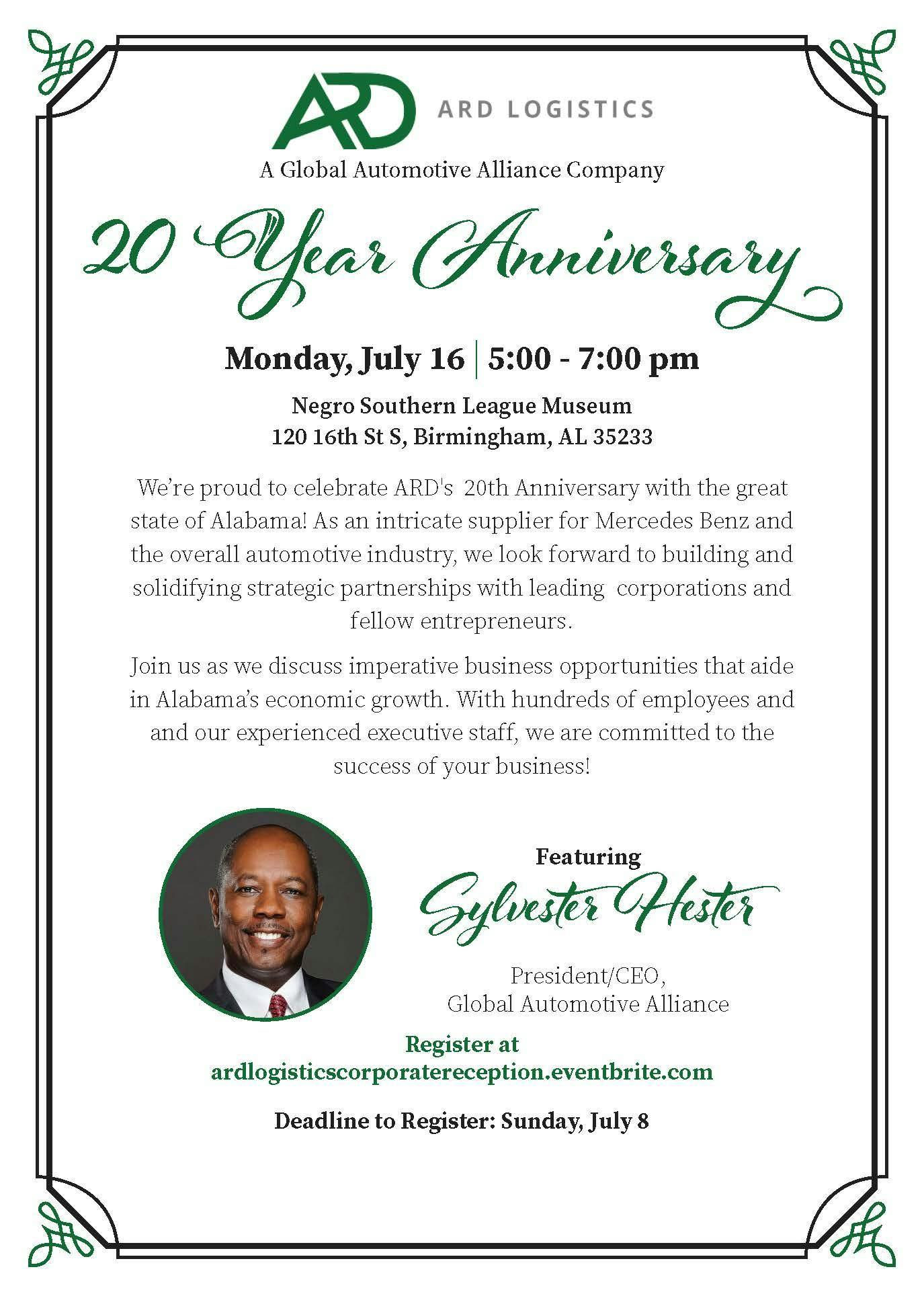 Last update 17/07/2018
590
We're proud to celebrate ARD's 20th Anniversary with the great state of Alabama! As an intricate supplier for Mercedes Benz and the overall automotive industry, we look forward to building and solidifying strategic partnerships with leading corporations and fellow entrepreneurs.
Join us as we discuss imperative business opportunities that aide in Alabama's economic growth. With hundreds of employees and our experienced executive staff, we are committed to the success of your business!
What: ARD Logistics, an Affiliate of Global Automotive Alliance, 20 Year Commemoration Celebration 
Where: Negro Southern League Museum Birmingham, 120 16th Street South, Birmingham, Alabama
When: Monday, July 16, 5:00 to 7:00 pm
Who:  This event will commemorate twenty years of operations and serve as an introduction of ARD Logistics to the Birmingham community. This business reception will provide a way to build regional cooperation among members in the automotive industry, supplier diversity and procurement officials, statewide economic development and educational institutions. Guests will experience an exciting afternoon of lively networking and remarks by notable business leaders including recent White House Presidential appointee Ashley Bell, Administrator for Region IV of the Small Business Administration Region IV and featured presenter President and Chief Executive Officer Sylvester L. Hester.
For questions or inquiries, please contact Alice Gordon Holloway at agordon@skyeconnect.com.
Nearby hotels and apartments
Negro Southern Museum League Birmingham
120 16th Street South, Birmingham, 35233, AL, United States
Negro Southern Museum League Birmingham
120 16th Street South, Birmingham, 35233, AL, United States