6 Steps to a Wealth Generating Business
Friday 13 October 2017 11:30 AM Friday 13 October 2017 2:00 PM
Save
Saved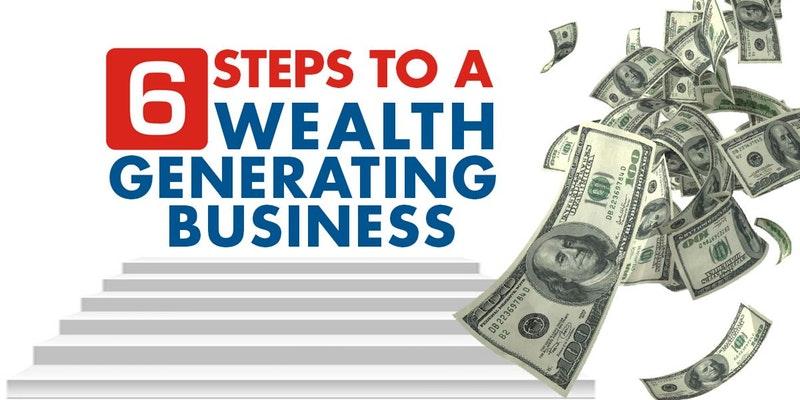 Last update 14/10/2017
83
Make Your Business Work So You Don't Have To
Growing a business brings challenges. How you deal with the challenges and related growing pains is the difference between success and failure.
This is a power-packed seminar where you will learn how other business owners are growing their profits through ActionCOACH.
Join hundreds of other businesses who have worked with the ActionCOACH! 6 Steps process to make their business work so they don't have to!
What You'll Learn At The Seminar
- Understand the difference between working ON vs IN your business.
- How to move beyond the 'glass ceiling' and grow as a leader.
- How to expand your vision and grow your business profits by up to 61% in 365 days.
- How to leverage your time to maximize efficiency and profits.
- How to create a commercial, profitable enterprise that works without YOU!
Brad will be speaking on the following topics:



6 Steps to a Business that works without you – The 6 powerful steps you must implement in your business this year!
6 Keys to a Winning Team – Without a great team, you can only play 'small'. These 6 keys will get you the winning team you need to play at a whole new level.
5 Ways to Massive Profits – When was the last time you drove your profits up 61%? Brad will share the '5 Ways' formula proven to uncover hidden profit!
4 Key Areas to Leverage – What if you could be more profitable while doing 'more with less'? 4 essential areas to systemise your business.
Vision/Mission and Culture – These are three vital elements to the growth of your business. If you don't have strong ones, then growth will be limited.
Who will get the most from coming to this event?
1 - You want to grow your company. 
2 - You appreciate and understand that an outside perspective will help. 
3 - You are honest with yourself and others. 
4 - You want to have more fun. 
5 - You want more free time. 
6 - You want to make a lot more money. 
7 - You know that your business is supposed to provide you with a lifestyle, not become your life.
8 - You want to recruit, motivate and reward a great team
11:30 - 12:00 :  Open networking with like-minded business owners
12:00 - 2:00 :  Interactive Workshop
Lunch will be provided
culture
food
trade shows
business
courses
workshop
Nearby hotels and apartments
Rockwall Area Chamber of Commerce
Community Room, Rockwall, 75032, TX, United States
Rockwall Area Chamber of Commerce
Community Room, Rockwall, 75032, TX, United States