2020 CEC Annual Workshop on Electrochemistry
COVID-19: many events have been canceled or postponed, please check with the organizer the event status.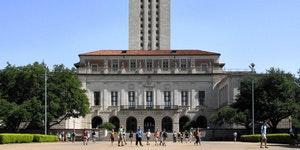 Image from eventbrite.com
From Sat 22 February 2020 to Sun 23 February 2020
From Saturday 22 February 2020 to Sunday 23 February 2020
---
Note:// UT personnel may register using interdepartmental transfer (IDT) from a University account.
2020 CEC Annual Workshop on Electrochemistry
The University of Texas at Austin
February 22-23, 2020
This unique workshop features scientists and researchers from top universities, national laboratories, and electrochemical industries discussing cutting-edge electrochemical science, and addressing issues with respect to the mechanisms of electron transfer. We anticipate a day of great speakers, with a casual atmosphere that fosters interaction between students, postdocs, faculty, representatives from industry, and national labs.
The workshop features technical presentations and posters from several different perspectives covering areas ranging from electrocatalysis, electrochemical sensors, and electroanalysis. The 2020 CEC Annual Workshop on Electrochemistry will be held February 22-23, 2020 and will feature eleven presentations organized into four main topic areas, including Biological Applications in Electrochemistry, Single Atom and Cluster Size Effects on Electrocatalysis, Photoelectrochemistry and Optical Imaging of Electrodes, and Electrical Energy Storage. Open interactive map centered on the Welch building
---
Saturday, February 22, 2020
Welch Hall – Room 2.122
7:30-8:25a Check-in and continental breakfast
8:30-8:40 Introductory remarks
Electrochemistry in Clinical and Medicinal Studies
8:45-9:35 Shana Kelley, University of Toronto
Electrochemical Biomolecular Sensors: Striving for Simplicity
9:40-10:30 Leslie Sombers, North Carolina State University
Advancing Voltammetry and Analysis Strategies for Neurochemical Measurements with Enhanced Functionality, Chemical Diversity, and Selectivity
10:35-10:50 Break
10:55-11:45 Dipankar Koley, Oregon State University
Scanning Electrochemical Microscopy (SECM) andElectrochemical Sensors: New Tools to Study Biomaterials and Associated Biofilms
11:50-1:55p Lunch break
Photoelectrochemistry
2:00-2:50p Nathan S. Lewis, California Institute of Technology
The Direct Production of Fuels from Sunlight by Semiconductor Photoelectrochemistry
2:55-3:45 Shannon Boettcher, University of Oregon
Nanoscale Probes of Carrier-Selective Catalyst-Semiconductor Contacts in Water-Splitting Photoelectrodes
3:50-4:10 Break
4:15-5:05 David S. Ginger, University of Washington
Solar Surfaces: Passivating Perovskite Interfaces for High Efficiency Solar Cells
Poster Session, Reception, and Exhibition – TX Union, Santa Rita Room (3.502)
5:30-8:00p Posters and reception
---

Sunday, February 23, 2020
Welch Hall – Room 2.122
7:30-8:25a Continental breakfast
Electrical Energy Storage
8:30-9:20 ChungSheng Wang, University of Maryland
Water-in-Salt Electrolyte (WISE) Batteries
9:25-10:15 William Chueh, Stanford University
Characterizing Insertion Compounds: Defects, Reaction, Transport & Phase Transformations
10:20-10:35 Break
10:40-11:30 Christopher Johnson, Argonne National Laboratory
Na-ion Batteries: the Best Option for Beyond Li-ion Batteries?
11:35-12:55p Lunch break
New Advances in Electrochemistry
1:00-1:50 Pat Unwin, University of Warwick
Correlative Electrochemical Multi-Microscopy: Building an Understanding of Electrochemical Interfaces From Local to Global
1:55- 2:45 Yogesh Surendranath, Massachusetts Institute of Technology
Understanding Inner-Sphere Electrochemical Reactions at the Molecular Level
2:50-3:00 Closing Remarks
---
Poster Session: The poster session is open to all attendees. Posters may be presented by any attendee: students, postdocs and researchers at UT and other schools, as well as to industry and national labs. You may reserve a spot for your poster as you complete your registration. Poster titles need to be confirmed by 12:00 pm, January 18, 2020.
Exhibition: There are a limited number of spaces available for table exhibits at the poster session. Companies must be a current member of the CEC Industrial Affiliates program in order to exhibit.
---
Join the Industrial Affiliates program, and all attendees from your company enjoy discounted registration for the Workshop.
Location: See you in Austin! Each year, the CEC Annual Workshop on Electrochemistry brings together experts in fields of engineering, materials, and electrochemistry to focus on a few topics in an important area of electrochemical research. Electrochemistry is the foundation for chemical transducers and sensors and is poised to play an increasing role in the analysis of chemical and biological interfaces; and for the high-resolution study of ion/charge transport and dynamics, electron transfer, adsorption, and chemical toxicity. Participants address specific challenges in the field, exchange ideas and information, and catch up with colleagues from around the world.
The Workshop will be held at the Robert A. Welch Building (Welch Hall, or WEL) on the campus of The University of Texas at Austin.
The workshop location is near to the many recreational and cultural attractions of the Austin Hill Country. The Austin campus is the site of 17 libraries and several world-class museums, and just a short walk or ride away from central Austin attractions: The Bob Bullock Texas History Museum, the Texas State Capitol, Congress Avenue, and 6th Street and the Warehouse shopping and entertainment districts. Known as "The Live Music Capital of the World," Austin is a vibrant mix of Texas friendliness and cosmopolitan sophistication, with opportunities for outdoor recreation activities. The weather in Austin during February can be cool but is generally mild: the average high is 65 F (18 C) and the average low is 44 F (7 C).
Have questions about 2020 CEC Annual Workshop on Electrochemistry? Contact Center for Electrochemistry
945 Views - 24/02/2020 Last update
the university of texas at austin robert a. welch hall, austin, 78712, tx, us
---
Are you an event organizer?
Create events for free. They will be immediately recommended to interested users.
Create event
Nearby hotels and apartments
3820 Sen J Bennett Johnston Ave, Lake Charles, 70615, LA, USA
---
---
the university of texas at austin robert a. welch hall, austin, 78712, tx, us
Event from
eventbrite.com
---
---
Are you an event organizer?
Create events for free. They will be immediately recommended to interested users.
Create event
Austin

›