03 Greedo & Mike Rebel - The Last Concert | Farewell to a Real O.N.E. | 18+
Monday 25 June 2018 7:00 PM Tuesday 26 June 2018 0:00 AM
Save
Saved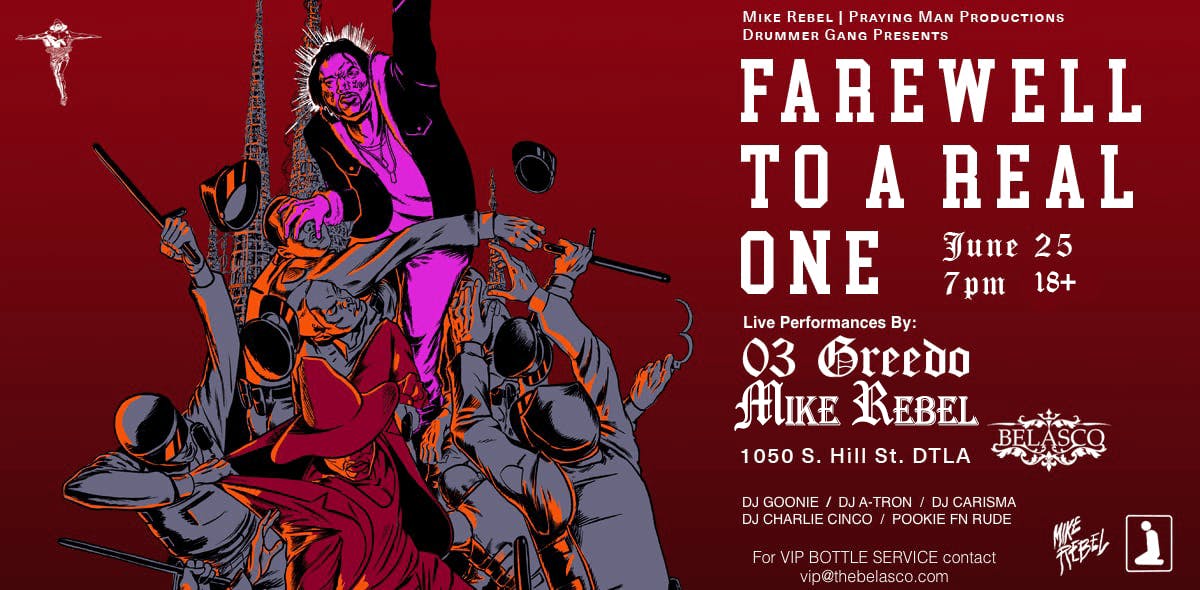 Last update 27/06/2018
125412
Mike Rebel and Praying Man Productions Presents - 03 Greedo Farewell Party. As some of you know 03 Greedo was recently sentenced to 20 years in Prison. He turns himself in June 27th. 
Normally when you say farewell or have a going away party. It's for a friend or family member moving out of town or going to the military. Never before have we seen a farewell party for a man, a bright star on the rise, the face of the NEW LA turning himself IN; to do 20 years; because he refuses to snitch! So many have faced the same test and didn't pass. On JUNE 25th two days before Greedo goes in, we say FAREWELL TO A REAL ONE!
Stay tuned for the release of a brand new single "The O.N.E." featuring Mike Rebel, 03 Greedo, and Gucci Mane. This is more than another party, its more than a Lituation, this is REAL LIFE, this is HISTORY. We've never seen someone like 03 Greedo we never will again. Join us for the last Hoorah The Entire L.A. is coming out to pay tribute to a REAL ONE and you should too!
BOTTLE SERVICE AVAILABLE with VIP TABLES.
Package includes Tickets, Priority Entry & Choice of Bottles
Please contact vip@thebelasco.com
JUNE 25th @ The Belasco
1050 S. Hill St. in Downtown LA
Live Performances by:
03 Greedo & Friends
Mike Rebel
& more
DJ Sets by:
DJ Goonie
DJ A-Tron
DJ Carisma
DJ Charlie Cinco
Pookie Fn Rude
EXTRAS:
- Limited Edition SIGNED 03 Greedo T-Shirt. Reserve yours now with the ticket to guarantee a shirt. They will only be sold at this event.
- MEET & GREET with 03 Greedo. Reserve your spot now, very limited availability.
Nearby hotels and apartments
The Belasco Theater
1050 South Hill Street, Los Angeles, 90015, CA, United States
1050 South Hill Street, Los Angeles, 90015, CA, United States